I'm on the steering committee... executive leadership... volunteer board... (or whatever you want to call us) for
Fair Tradin'
, Tacoma's chapter of
Backyard Barter
. Earlier this month we had a barter, in which I participated.
Here's an oh-so-flattering picture of me at my table, watching as my husband arrives with our son.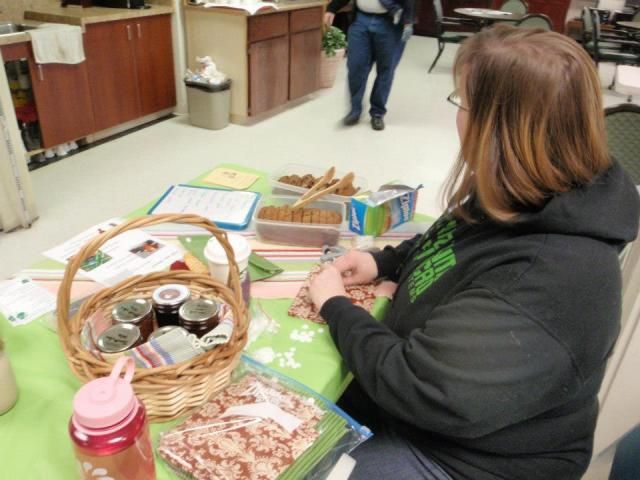 I had a lot of stuff. I made
whole wheat banana bread
,
Irish Cream
,
tomato jam
, blackberry jam, waxed cloth bags (still in their infancy... I need to develop the design a little better), a prized quart of tomato sauce, and a few
knitted coffee cozies
.
I went home with quite the haul:
Blackberry wine
Hard cider
Hand salve
Lavender-orange sugar scrub
Cascarones (eggs filled with confetti – destined for K's Easter basket)
Tomato salsa
Green salsa
Granola
~2 lbs ground lamb
Bay leaves
Rhubarb-strawberry syrup
Loaf of still-steaming whole wheat bread
Chocolate-coconut ice cream
Homemade chocolate
Also accompanying me on the trip home was nearly all of my bread (I gave a few pieces away, and Kaelen stole one), all of my tomato and blackberry jam, and my tomato sauce. The Irish Cream was highly popular, as were the waxed cloth bags. Of those two items, the Irish Cream was far easier to make, though the waxed bags were cheaper.

I had attempted to trade my precious tomato sauce - it contained over 5 lbs of cooked-down roma tomatoes! - for the blackberry wine. She told me that because she makes her own tomato sauce, she didn't need it. Thank goodness I had one final jar of Irish Cream.

Based on my recent experience, here's what I* (see caveat below) would be less inclined take to a future barter:
Canned and baked goods -
So many of the people at the barter are also avid canners and bakers that the reduces the perceived value of the goods I took. Why would they trade for my banana bread when they can make a batch at home? Same goes for run-of-the-mill canned goods: anyone can make blackberry jam. If you're going to take canned goods, make them unique and offer samples.
Eggs
- Again, lots of the traders are also homesteading types who have chickens. I wouldn't discourage others from taking eggs, but I won't take eggs. As if I had any. Darn slackers.
Labor-intensive items
- My waxed cloth bags were popular but I had under-estimated how much work they were to make. Each piece of cloth first had to be hemmed. Then waxed. Then have plastic snaps attached. A single bag takes about 30 minutes of hands-on work, which is considerable. I'll consider making more knitted coffee cozies or jar holders if my knitting queue ever clears.
*
These items defintely have a place at barters. There are always people who don't can, who don't have chickens, who don't have plant starts or whatever. This is a list of things I'm not seeking at barters.
Here are some of my ideas for things I will take to barter event in the future:
Booze
- My Irish Cream was very popular and I traded every bottle I had. I noticed that the other people with alcohol did a brisk trading. For the next swap I'm considering a Grand Marnier, which I'd better hurry up and get started. I need a better container alternative to canning jars, however.
Homemade candy
- I make a mean caramel. It's easy to make a lot at once (though wrapping them takes time) and there were no other candies at the swap.
Labor-intensive items
- Yeah, I know that this is in direct conflict to what I said above. Next time I'll tuck them out of sight and use them for what I consider higher end barters, like the lamb. My baby booties for a previous swap were hugely popular and even led to some one-off commissions.
Root beer & similar beverages
- One of my coworkers makes homemade root beer and lemon-lime soda, which are all lightly fermented. I've been dying to try it and think it would be coveted as a unique item.
Homemade mixes
- Pudding, brownies, pancakes, muffins, spice packets, etc.
Dried herbs
Services -
Knitting help, canning lessons, urban chicken consultation, resume writing and editing
As you're considering what to take to a swap, ask yourself:
How will others perceive the value of the items I plan to take? Take your cues from the gourmet items at the grocery store.
What is unique about my offerings? How likely is it that other people be trying to trade the same thing?
Can I make a lot of it fairly easily and for a reasonable cost?
What will I do with my leftovers?
Have you bartered goods or services? What would you add to this?