Thousands of people have had my grandma's cooking. She was the baker for the
University of Puget Sound
for maybe 20 years (my mom can chime in if she wants with the actual number). As the university baker, Grandma made all the pastries for the campus. She even talked the president's wife out of her secret oatmeal cookie recipe. I've got a copy of it somewhere. It makes something like 5 dozen cookies, so it's not a recipe I've made many times.
My grandma was the best baker of cookies, cakes, doughnuts, and pies of every type. She usually took at least two pies to any family gathering. Her lemon meringue was my favorite. Her pie crusts were perfect: shatteringly flakey and tender.
Christmas was an especially wonderful time to go see her. Grandma would pull box after box of homemade cookies and candy from a tall stack in her hallway closet: snickerdoodles, decorated sugar cookies with a crunchy royal icing (I've never been able to replicate it), chocolate crinkles, peanut butter cookies with a Hershey's kiss on top, powder-covered tea cakes, spritz cookies, some kind of crescent cookies with a whole clove sticking out the side, haystacks, stained glass, divinity, fudge. Drop cookies, bar cookies, ice box cookies: you name it, she had made it! She'd pile an assortment onto a plate for us and serve it with a variety of beverages. We'd gorge ourselves on the delicious treats, devouring in minutes what had taken her days to make.
Over the past couple of weeks I've found myself strangely drawn to maple-flavored things. I recently bought some maple-flavored shredded wheat at Trader Joe's. I'm an incurable chocolaholic, and yet when a coworker brought in a dozen doughnuts and I passed over the chocolate-iced doughnut in lieu of the maple bar. When I returned to my desk after having picked out said doughnut, I saw that my mom had called. Grandma passed away quietly on March 7 around 8:45 a.m. She was 94 years old.
It hit me then why I'd been seeking out maple. Grandma's favorite sweet, her weakness, was maple bar doughnuts. She adored them. Every time I visited I tried to take her one. As she got into her 90s, both in age and weight, I often took two of them in an effort to prevent her from losing more weight. I don't know if she ate both of them but I do know that she would eat at least one.
The last time she talked to me, she was referring to Kaelen and said, "Oh, he has blue eyes! He's so cute". He'd been to the doctor for his 2-month immunizations that morning and I debated not taking him. That was her final day awake and it's the last thing she said to me. She wasn't talking much by that point, and when she did it was a struggle. Forgive me if I've said it before but I'll forever be grateful that she got to spend time with him. It was fun to tell her that the doc had said Kaelen will be tall, as is her side of the family, and that he's really healthy. She was almost as proud of him as I am.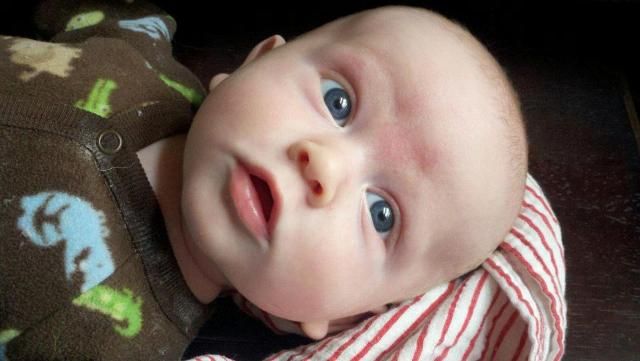 In her memory, I bring you a recipe for maple bars. Enjoy one with a cup of her typical morning beverage, Folgers instant coffee (or not... gag), and remember a loved one from your own past. Better yet, share them with friends and loved ones now.
MAPLE BARS
Dough recipe adapted from Cooking Light (yes, doughnuts can be light...ish)
See this blog for a step-by-step how-to
Ingredients
6 tablespoons
water
1 1/8 teaspoons
dry yeast
1
large egg, lightly beaten
6 3/4 ounces
all-purpose flour (about 1 1/2 cups), divided
Cooking spray

Glaze
1 1/2 cups
powdered sugar
2 tablespoons
maple syrup
2 tablespoons
strong coffee
(optional: bacon, chopped)
Preparation
Night before
:
Combine first 5 ingredients in a large bowl until a moist dough forms.
Spray a bowl with cooking oil and transfer dough into it. Cover tightly with plastic wrap and put into fridge overnight.
Morning of
:
Allow dough to come to room temp on the counter, This will take about a half an hour. The dough will have risen overnight in the fridge and should be - but might not be - roughly doubled in size. It'll still be small - this is not a huge batch recipe.
Place dough on a floured surface and roll out a sheet that's about 9" x 9". Trim the edges with a pizza cutter and then cut into 8 bars. You can roll the trimmed bits into balls. Doughnut "holes"!
Allow the bars & balls to rise for about a half an hour. They won't rise a ton.
Clip a candy/fry thermometer onto the side of a Dutch oven; add oil to pan. Heat oil to 375°. Place a couple of pieces of the dough into hot oil; fry 1 minute per side or until golden. Make sure the oil temperature remains at 375°.
Remove doughnuts from pan; drain and cool slightly.
Mix the glaze, adjusting the liquid until it's as thick as glue. Dip the "holes" into the glaze and spread the glaze on top of the bars with a spoon. Be generous! Please on a rack so that excess glaze can drop off rather than pool around the doughnut.
The doughnuts are slightly chewy and crispy on the outside. The maple flavor of the glaze doesn't run you over as if it were a logging truck and the coffee balances the sweetness of the sugar. Grandma would have loved them.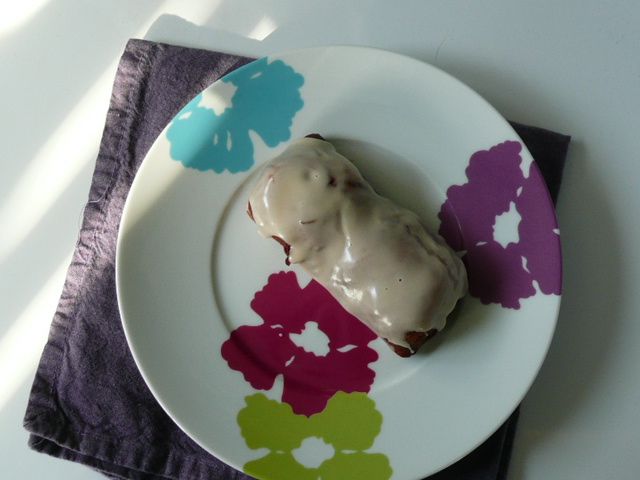 But maybe not all of them...