Last weekend we had out-of-town guests for dinner. I knew that the wife is vegetarian so checked with her husband ahead of time if she ate eggs and cheese. He said yes, so I went forward with my plans to prepare
shakshuka
. It's an easy and hearty vegetarian entree that can be stretched by serving it over rice.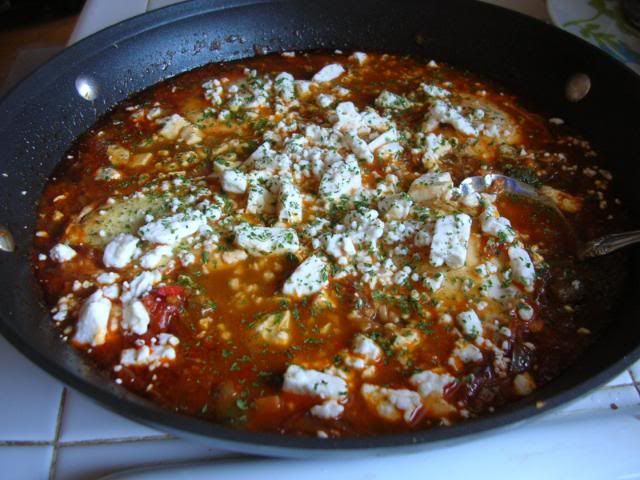 On a side note, the first time I made this dish for Marius, our 15-year-old German exchange student, he was sampling tidbits from my cutting board and got quite a shock when he nabbed a hot pepper. I laughed and said, "that'll teach ya".
The day before our friends came over, we were all together at a Renaissance-themed wedding. Here's a photo of the wedding party. Gene, Kaelen and I are about 1/4-way from the right: I'm wearing orange and holding Kaelen. Gene's grinning from behind the guy in the fleur-de-lys robe and hood. And the newlyweds are in the sage-green velvet dress and kilt at the center. We're so happy for them!
It's early and I'm pre-coffee. Bear with me... I have a point.
While we were at the wedding, I double-checked with Rejoyce (pictured 3rd from right in a traditional Kyrgyz matron's dress) that she ate eggs and cheese. She kind of blanched and said she could, but preferred not to due to lactose intolerance.
Oh.
Hrm.
Ok.
Luckily, shakshuka is easy to prepare without eggs and cheese. I made it up to the point where I add the eggs, then pulled out a portion for her. To hers I threw in some spinach and VOILA: vegan entree for her.
That morning I had chatted with my aunt on the east coast while she was making a pumpkin pie. Marius has been curious about pumpkin pie, which is also Gene's favorite, and so I decided to make one.
But wait a second. Pumpkin pie has quite a bit of dairy in it. Interwebz to the rescue!
Any ingredient I wouldn't quickly and earily use was out. I didn't want to get stuck with a tub of silken tofu, a bag of spelt, or cartons of soy milk so any recipe that called for them was out of the question.
I decided on a store-bought graham cracker crust. A little bit of research brought me to
this recipe
. It turned out beautifully. Every single morsel of that pie disappeared by the time the dishes were cleared. With the holidays coming up, be a dear and make a dessert your lactose-intolerant guests can eat. They'll thank you for it.
LACTOSE-FREE PUMPKIN PIE
Recipe from
Dairy-Free.Food.com
1 unbaked 9-inch pie shell
2 eggs
1/2 cup brown sugar*
1 1/2 teaspoons cinnamon
1/4-1/2 teaspoon powdered ginger
1/4 teaspoon ground nutmeg
1/4 teaspoon salt
1 3/4 cups mashed cooked pumpkin
1 cup soymilk, rice milk, almond milk, or non-dairy coffee creamer*
(*I used vanilla-flavored creamer and found that the recipe was very sweet. Reduce the sugar somewhat if you use a flavored creamer.)
Directions:
Whip eggs until frothy.
Beat in sugar, then spices and salt.
Add pumpkin and soy milk and beat until well blended and smooth.
Pour mixture into pie shell.
Bake at 450F for 10 minutes.
Reduce heat to 350F and bake for 30 to 35 more minutes.
You can top it with your choice of a whipped cream or ice cream - with or without lactose - and nobody will even know the difference.
Enjoy!
And, because I only used half of the can of pumpkin, I made
my favorite pumpkin bread
last night. Pumpkin bread for breakfast! Booya.