Unless your employer offers free lunches to employees, chances are that you have to bring or buy lunch for yourself every day.
I work downtown. Depending upon how close to payday it is, a forgotten lunch could mean foraging in the office closets for expired granola bars. Fresh food will cost at least $4.40 for a Subway
cardboard
sandwich. A couple of times a year, when I'm feeling particularly self indulgent, I might splurge for sushi. But at $14-15 for a bento box, I'm spending nearly as much on one lunch as I would on take-out at our favorite restaurant.
When Marius was living with us last year, he so often ate every morsel of dinner that I rarely had leftovers to take to work the next day. I probably spent as much on lunches out as I did on our dinners.
More often than not, however, you'll see me with my lunch bag, a Goodwill find for around $2, and perhaps a coffee mug. If it's hot I'll have a mason jar with cold coffee.
What did I have today? For breakfast I had a mocha and fresh strawberries with homemade yogurt. At noon I heated up leftover salmon frittata. And when the 3:00 munchies hit, I ate the rest of the strawberries with
angel food cake
and whipped cream.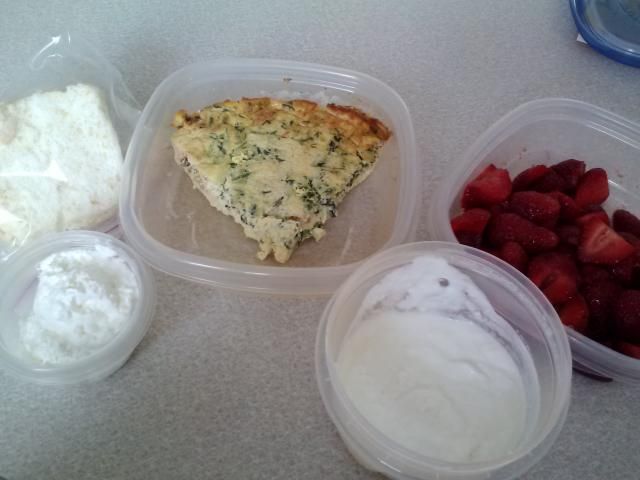 I'm glad we don't have any office lunch theft problems where I work. Every night as we clear the kitchen I pack up my lunch for the next day. I won't make something that doesn't have leftovers unless I already have a lunch planned for the following day.
Do you have a favorite brown-bag lunch item? How are you managing your family budget with lunches?