What comes to mind when
you
think of the Pacific Northwest?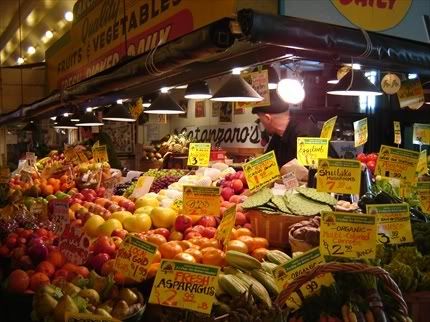 I think of the natural beauty of the mountains, sea, and forests, as well as iconic landmarks such as the Space Needle, Pike Place Market, Tacoma Dome, and Mount Rainer. Maybe those dorky, but spot-on,
Pemco commercials
?
Perhaps you think of coffee. This is a picture of a latte I got at
the Mandolin Cafe
a while back.
The PNW without seafood is like a Washingtonian without a fleece jacket. right?!?
So you'd think.
Last night decided to stop by Albertson's because I had a hunkering for some good old PNW fish.
The shrimp came from Bangladesh, Indonesia, and Thailand. The salmon - talk about the epitome of PNW foods - was Atlantic farm-raised with color added. Bleh. The clams were from Manila... 6,590 miles away.
There were other types of fish is display: tilapia from South America, lobster from god-knows-where, catfish nuggets from the USA, and rockfish from Canada.
I settled for the rockfish but not until I'd had a conversation with the meat counter employee. She seemed to share my chagrin that there were no local seafoods available. She offered to special order things "from a local seafood company" (I'm betting she means Johnny's).
I did learn a couple of things from our discussion:
Talk to the staff at your local grocery store. Let them know that you don't want the imported seafoods: you want locally-sourced products if possible. They're in the biz and can offer suggestions but if enough people ask about local fish, they'll eventually pass it along to a manager.


Find out when things are in season. I learned that local shrimp, or at least USA-caught spotted shrimp, are a seasonal item and will be available this summer. I didn't know that. Meats have seasons, just like produce: chicken is best in the summer and beef is a winter "crop".


Go to the source. Johnny's, and probably other fishmongers, has inconvenient hours if you work a normal business day. But if I want locally sourced fish, that's where I have to go.

---------
One Washington product that's easy to find in abundance any time of year is wine. And thank god for that!
Paul Zitarelli is the owner of Full Pull Wines and a Foster MBA alumnus. He travels Washington State, seeking unique offerings of our state's best wines.
Get on his mailing list, drool over the descriptions, and stop by for a chat and a tasting. I had bought a sparkling wine a while back and dropped in to pick it up this afternoon.
Nothing perks up a rainy Thursday afternoon like an impromptu wine tasting.
Today Paul was offering a library of 2004-2006 cab sauvs from Couvillion Winery. I had an interesting talk with Paul and his friend, Darren, about local foods. God, I love foodies!
Darren, if you read this, here's that link about the Tacoman woman who makes empanadas that I mentioned.
What are your favorite Washington wines and why?