A few weeks ago I heard the new Adele CD on NPR and was hooked: I had to have it. I wanted it so badly that I even put a reminder on my calender for its release date.
When it came time to buy it I decided to go to Amazon.com instead of driving to the Borders near my house. It was one of those penny-wise, pound-foolish decisions that cost me $25 to get free-shipping for a $10 CD instead of paying $15 for it at Borders. Days later I even saw it at Starbucks.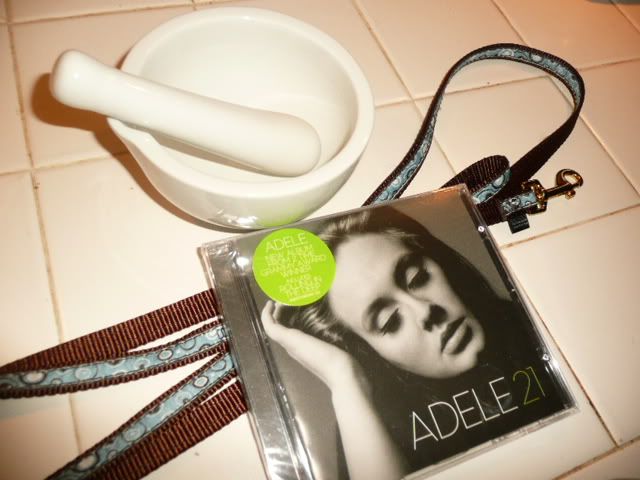 Oh well. I needed a new dog leash, having crunched the latch of Rosemary's old one in the car door a while back. Still not to the $25 free shipping threshold, I threw a mortar & pestle into my cart and checked out. I'd been wanting a mortar & pestle for a long time but this... this is a weird order.

There's a point to this story, I swear.
In this post I'm going to introduce you to three distinct seasonings found in Moroccan cuisine:
Harissa

Ras el hanout

Preserved lemons
When I was researching this blog I got into a discussion with a French friend about harissa and ras el hanout. She insisted they're the same thing. I insisted they're not. The conversation devolved into the equivalent of "nuh-uh" "uh huh", so we agreed to disagree.
But I'm right.
1 tsp coriander seeds
1 tsp cumin seeds
1 tsp caraway seeds
1 tsp red pepper flakes
.5 tsp salt
4 cloves garlic
1 tbsp paprika
1/4 cup olive oil
cayenne pepper
Toast seeds in a dry skillet until fragrant, roughly 1 minute or less.
Crush toasted seeds and red pepper with a mortar & pestle until powdered.
Crush garlic with salt and spices until this is a thick paste, then add the paprika and olive oil.
Mix in cayenne pepper to achieve the spiciness you desire.
My advice here is to make it spicier than you think you'd want because it's typically diluted in the cooking process. Oh, and read the directions before you start: I didn't and you might notice from the pics above that I started crushing the garlic with the spices then removed the cloves after realizing my attempts at crushing the spices would be futile with the garlic in the way. Oops!
This was my first use of the new mortar & pestle. There's a reason why you never see this tool on "30-Minute Meals". It takes forever. Anytime you see someone using one in a movie, they're FAKING IT. Gosh dangit this take a long time.
Ras el hanout
This is a
spice blend
which, like herbes de provence or curry, varies in its ingredients and ratios thereof. I found mine at Cost Plus World Market or a few bucks. It won't make or break your meals but lends a new flavor profile worth trying.
I saw so many "recipes" for preserved lemons this winter. It seemed that every food blogger had one. It's less a recipe than a technique. Here you go:
Get 5-10 lemons and a box of kosher salt.
Wash the lemons well, then cut them almost into quarters, leaving the wedges attached at one end.
Fill the lemon with as much salt as it will hold.
Stuff as many lemons as you can fit into a jar. Go ahead: stuff them in there. It'l help release the juice and cover them with their own juice.
Shake the lemons upside down daily for a week or so.
Lemons will be ready to use in about 3-4 weeks.
When you're ready to use the lemons, pull one out from the jar, rinse it off, scrape out and discard the pulp, then chop the remaining bits. Throw that into your bubbling pot and enjoy the yumminess they bring to your cooking. We'll use them in many of the stew-like meals I'll feature for the Moroccan theme, like the beef and lamb dishes. I also like to put a whole lemon (rinsed) in the cavity of a roasting chicken.
Oh, and my Adele CD? Gene took it to work and I haven't seen or heard it since (boo).