As you can imagine, Gene and I have been busy getting ready for Bean. Last weekend we went to Bellingham, WA, for a "babymoon". We bought a Groupon for a "romance package" at the
Chrysalis Inn
back in March... as it turns out, I was 1 week pregnant at the time. The special was for a gorgeous corner suite with a massive jetted tub. Each of us took 2 baths in rose-scented water overlooking the lovely harbor. We watched cable, which we don't have at home, lounged around, and took naps. It was glorious.
While in Bellingham we had dinner at the home of friends, Jenn and Matt. They have 2 charming boys and Jenn writes another
locavore blog
. Jenn, a fantastic cook, prepared butternut squash soup, roasted lamb shanks, and polenta. We contributed a bottle of red from our wine collection and enjoyed a wonderful evening with their family.
Yesterday we were in a childbirth preparation class for 9 hours. Whew. I'm glad that item on our to-do list is done. Next weekend we're going on a tour of the hospital in the morning, and my baby shower is later that afternoon. On Sunday, I'm doing nothing. NOTHING!! We've been so scheduled lately that we both need a break. Besides, I have a feeling that I'll spend part of Sunday organizing Bean's nursery.
My dad's birthday was just last week. It was a big one: 64. Why is that big? Just listen to
this Beatle's song
.
In his 65th year my dad will finally become a grandfather. In fact, he'll be a grandfather in, at most, 6 weeks. Just look at my tummy!! Bean is clearly growing well, despite my own weight loss and
super low carb diet
.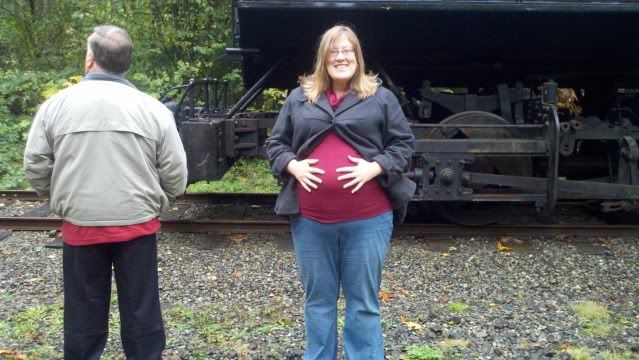 My bump, my bump, my lovely baby bump
My dad loves trains. I mean, he
loves
trains. People who work on real trains call people like my dad "
foamers
" because of rainfans' tendency to foam at the mouth about train operations.
My brother and I grew up counting train cars and knowing the correct names of each type of car. We knew that any time we were in a car ans saw a train, Dad would pull over and we were to watch it. There was always a model train going around the Christmas tree. My dad built a 20' diorama in the basement, complete with handmade trees and tufts of grass. He's in the process of building another one in his bedroom. His collection of train books and DVDs (imagine a mind-numbingly boring narrated 50-minute video of a train going up a maintain pass) is massive. Heck, during the summer months Dad sits on his back deck, his scanner tuned to the frequency used by the engineers on the nearby rail lines so that he can listen to their conversations.
Despite Dad's love of trains, he's really really hard to shop for. Model trains are expensive - all of his locomotives are made of brass and each costs a small fortune - and it's impossible to know if he has a particular book or not. I don't like knick-knacks, so I prefer not to give them to others.
What to do for his birthday?!?
As it turns out, the father of Gene's coworker is a train fanatic like my dad. This man has even written a number of books about trains in Southern California. The best part, though, is that he owns his own locomotive. Yes, folks, a real, honest-to-god locomotive sits in this man's backyard, and he invited us over to let my dad
foam over
see it.
We didn't tell Dad where we were going. And when we got there, you couldn't see the locomotive from the house or the road. Ken took us around a corner a BAM! Dad's jaw dropped. He'd had no idea why we were at this house tucked way back in a valley. But there it was: a locomotive he could climb on, touch, and talk shop about with a fellow foamer. Dad was in heaven!
Dad, Rosemary, Ken Johnson, me with baby bump
This locomotive was built in Davenport, IA, and was used at the
Tacoma ASARCO Smelter
from 1936-1957. I grew up practically in the shadow of the smokestack, and can remember the steam whistle signalling the shift changes. The smokestack was pulled down sometime in the mid-1990s and the smelter's Super Fund site has undergone a complete transformation. It's no longer an ecological disaster and is in the process of becoming the euphemistically named
Point Ruston
.
After Dad had had his fill of the locomotive, Gene and I took him to lunch at the
Black Diamond Cafe
, which bakes all of its goods in a wood-fired oven. They're known for spectacular breads, pies, and cakes. The cookies didn't look too bad, either. On the drive to lunch, we passed some rail lines and Dad excitedly gave us a history of the
Stevens Pass railroad tunnels
, the role of railroads in the region, and more.
It was fun to give this gift of time and local history to my dad. Thanks so much to Ken Johnson for allowing us to visit his locomotive!
As for his Christmas present, we're still working on it and promise that he'll be delivered just in time for the holiday.