Bean's movements have definitely changed in the past week. I can tell that he's bigger, stronger. So much so, that I've started doing the pregnant lady grimace. You know the one: a woman in her last trimester will suddenly contort her face like a gargoyle's when an elbow pushes too far into some organ or tests the limits of his confinement with an outstretched limb. Sometimes it's so unexpected to get a massive kick or a long, slow push outward that I gasp and stop mid-sentence to get through it.
My shower on 11/5 with my mom & girlfriends. Wow... belly!
As my brother likes to say: "whoa, sh*t just got real!" The change in movements has really made me realize that yes, there is a little person in there and he's growing impatient with his cramped quarters.
That said, I've acquired the new hobby of watching my tummy bounce and roll in the evenings. Hey, it's cheap entertainment and we don't have cable!
My due date is now less than 5 weeks away. Tomorrow is Veterans Day and I'm going to spend it organizing the nursery. My hope is that by the time Gene comes home from work, the transformation from what used to be our office (and, frankly, junk room) to our son's room will be complete. Heck, maybe I'll even get some pics to show you.
My pregnancy has made me realize that I've much for which to be thankful.
As much as gestational diabetes sucks, and as much as I desperately miss grains and fruits, it has kept me honest. No more chocolate chip cookies, cupcakes, or sweets for me. I eat an apple every few days, and guiltily at that: testing my blood sugar 5x/day and faxing the results to the doctor weekly has a way of keeping one on track. The silver lining is that I have gained just 15 pounds overall, and not an ounce in the past 3 months. I fully expect that my baby weight will come home in the car seat, not on my butt.
The new low carb lifestyle has, however, forced me to explore the wonderful world of fiber supplements. Nothing makes you feel like an old fart quite like waddling through the grocery store in search of Metamucil.
Friends and relatives at my shower. Oh, and my poor, swollen cankles.
My nearly 94-year-old grandmother, mom, and me.
How often do you assemble all your friends and loved ones in a single room and spend a day with them? The answer is probably "rarely". Good friends threw my shower last weekend. I was surrounded by people I love and admire from all periods and areas of my life, who support and care for Gene and me in turn. I was - and continue to be - so grateful for their generosity and the wonderful, thoughtful gifts they bestowed upon Bean. Our son has more clothes, better books, cozier blankets, and more promises of cuddly date nights than Gene and me put together!
A blanket knitted by my dad's mom for Bean. Bean is the 1st great-grandbaby on that side, and eagerly awaited.
One of the baby shower hosts, Margaret, had a spectacular dahlia garden last summer. She was able to save the last of her dahlias for the shower decorations before the frost got them. The blooms were gorgeous. Another girlfriend made this incredible cake. I felt so loved, and grateful for all the people in my life who made the shower a special day I'll remember forever. And yes, I threw caution to the wind for a single day and said "diabetes be damned, let me eat cake".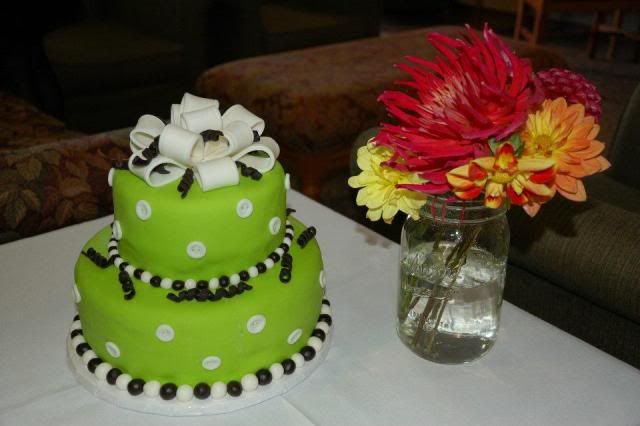 Gorgeous cake, beautiful flowers, beloved friends!
I'm thankful for a relatively healthy and easy pregnancy. Despite being 36 when deciding to try to get pregnant, I had no challenges getting and staying pregnant (fertility in my family is, shall we say, not an issue). I experienced virtually no morning sickness, have had swelling only in my
c
ankles and feet, and I feel good overall. I did have a couple of weeks of significant pain when my pelvis started to separate but that's mostly gone now.
Another thing I'm grateful for, which has surprised me, is a new appreciation for and acceptance of my body. After a lifetime of struggling with a waistline I'd always hated, I never imagined sitting in my living room with my belly exposed so that I could watch it. I couldn't have fathomed welcoming people to feel my stomach move (and I hope I haven't dismayed some of my students!). In the past I envisioned myself in loose, tent-like maternity clothes rather than the form-fitting ones that I've been preferring of late. It wouldn't have occurred to me to draw attention to my bulging belly rather than try to hide it. It's been a freeing time to trade my negative body hangups for a deep awe of what my body is doing: creating and sustaining a new life.
And finally, I'm grateful that I can count the weeks left in my pregnancy on one hand. In a few weeks I'll be grateful to lie on my stomach again.