I have created a whole new room in our house.
Looking toward the front of the house: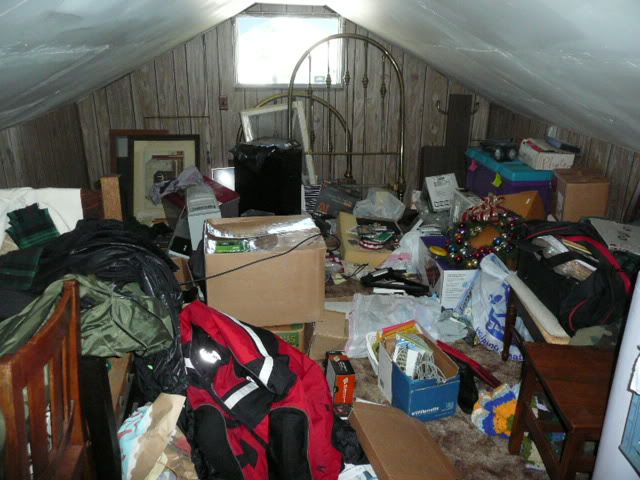 This was in 2011. Shudder. It was a constant source of horror, stress, and marital strife. Gene's mother passed away in 2004 and he'd never had the wherewithal to go through her things. So they wound up in the attic, rummaged through and strewn everywhere.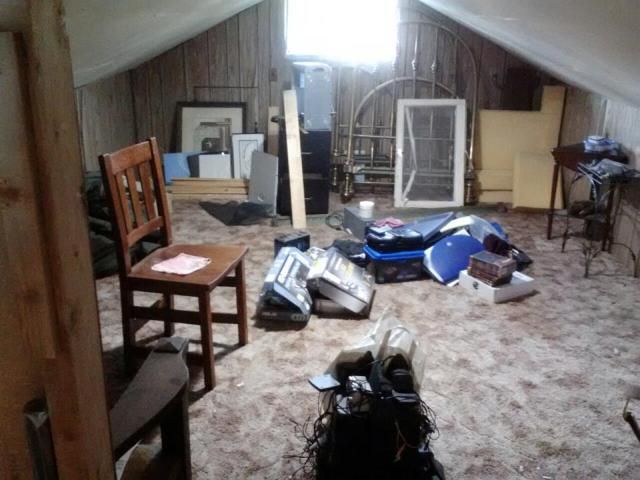 A couple of weeks ago I did a more brutal sort. Gene got in on the act and went through more things. We took an entire trailer load out. It was 1/4 recycling, 1/4 garbage, and 1/2 donations. There's still more to do but it's entirely manageable - and no longer scary - now.
And finally I painted. Gene wanted orange. This is a little more sherbet that we'd planned but it's fine for now. This is an inner spring klik klak futon. The stairs are so narrow, and the roof so low, that regular bed and sofa options were out of the question. The futon is a perfect solution.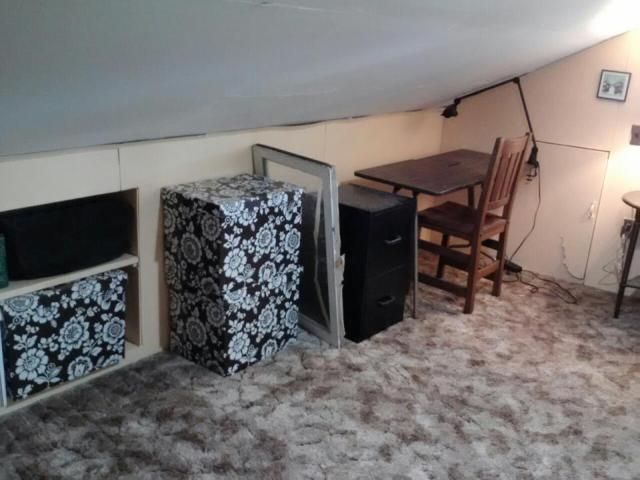 That little door on the far right is an access door to the top of the porch. I've never been in there (shudder) but have peered inside. Alas... no hidden treasures.
Looking toward the back of the house:
The Big Manly Chair (TBMC), which is deeply coveted by my friend Dena, is ancient. It's been in my family for... well, nobody is alive anymore who would have known for sure. But I think it once belonged to the Perrins, friends of my great-grandparents. It's been stored in basements and garages for decades and is in dire need of refurbishing. Actually, the chair at the desk 1 photo up is also from the Perrins and is one of a pair.
TBMC is, for the time being, still in storage. Gene and I have taken a shine to it and have decided to refurbish it. It's a massively heavy oak thing and I suspect it dates from 1900-1920, as it's a Mission style chair with a leather seat,
very similar to this one
. Given the value of the other chair, we will consult with an expert before doing anything to our chair!
Here's the storage area of the attic.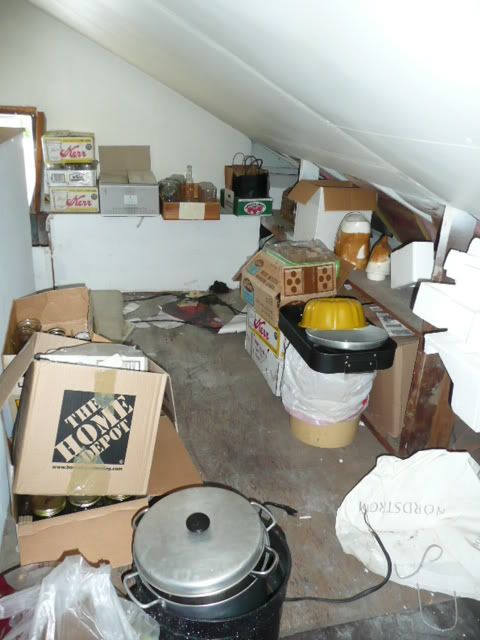 Another 2011 shot. I've since gotten rid of all of my narrow-mouth canning jars, some 15 dozen! I'm moving exclusively to wide-mouth, which I find are easier to pack and clean. The previous owners generously left behind piles of hangers, broken poster frames, old electrical wire, an ancient Kirby vacuum, 2 huge leaves for a long-misplaced table, and endless rolls of vinyl flooring and carpeting.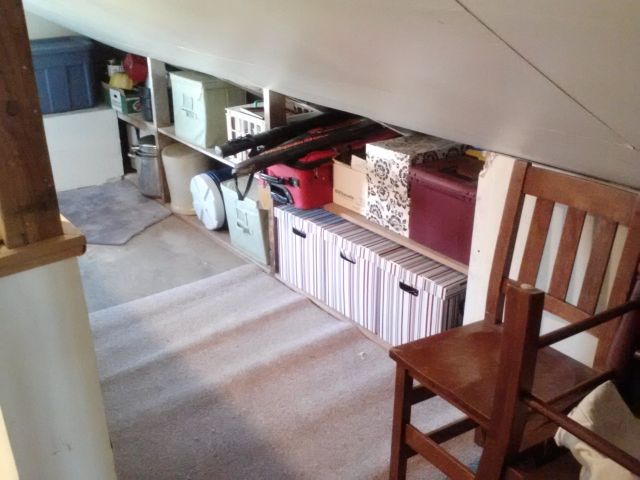 With the exception of the Kirby vacuum, which I'm going to try to sell on ebay, everything is now gone. The carpet rolls have been put to good use.
We're thrilled to have expanded our home by some 200+ square feet. In a strange way, this is all due to Kaelen. If we hadn't had Kaelen, I wouldn't have accepted a side job of finding a host family for Marius, failed to find one, then talked Gene into taking Marius on ourselves. That prompted me to clean out the attic and make it liveable. After Marius returns home in January, we'll transform the attic once again into a playroom for Kaelen and Gene's office.
Then maybe, just maybe, I can finally get my built-in booth with storage in the kitchen.