We're expecting again.
It's a boy.
He's a 15-year-old German exchange student named Marius.
Don't worry: no "Irish twins" here!
I signed up to be the "local coordinator" for an international exchange organization and my job was to find a host family. That didn't
quite
go as planned and so we decided to take Marius into our home and hearts.
Have I told you before that our house is 1070 square feet and that we have but a single bathroom?
We've been busy transforming our attic from an unorganized and over-filler storage area into a bedroom.
Tonight I'm going to primer the awful faux wood paneling. We're looking for a high quality futon to put on the right side of this picture against the knee wall.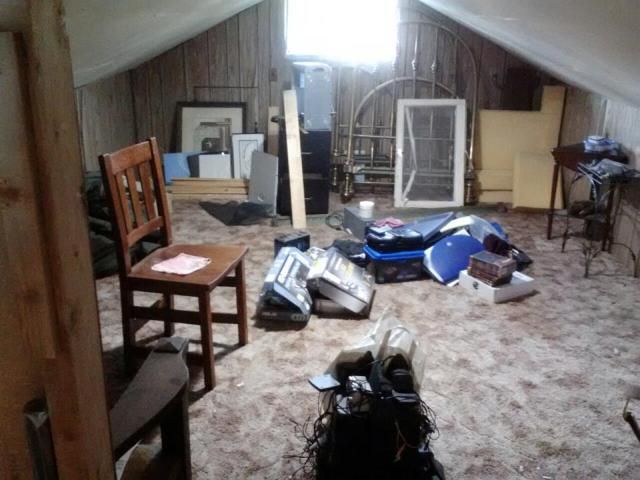 I'm debating whether this needs a curtain as a door. On one hand, Marius will have the entire upstairs to himself, with only the occassional foray by Gene or me to get something out of storage. Privacy won't be an issue for him. On the other hand, this space is not insulated. A heavy curtain across the doorway will both block light from the window at the other end of the house and help keep in heat from a space heater.
In the 9 years I've lived in this house, I had never once completely cleared, organized, or even swept this space. The previous owners thoughtfully left behind a huge pile of wire hangers, light fixture parts, curtain rods, rolls of carpet and vinyl flooring, and broken glass in the back corner. I can confidently walk barefoot without fear of slicing open a toe or getting lockjaw.
There's nothing quite like a hard deadline to get you moving on a long-neglected project. Once Marius returns home next January, we'll reclaim the upstairs as a playroom for Kaelen, office for Gene, and guest room for anyone who visits. Perhaps my east coast family will finally be persuaded to venture west of, well, Boston!
I'll post more pictures once I primer the attic.
What color would you paint it?