Last month I splurged and made salmon for our fourth wedding anniversary. I had to filet it myself, however, and it was my first attempt at butchering a fish.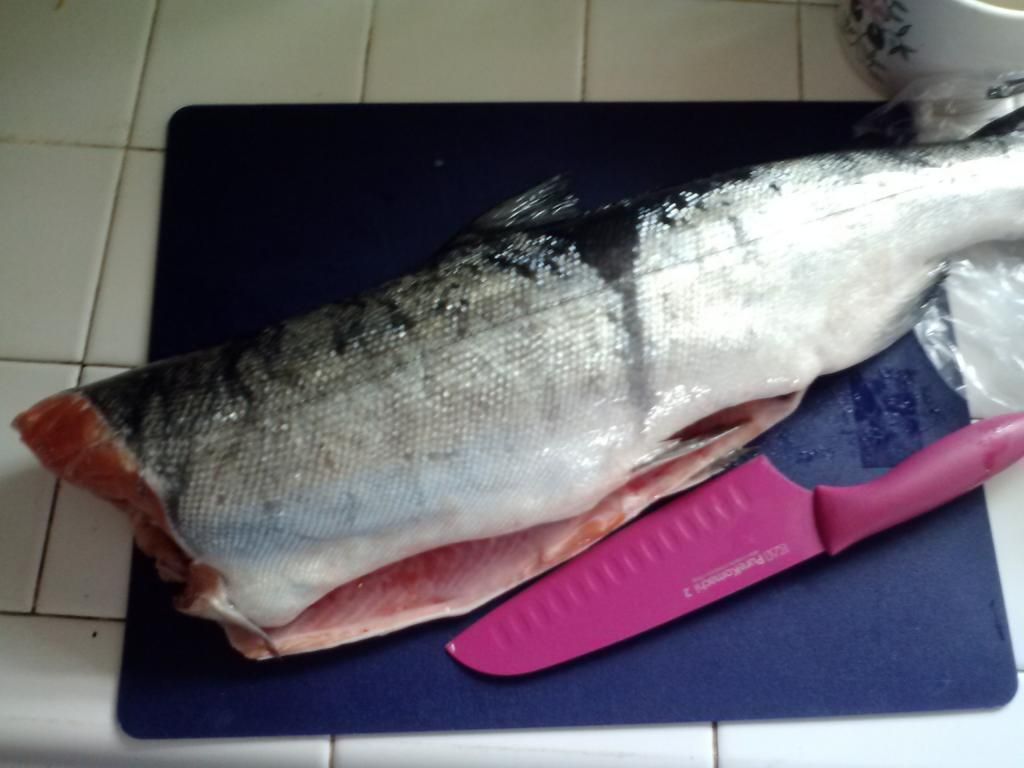 I was pleased with the filets but disappointed by how much meat was left on the carcass. Part of the problem was that I didn't have the right knife. Rather than throw it out, I put the rest of the fish into the freezer.
Fast-forward to October.
I thawed the salmon carcass and poached it gently for about 5 minutes. It didn't need long.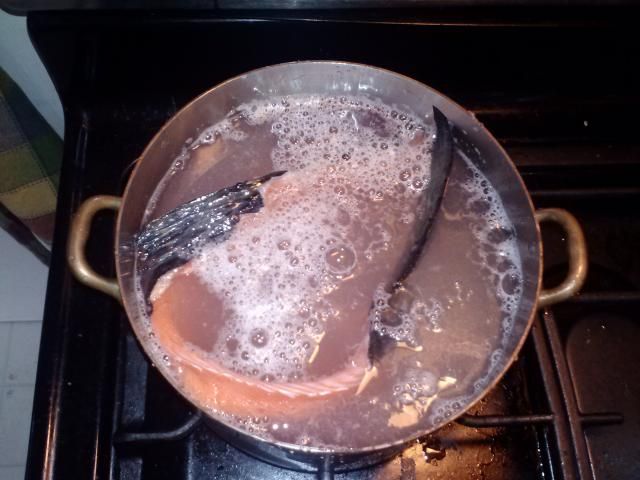 My zombie salmon
Removing the last bits of meat was a breeze. I got about 1 1/2 cup of meat which would have otherwise been discarded.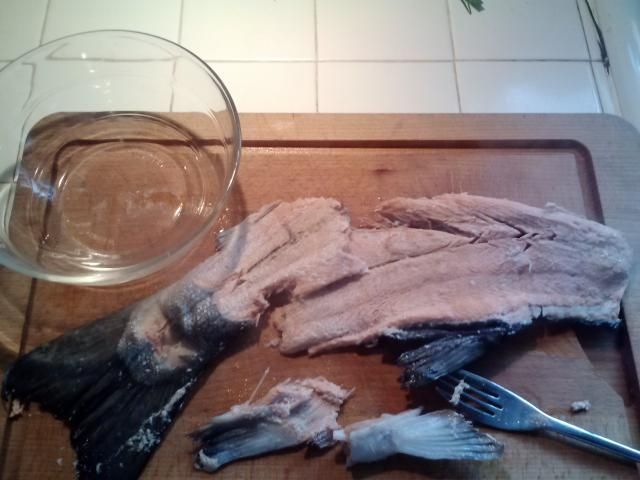 I wanted to make chowder with this salmon. Ever since I was a little girl, clam chowder has been one of my favorite things to order in a restaurant. I don't order it often anymore but dang, it's still on my top 10 list of soups.
But I didn't want to make just a salmon chowder: I wanted a clam chowder with salmon in it.
Behold, the results.
Gene often complains that I never make things the same way twice. Here's the recipe I developed AND documented so that I can repeat this... and make it again I shall.
Salmon & Clam Chowder
Recipe by yours truly. Serves about 4 as a main course.
Ingredients
1 tbsp unsalted butter
1/2 medium white onion, diced
2 stalks celery, diced
1 bottle clam juice
2 cloves garlic, minced
4 medium red potatoes, cubed
3 cups chicken stock (I had an experimental batch of
corn cob stock
on hand, so used that)
1 tsp salt
1/4 tsp dill weed
1/4 tsp pepper
1/8 tsp thyme
1/8 tsp crushed red pepper flakes
1 cup corn (frozen or canned)
1 tsp cornstarch mixed with 1 tbsp cold water
1 can of baby clams, drained
1-2 cups of salmon, flaked (canned is OK)
1 cup cream or half-and-half
Directions
1. Melt the butter in a soup pot. Add the onions and celery. Cook until soft, about 5 minutes.
2. Put the clam juice, garlic, potatoes, stock, salt, dill, pepper, thyme, red pepper flakes into the stock pot and bring to a simmer.
3. Simmer gently until potatoes are soft, about 8-10 minutes.
NOTE: You don't want to allow the chowder to boil from this point onward. The corn and clams could become chewy and the salmon dry out.
4. Add the corn and bring back to an almost simmer.
5. Stir in the cornstarch to thicken slightly (use more cornstarch for a thicker chowder)
6. Add the clams, salmon, and cream, and stir gently to incorporate. Allow to cook at an almost simmer for 5 minutes so that flavors blend.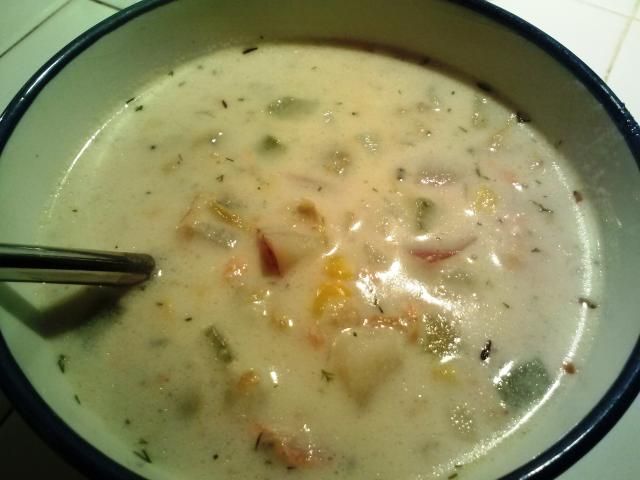 True to my west coast roots, I served this with sourdough rolls and freshly ground pepper. Go ahead and offer up some oyster crackers if your tastes go that way. I won't judge.