We ate a LOT of gnocchi after that massive batch. Here's one variation on a theme: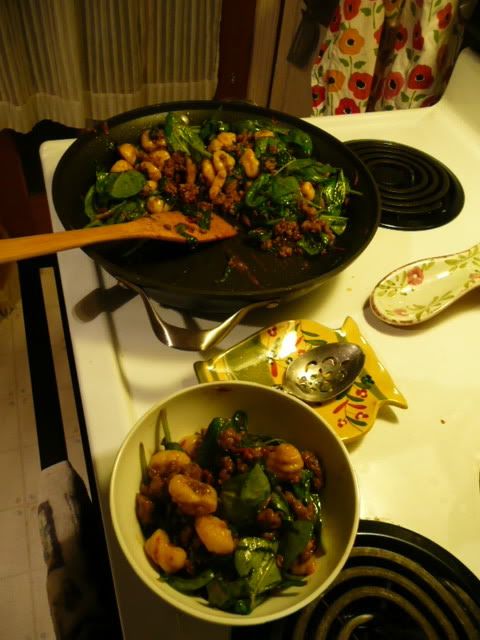 I whipped up a batch of gnocchi and served it with spinach, sundried tomatoes I made last summer, Lucky Pig Farm spicy Italian sausage, and a little bit of home-canned chicken broth to give it a sauce. Lisa's sausage is so flavorful that I didn't even add salt. Get the best sausage you can and give this a go.
This was super fast to make:
1. Boil a big pot of water (the bigger the better because the frozen gnocchi will cool the water down).
2. While the water is heating up, cook up the sausage. Add chopped sundried tomatoes. Garlic and diced onions would be good, too! Stir in a little broth to make a sauce.
3. Once the water boils, throw in a handful of frozen gnocchi per person. When they float, scoop them out with a slotted spoon and drop them right into the sausage mixture.
4. Toss with some greens - any would be good - until the greens are wilted and serve.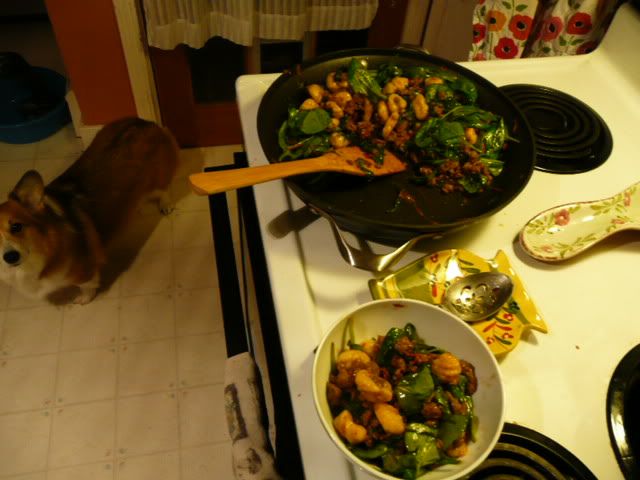 You have nommies for me?
Rosemary is like any dog: always underfoot and hoping for scraps to fall. That's how I discovered that she loves frozen blueberries, by the way. Silly dog.
The only non-local ingredient was the spinach. We need our greens! This is a hearty, delicious meal and a little goes a long way. I made it quite a few times, including once for my brother. Serve with a robust wine and ignore the torrential rains outside.