In January, as part of my 2011 resolutions, I was cleaning and ran the oven through a self-cleaning cycle. Little did I know that would be its swan song. It never worked right after that, unable to reach temperatures much above "lukewarm".
Gene and I soon went out and picked a new gas oven to replace the old electric one. The problem is that while we have natural gas in the house for heat and hot water, the kitchen isn't plumbed for gas. In addition, the delivery date for the oven was a couple of weeks out. We've been hobbling along without a functional oven for over a month. As someone who blogs about, among other things,
food
, that has been a particularly disheartening turn of events. I have
bacon to make
, dagnabbit!
On the bright side, yours truly is getting a gas stove. I haven't cooked on gas since I lived in France over 15 years ago and I cannot wait.
The other bright side is that this is a convection oven. Yippee! Though, truth be told, I have no idea what that means in terms of how it'll affect my cooking.
Other upgrades include a newish stainless steel over-the-range microwave we got on Craigslist for $40 and a pot-filler faucet to be installed in the near future above the stove.
All in all the dead oven wasn't such a bad thing, though I'm not excited about the cost. Alas.
With no oven we've been grilling on the BBQ and cooking on the stove top. It sucks to BBQ when you can see your breath.
I used up a variety of withering ingredients for this soup and, as the title suggests, it's not going to win any beauty contests but it makes up for it in tastiness and healthiness.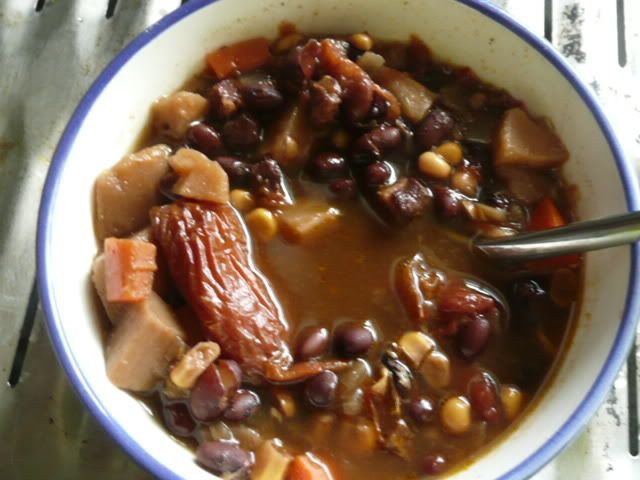 Ugly soup
1 cup dried black beans, soaked and rinsed (ugly ingredient #1)
Olive oil
1/2 onion, diced
3 diced parsnips
4-6 diced carrots
1 cup corn
broth or bouillon of your choice (I used a homemade veggie bouillon, which meant I needed no additional salt)
handful of dehydrated tomatoes (ugly ingredient #2)
1 tbsp cumin
1/2 tsp red pepper flakes
3 ounces salt pork (or use any flavorful meat, such as sausage)
Salt & pepper to taste
In a large stockpot, cook onion in ~1 tablespoon olive oil over medium heat until translucent. Toss in the root veggies and cook another few minutes to caramelize and get flavor.
Add the corn, tomatoes, meat, and seasonings, then cover everything with your liquid of choice. Simmer for an hour or longer, depending upon how much time you have.
Serve with a crusty bread to sop up the brothy goodness.
Why is this ugly? First, the black beans turn everything else a murky brown, like the white parsnips and corn. The rehydrated tomatoes swell up and look like rusty-brown globs. They're not sexy, but they are tasty.
Most of my ingredients were locally sourced, with the exceptions being the beans, seasoning, and olive oil. The salt pork is a byproduct of the February Charcutepalooza Challenge, bacon and/or pancetta, and comes from Lucky Pig Farm.
Look what was waiting for me when I got home today (pardon the cruddy cell phone picture).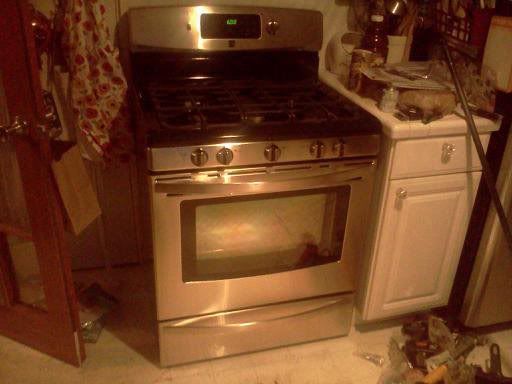 I plan to break it in tomorrow.