More years ago than I should admit, I spent Christmas in Europe with friends. The days leading up to Christmas were in Bavaria, possibly the most Christmas-y place on Earth, and afterwards I continued to stay with friends in the Grenoble area of France. Not technically the Alpes, but close enough.
My German friends lived in and around Munich and took me to a variety of Christmas markets (Christkindlmarkt), both the enormous one in Munich's famous Marienplatz as well as a small one in a neighboring town called
Aichach
.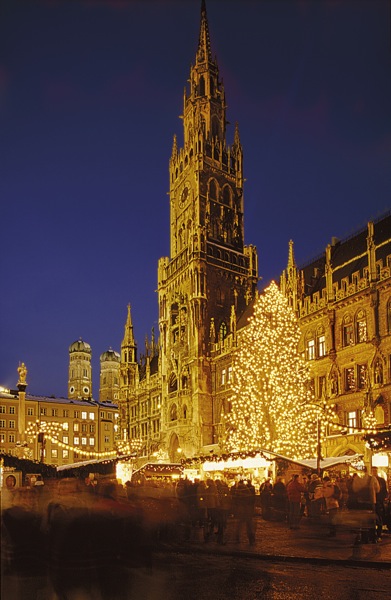 photo: Borderless Adventures
My mother's family has roots in Northern Germany and I suspect that's part of the reason I so dearly loved Christmas in Bavaria. It's Tchaikovsky's
Nutcracker
wrapped up in a living, lovely package. The sights and smells of a Christkindlmarkt bring to mind everything that is wonderful and magical about Christmas: sweet pastries filled with nuts and raisins, nutcrackers ranging from elaborately decorative to utilitarian, pine trees weighed down with hundreds of white lights, hand-painted tin ornaments, cedar wreaths, sweet treats like lebkuchen and pfeffernüsse. I always crave
marzipan stollen
this time of year, too. Here's the stollen I made last year: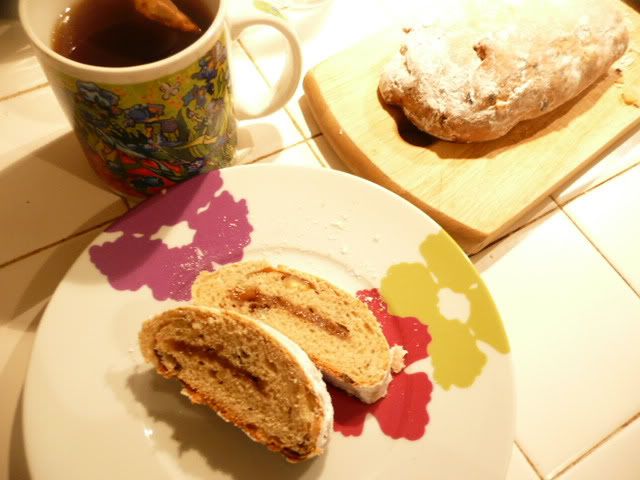 And glühwein (pronounced gloo-vine). Oh, good heavens, don't forget the glühwein!
Glühwein is soul-warming, spiced, sweetened wine served hot. The name literally means "glow wine", and for good reason. It's red wine steeped with cloves, cinnamon, and orange slices. Some recipes call for extra alcohol to be added, such as brandy or amaretto. "Glow" indeed!
At the Christkindlmarkt in Munich, paper cups of steaming glühwein are sold at booths around the market. But in Aichach, the glühwein was served in ceramic mugs loaned to the market by the townspeople. You pay a small deposit for the ceramic mug. When you had glugged your glühwein, you returned your mug to the stand so that it could be washed and reused. It keeps the liquid warmer for a longer period, too. Talk about reducing your environmental impact!
Bavaria in December is cold. And Ido mean
cold
! A warm mug of glühwein warms both your hands and your belly. The spiced scent of it tickles your nose as you sip it on a freezing, perhaps snowy, winter night and allows you extra time to browse the market's booths. It's an ideal beverage
après-ski
, for cuddling by the fire, for decorating the Christmas tree, or for accompanying a book or movie. However you enjoy glühwein, do so in the company of loved ones. And tipple slowly: its effects sneak up on you faster than that creepy coworker who is determined to catch you under the mistletoe.
Photo: Beautifulwomendating.com
Resources:
Recipe for glühwein

(I haven't made this one yet, but will try it Christmas day). This blogger also has some festive pics of different markets around Europe.
My suggestions for making glühwein:
Use whole spices rather than ground. Ground spices will cloud the liquid.
Buy the spices in the bulk section of your supermarket to avoid having to mortgage your home for a few sticks of cinnamon and a whole nutmeg.
If you want, make a sachet of cheesecloth to contain the spices, or use a tea ball.
Allow the wine to steep, not boil.
If you use honey, reduce the amount you add by half because honey is twice as sweet as sugar.
Taste the resulting beverage before serving to make sure it's sweet enough for you.
I'm dying for some glühwein. I can't wait to make a pot of it and take it to my parents' house for Christmas Day. Bean is making us wait for his arrival, however, so there won't be any glühwein for me until he's here. My doctor told me today that he'll pencil me in for an induction on 12/21, which is a week after my due date and nearly two weeks from now. I wanted to cry: I want this baby to be born!
Enjoy some glühwein for me.
Photo: grabbingthegusto.files.wordpress.com