Taking down a Christmas tree is never one of my favorite activities. The thought of doing it with a (yet-to-arrive) newborn made it even less appealing. Instead of dragging the artifical tree and ornaments out of their corner in the attic, this year we decided to decorate our mantel. The entire process took less than 20 minutes, if you exclude the provisioning of the greens.
I even dusted.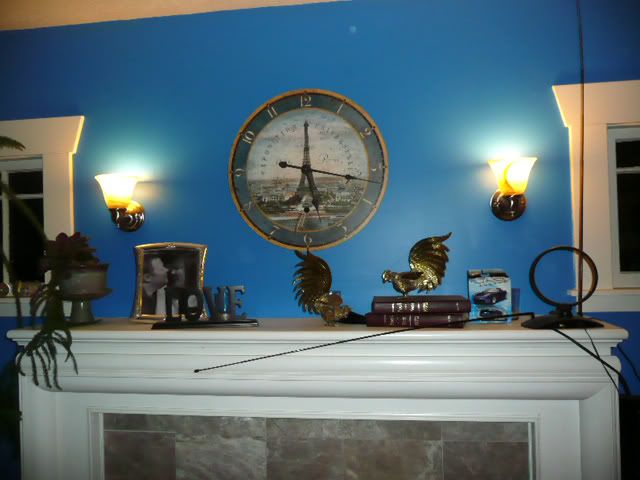 Don't ya love the rabbit ears? We don't have cable.
I work down the street from a tree stand. One day during lunch I walked over to ask if they had boughs or garlands. They had a sign that said "Boughs: FREE". Awesome! But when I inquired about the boughs, the guy at the stand looked at me blankly. He didn't know what "boughs" are.
How do you work for a tree stand that gives away free boughs (branches) and you don't know what they are? It's not like the menu of offerings at the tree stand had more then 6-7 items on it in the first place. I was dying to eat lunch and my preggo patience was worn thin. His coworker told me that they'd have boughs later in the day but didn't have any at that moment. Being nine months pregnant and facing an uphill hike to employee parking alone after dark, I decided against returning later in the day.
The following weekend Gene and I ventured out to a
nursery
in town that sells cedar garland by the foot. We bought 8' of fresh, lovely smelling garland and headed home.
My mom and her sister had recently divided up my grandmother's ornaments and I was able to procure a few, including a handful of handmade blown glass ornaments from Romania and a couple of strings of antique beads.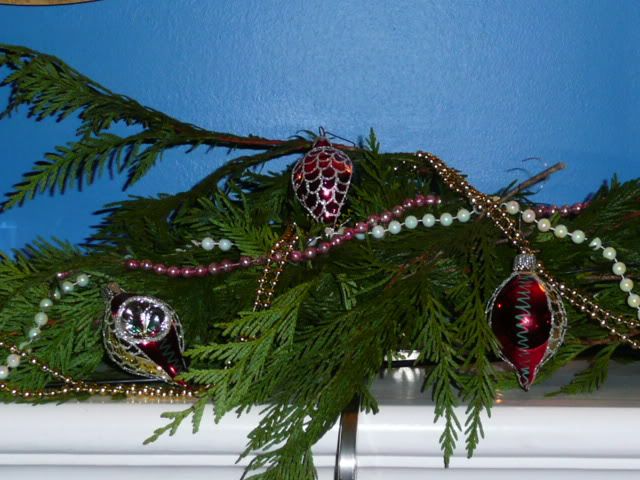 I've tucked a glass ornament engraved with Bean's name into the garland, ready to pull it out when he comes home with us from the hospital in the next few days. (I'm scheduled for an induction on 12/21 if he hasn't decided for himself to arrive.) I can't wait to display that particular ornament.
In my attic there were a few Santa figures. I like them because they're tall and narrow. OK, the smallest one is technically a nutcracker ornament... close enough. Decorators like things in odd numbers so three of these guys get to spend a couple of weeks on the mantel with the African violet.
I think I got rid of my string lights during last summer's attic purge. But I had a ton of the IKEA tea lights and several juice glasses. Mason jars would work fine, too. I tucked five of these behind the garland, being careful to make certain that no part of the greenery was above the glass.
When lit, the candles emit a lovely flicker because of the vertical lines in the glass. It's much prettier than string lights anyway.
Finally, I hung our stockings. The snow scene on the right is mine, which my mom made for my own first Christmas. I found the Santa stocking at left hanging on the back porch of my house, which I bought the summer before Gene and I met. The Santa has a very pretty
petit point
face. Who could have known that just a few months later I'd meet the man I'd later marry? Good thing I kept that stocking.
The mitten in the middle will have to make due for Bean's "stocking" until he gets his own. I think that my mom wants to make one for him but is waiting to learn what his name is before she starts it. Besides, stocking kits will be on killer discounts in about two weeks!
Since putting up the greens our antenna reception has improved, allowing us to receive an additional channel.

Do you ever take a break from holiday decorating? Do you do any sort of alternative decoration?