Meet Jennifer. She and I went to high school together, where I sat behind her in algebra class. It took me most of that semester to realize that our teacher was, in fact, her dad. Jennifer and I reconnected last summer on facebook when our classmates were planning an 18-year reunion. (I know... weird.)
As we've gotten to know each other again via facebook Jennifer and I have discovered that we have a lot in common. I asked Jennifer if she'd be interested in doing a guest post on cooking with local food in Bellingham. Oh happy day, she agreed! Jennifer is an avid user of her pressure cooker, something I've yet to really get into, so help me persuade her to return with a future post about pressure cooking, ok?
Jennifer lives in
Bellingham
with her handsome husband and their two young boys. Bellingham is home to
2 farmers markets
, Western Washington University, and is located a stone's throw from the San Juan Islands and Canada.
Without futher ado, I'll turn my blog over to Jen for today.
-------------
One of the things I love to make in the fall and winter months here in Bellingham is pasta with kale. I first saw Lydia Bastianich cook this on her show called "
Lidia's Italy
." It's simple, easy, and takes very little equipment or fancy foods.
The best part however, is the fact that you can substitute any bitter green veggie for the kale. Some good substitutes that I've used in place of kale are swiss chard, arugula, beet greens, collard greens, and mustard greens. These greens on their own are usually dismissed by many as tasting awful. But cooked in this manner they are delish, light and healthy. Bitter greens are usually available all winter long from local farmers and they'll even grow up through the snow.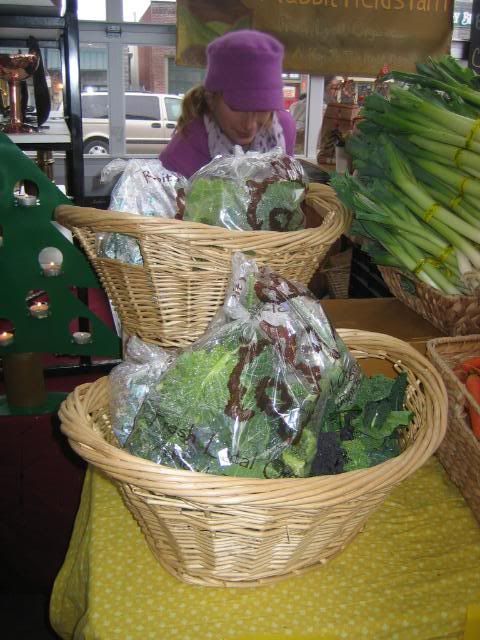 All photos by guest blogger Jennifer, except as noted
I purchased my kale from the
Rabbit Fields Farm
stand at the Bellingham Farmer's Market. It's open year round now due to the building of the covered market area. Most of the building is made from recycled building material and the internal structure utilized refurbished beams from an old county bridge.
On top of the market structure is a weathervane in the shape of a beet that was made by a local artist. Welcome to Bellingham!
For a nice break from meat during the week and a tasty way to serve up kale, here's how to make Pasta with Kale.
Ingredients:
16 oz. dried pasta (I prefer linguine)
Grated parmesan
1 garlic clove
1 bunch of kale
Favorite bottle of white wine (this is optional and veggie/chicken stock/or even water can be used instead)
Red pepper flakes
Salt and pepper to taste
Olive oil
Instructions:
First, thinly slice a clove of garlic and sauté in small amount of olive oil. Scoop out the garlic when it begins to turn brown and reserve.
Then chop up your kale into small bits and place into the garlic infused oil. Get ready: iy will snap, crackle, and pop because the kale contains so much water, which reacts with the oil.
Toss the kale in the oil, cover quickly, and cook down for a few minutes.
Once things have settled down under the lid of your pan, add a pinch of red pepper flakes, salt and black pepper.
Toss again and then add a bit of wine. I use about ¼ cup. Cook off the alcohol in the wine and cook the kale until is it tender. Add the reserved garlic back to this mixture at this time.
While the kale is cooking heat up a gigantic pot of boiling water with a small handful of salt. Yes, I said handful. In Italy, the farther south you go the saltier the pasta water gets, so that by the time you're in Sicily the pasta water is as salty as the Mediterranean. One small handful and you're about mid-Italy.
I cannot emphasize enough, but make sure this pot of boiling water is BIG. If your noodles have ever stuck together it's because you didn't leave enough "swimming room" for the pasta.
Once your pasta is cooked scoop it out of the water and add it to the hot, cooked kale. Toss the pasta, garlic and kale mixture together in the pan. Add a little extra pasta water if the pasta and kale are having difficulty mixing together.
Turn off the heat in the pan and sprinkle a generous amount of parmesan cheese. Serve it up in bowls and enjoy.
The whole meal takes just 20 minutes, so it's a really good dish to make when you don't have a whole lot of time. Have fun!
-------------
Leave a nice note for Jennifer if you want her to write another guest post sometime.