March's Charcutepalooza challenge was to brine something. With a cabinet full of pickled cukes, squash, beans, and cabbage, and Saint Patrick's Day not far off, I wanted to try corned beef.
I concocted the brining mixture a week ago and set my locally sourced brisket for a soak. The recipe called for a five-pound slab but that's a LOT of meat. I settled on one that was a little under three.
BTW, one of the Charcutepalooza rules was to not include the recipes because they're in a
copyrighted book
. Check out
Alton Brown's corned beef
, which you could do in five days. Change out Alton's herbs & spices for pickling spice available in the bulk spices section of the grocery store.
If you start yours next Saturday, it'll be perfect for a Saint Patrick's evening meal. Go on, do it! The brining takes just five minutes to get going.
After the requisite five-day period of brining the meat, I rinsed it and put it unceremoniously into the crockpot with some fresh water and about a
tablespoon of this vegetable bouillion
. Gene and I had a million errands to run, not one of which was in the same part of town. The corned beef was left on its own for a few hours. When we came back it smelled good but was rather tough. I cranked up the heat in the hopes of breaking down the connective tissues before we left for our friends' house.
While that was cooking I whipped up a batch of Irish soda bread, adapted from
this recipe
. I was completely out of white flour and made it instead with whole wheat. I increased the leavening agents to lift the heavier whole wheat flour. It turned out really well and I'll definitely make it again. This is a bread you could make the night before and reheat.
As soon as it came out of the oven I wrapped it in a linen towel and we dashed to our friends house, bread and beef in hand.
I am relieved to report that the corned beef did tenderize and was quite good. The flavor of the pickling spices had permeated the meat. Our friends, parents of two young children, welcomed us - and the culinary offerings - with open arms. They had made boiled potatoes, carrots, and cabbage. With spicy brown mustard and a local red wine, this was a warming meal shared with good friends.
I regret that I have no photos of our completed dinner. We were enjoying our evening and completely forgot. I can say, though, that the corned beef retained a nice pink color and had great flavor. The kids loved the bread, too!
IRISH SODA BREAD WITH CURRANTS
1 cup all-purpose flour
2 cups whole wheat flour
1.5 tablespoons baking powder
1/3 cup white sugar
1 teaspoon salt
1 teaspoon baking soda
1 egg, lightly beaten
2 cups milk + 1 tablespoon vinegar (or use buttermilk if you have it - I didn't)
3 tablespoons butter, melted
1/2 cup dried currants, such as Zante
1.Preheat oven to 325 degrees F. Grease a 9x5 inch loaf pan.
2.Combine dry ingredients. Blend wet ingredients together, and add all at once to the flour mixture. Mix just until moistened. Add currants gently. Pour into prepared pan.
3.Bake for 65 to 70 minutes, or until a toothpick inserted in the bread comes out clean.
Note for convection ovens - my loaf was done at 55 minutes.
The original recipe says to let this cool & wrap overnight. Blah blah blah. Screw waiting for it to cool down. It's utterly delicious served piping hot with butter.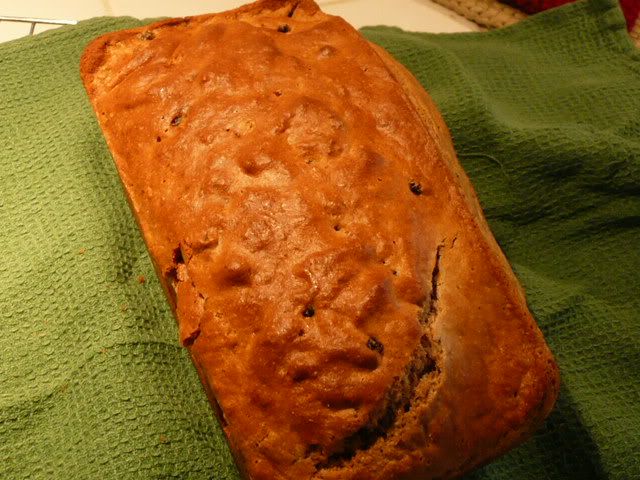 -----------
A year ago
today I started this little blog. Thank you so much for reading.