We got a ginormous egg about a week ago. It weighed about 100 grams, which is about 50% larger than our normal eggs.
Here it is next to a medium egg from one of our Polish hens (btw, who says Polish hens can't lay big eggs?).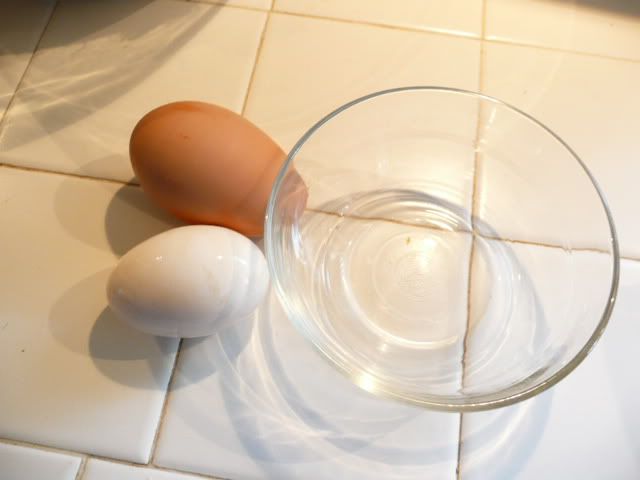 Some people insisted it was a double-yolker. We don't get those very frequently, so I cracked it open to see what was inside.
That has got to be the biggest yolk I've ever seen. The yolk next to it is a normal size. The big one was probably 1.5 inches across. Massive!
It did, however, make some pretty awesome banana bread.
BANANA BREAD
(adapted slightly from
CookingLight.com
)
1 1/2 cups mashed ripe banana
1/3 cup lowfat sour cream
5 tablespoons butter, melted
2 large eggs
1/2 cup granulated sugar
1/2 cup packed brown sugar
3.75 ounces all-purpose flour
3 ounces whole wheat flour
3/4 teaspoon baking soda
1/2 teaspoon salt
1/2 teaspoon ground cinnamon
Cooking spray
Chocolate chips - optional
1. Preheat oven to 350°.
2. Combine first 4 ingredients in a large bowl; beat with a mixer at medium speed. Add granulated and brown sugars; beat until combined.
3. Combine flours and next 3 ingredients. Add flour mixture to banana mixture; beat just until blended. Pour batter into a 9 x 5-inch loaf pan coated with cooking spray. Bake at 350° for 55 minutes or until a wooden pick inserted in center comes out clean. Remove from oven; cool 10 minutes in pan on a wire rack. Remove bread from pan; cool completely.
This is a bread plate I bought for my grandma in Bavaria some years ago. I recently retrieved it when she moved into assisted living. Perfect for a small loaf of bread while paying a visit to friends!