This is one of the best soups I've made in a long while. It's an interesting combination of flavors that I wouldn't have come up with on my own. The result is a hearty dish that's spicy and fresh at the same time. We liked it a lot.
I'd like to make a vegetarian version at some point, as the sausage adds a lot of calories to this soup. I think that replacing the sausage with carrots, parsnips, and sausage-esque seasonings (think: fennel, red pepper flakes, paprika, parsley) would be delicious.
From
Dinner with Julie
Sausage & Chickpea Soup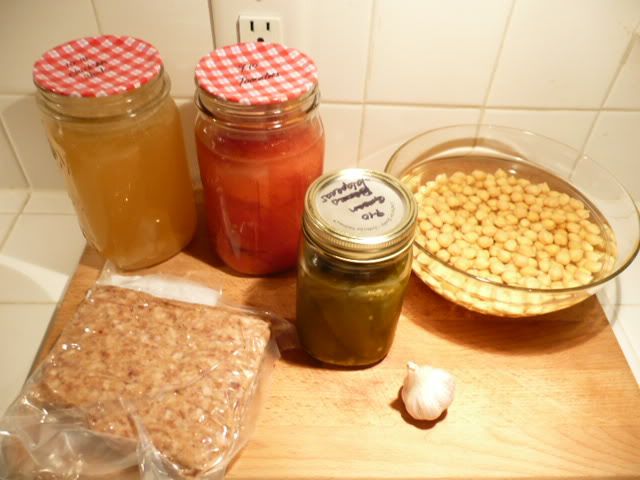 1 lb. hot Italian sausage
1 head garlic, cloves separated, peeled and chopped
1 pickled jalapeño pepper, finely chopped
1 tsp. cumin
1 quart canned tomatoes
1 cup dried chickpeas, soaked overnight, rinsed and drained
1 quart chicken stock
a squeeze of fresh lime juice
fresh cilantro
1 avocado, peeled and chopped
In a large saucepan or Dutch oven, cook sausage and garlic and sauté until the sausage is golden brown and cooked through, breaking up with your spoon. Add the jalapeño and cumin and cook for another minute or two.
Add the tomatoes, chickpeas and stock and bring to a simmer. Reduce heat to medium-low and cook for 30 minutes, until everything is cooked through and the broth has thickened slightly. Add a squeeze of lime, season with salt and pepper and serve hot, topped with fresh cilantro, chopped avocado, and extra lime wedges alongside. Serves 4.
LOCAL: chicken broth, tomatoes, pickled jalapenos from my garden, garlic, sausage
NOT LOCAL: Bob's Red Mill
garbanzo
beans, cilantro, avocado, lime
As an aside, this is a great use for pickled jalapenos. I grew 2 plants on my parking strip and didn't know how hot they would be as I'd never had luck with jalapenos before and it was a cold summer. I gifted a jar to a girlfriend at work for her birthday and she later told me that even her heat-loving son thought that they were really hot! I'm thinking of giving a jar to our department head who was raised in India. Last fall he brought a viciously hot pepper puree of some kind, which made me cough and sputter when a seed affixed itself to my esophagus, much to his amusement.