We've had very cold temps here in WA lately. We even awoke the other morning to light snow.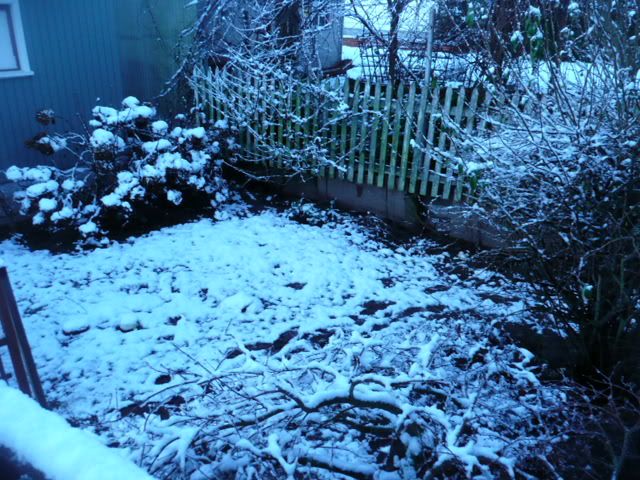 It was all gone by 9:00 a.m. but my 8:00 a.m. drive to work was slicker than snot.
This is my lilac tree in the back yard. There was a crescent moon that was too pretty not to photograph.
About a year ago a girlfriend thrust into my arms a large plastic bag from a fancy yarn store in Seattle called
Tricoter
("To knit" in French). I've never been there but would like to go sometime. It looks fabulous from the website.
You have to know Nancy to know that she's got a Midas touch. She shops at Goodwill and buys gorgeous vintage clothing that looks awesome on her. She picks things up for a song in thrift stores and with her amazing flair puts them together in a way that makes it look like it's been staged for a magazine cover. She collects paper and crafts little artistic things like paper bird houses, one-of-a-kind personalized namestags for gifts, and cards.
And then there's her garden - beautiful any time of year. My yard looks like crap right now.
But Nancy has an Achilles heel. The bag that she pushed into my arms contained a failed knitting project. The scarf she had started was shaped like a V. She had been trying to knit 3 strands together and it was too bulky. It had dropped stitches and was a mess. Disgusted and fed up, she gave me the entire project to do with what I wanted.
Hey, she can't be good at everything.
On Christmas day I started to frog (pull out knitting) it. It took me the better part of a day because the strands were twisted together. Frankly, the person who helped her start this project has no place "helping" a beginning knitter. Nancy selected yarns that are difficult to work work due to the color and texture - you can't see what you're doing at all. These were not cheap yarns either. The price tags showed that each of the 6 skeins cost between $10-11.
I knitted three long panels and braided them together. Each end is knitted together. The braid is sewn together lightly to give it stability but to allow the strands some movement.
I don't have a before picture but you can probably imagine an ugly, bulky, dark scarf and that would suffice.
I am really pleased with how it turned out.
And so was Nancy.