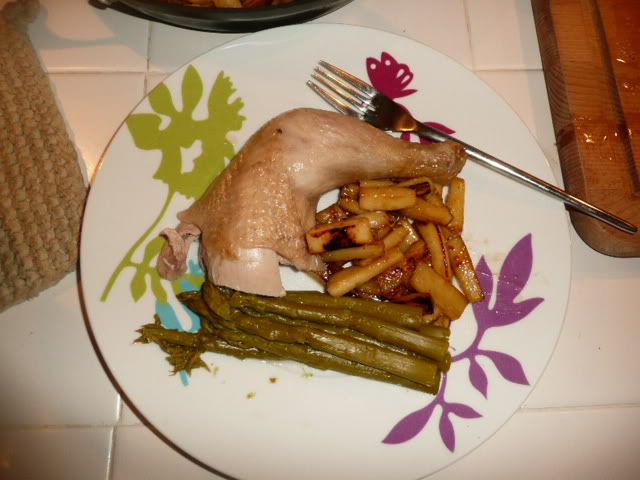 I'd been meaning to drive to Tenino, where my friend Lisa has her Lucky Pig Farm, so that I could pick up some things before Christmas. I never made it but, luckily for me, she drives through Tacoma weekly and we were able to connect.
There's always a voice in the back of my head whenever I'm meeting someone in a parking lot to buy a non-commercial, locally raised product like meat or honey. That voice says, "So, ya got da stuff?" Cracks me up.
Lisa brought me a fresh chicken. I roasted that guy up with some thyme from my yard, olive oil, salt, and pepper.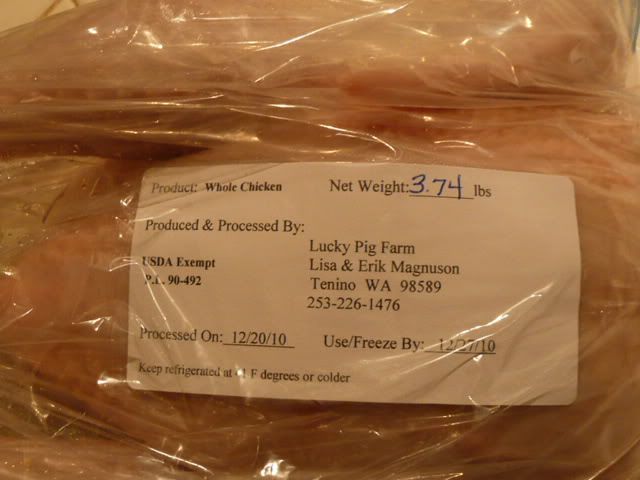 While the chicken was roasting, I made
these parsnips
. I had dug them out of my garden a while back, pleasantly surprised at how big they'd gotten. Parsnips are easily one of my favorite winter vegetable. I love the sweetness they develop after being cooked.
SAUTEED PARSNIPS WITH ROSEMARY HONEY
adapted very slightly from epicurious.com
1 tablespoon olive oil
1 pound large parsnips, peeled, halved lengthwise, cored, cut into sticks
Coarse kosher salt
1 tablespoon butter
1 tablespoon
rosemary-infused honey
Heat oil in large skillet over medium-high heat. Add parsnips. Sprinkle with coarse kosher salt and pepper. Sauté until parsnips are beginning to brown at edges, about 12 minutes.
Add butter, rosemary, and honey to parsnips. Toss over medium heat until heated through and vegetables are glazed, about 5 minutes. Season to taste with more salt and pepper, if desired.
I finished off the meal with some aspargus from my pantry and voila! A 100% local meal.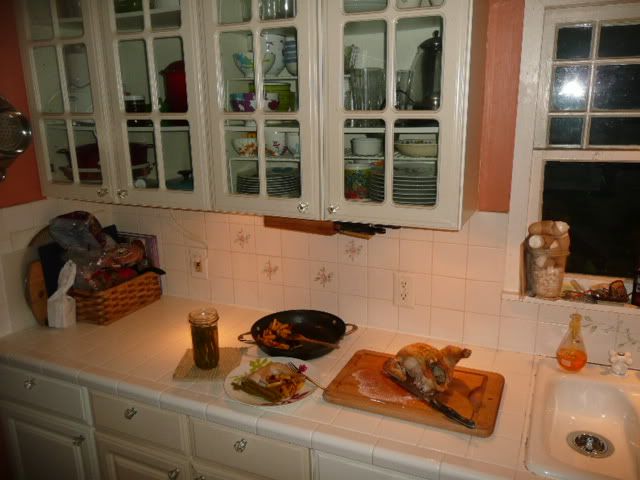 On a side note, I'm in awe of how big my kitchen looks when the counters are clear... wow.