Last summer I bought a butt load of eggplants. I chopped them up with my bumper crop of yellow squash and froze 3 bags like this one. Notice that it says "pg 503" ?
This is page 503:
From this famous book: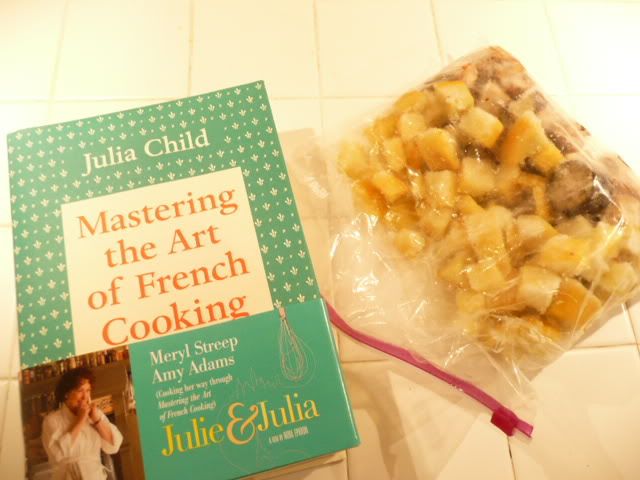 I was fortunate enough to live in France for 10 months, 8 of that spent with a French family who adopted me. The matriarch of the family, Marie-Claude, is a warm, generous, and kind person who is still a close friend. M-C taught me many of the things I know about cooking, including how to make ratatouille. Much of what I cook, both in technique and ingredients, comes from her influence.
Ratatouille is made from tomatoes, squash, eggplant, and bell peppers, all late summer harvest items. It's from the south of France, which is the warm region where these things grow well. When I bagged up the yellow squash from my yard and the farmers market eggplant last summer, it was an experiment to see if I could recapture that late summer flavor of savory vegetables in the bleak winter months of roots and hard squash.
You can
download a copy of the Julia Child recipe here
.
I started by cooking the eggplant in oil:
Next I cooked the onions with 3 of my fire-roasted red pepper cubes because fresh local bell peppers do not exist in Washington in January.
Once that was all cooked, I added the garlic.
From there, I added a jar of tomatoes I had canned last summer, returned the eggplant to the pan, and seasoned it. I could tell that Julia's ratatouille wasn't going to be as good as Marie-Claude's (sorry, Julia). I added some herbes de Provence and red pepper flakes as well as extra salt and pepper.
I let it simmer, covered by a splatter guard, for about 20 minutes.
My last act was to top the ratatouille with 4 eggs and let them poach in the sauce, covered, for about 5 minutes.
Ratatouille with eggs is the only way I ever had this dish in France, and it's how I prefer it. The slightly runny yolks add a creaminess to the ratatouille's flavor, as well as contribute protein.
Of course, I had to have some red wine with dinner!
So did I recreate a summer dish in the winter? The answer is yes and no. The eggplant was brown and unappealing, I think due to having been frozen and my not having drained it fully. The yellow squash, however, was still very flavorful and I found myself digging in my bowl for just the squash. The chickens got the eggplant and gladly ate it. They don't get much in the way of veggies during the winter.
I still have 2 bags of the ratatouille mix in the freezer. I'm going to try a recipe from my
French Cooking
cookbook, which I recently pulled from my library for the mousse au chocolat basque. I'll let you know when I do.
Ingredient break-down:
LOCAL: All veggies and herbs, eggs, wine
NOT LOCAL: Oil, salt, pepper