Don't you love it when your significant other makes breakfast?
So do I!
G-man wanted pancakes and there was some buttermilk in the fridge that needed to get used.
Here's the recipe he used
. If you've been reading my blog for a while, you might have seen it before. It's our favorite pancake recipe.
While he prepped the batter I defrosted some blueberries. When I was a kid I didn't even know that pancakes could come without blueberries! Even now, at 36, I think pancakes are naked without blueberries.
Nothing sexier than a man weilding a spatula.
Sorry the picture is fuzzy. I had left the camera in the car overnight and it steamed up upon coming into the warm house.
Or maybe I steamed up the camera watching Hubbie cook?
We topped off the pancakes with the
boysenberry syrup I made last fall
.
Add a cup of coffee and life is good. Does Starbucks count as local if their HQ is just 30 miles from my house? Yeah... I didn't think so.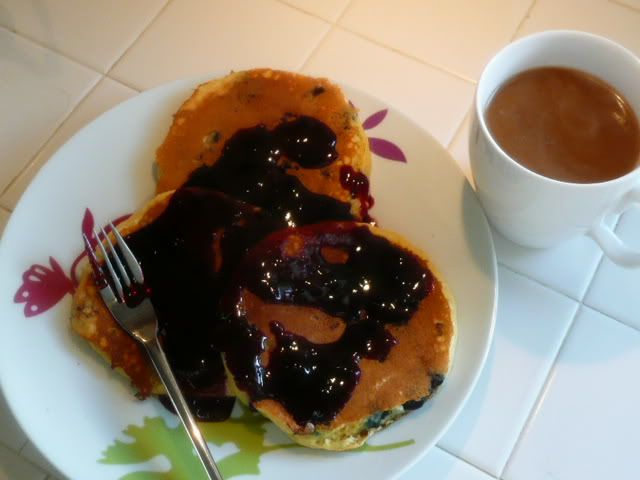 Ingredient breadk-down
LOCAL: all dairy products, berries, syrup, egg
NOT LOCAL: flour, sugar, baking powder & soda, oil, coffee