Kaelen and I drove to Cle Elum, WA the other day to spend birthdays with friends. It was a glorious day, both in terms of weather and time with wonderful people. Check out the view, looking west from the hills above Cle Elum.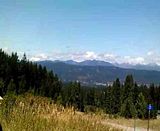 Direct link to the video:
http://s282.photobucket.com/user/Jennspeeps/media/0824131238_zpscade4314.mp4.html
For those who don't know where this is, it's right off I-90 in the middle of the state, and only about 20 minutes from where I got my undergrad.
View Larger Map
Lots of memories driving out there. It's beautiful country.