A week or so ago a girlfriend of mine posted on Facebook that she was going to attempt her first solo canning, peach chutney. Being a huge enabler, I called her and offered my tools, company, and assistance.
Right before I left to head over to her house, she texted me: "I have this sinking feeling that my peaches aren't ripe yet." She was right: her peaches were still rock hard.
We did what any reasonable home food preserver does: we went in search of ripe peaches!
We found the peaches at
Sterino Farms
in the Puyallup Valley. As we were paying for our respective items (I picked up a few things, too, but nothing for canning), the cashier offered us some bananas.
Never one to refuse free produce
, I immediately agreed, visions of banana bread dancing in my head. We don't buy bananas in the summer anyway, because the local fruit options are so spectacular from June well into September.
A week later, the bananas were still languishing in my fridge. Darn. At least they were super soft and squishy! I found a reliable recipe at foodnetwork.com and swapped out half of the AP white flour for whole wheat. Since this bread will be breakfasts for some time, it needs to have more fiber and sticking power than regular AP white flour can provide. I also added a handful of chocolate chips because, well, hello, it's chocolate.
Whole Wheat Banana Bread
Recipe doubled from original at
foodnetwork.com
. Makes 2 loaves.
Ingredients
2 cups granulated sugar
2 sticks unsalted butter, room temperature
4 large eggs
5-6 ripe bananas
2 tablespoons milk
2 teaspoons ground cinnamon
4 cups all-purpose flour
2 teaspoons baking powder
2 teaspoons baking soda
2 teaspoons salt
1 cup chocolate chips (optional)
Preheat the oven to 325 degrees F. Butter or spray 2 9 x 5 x 3 inch loaf pan.
Cream the sugar and butter in a large mixing bowl until light and fluffy. Add the eggs one at a time, beating well after each addition.
In a small bowl, mash the bananas with a fork. Mix in the milk and cinnamon. In another bowl, mix together the flour, baking powder, baking soda and salt.
Add the banana mixture to the creamed mixture and stir until combined. Add dry ingredients, mixing just until flour disappears. Make sure your mixer is on its lowest setting. I sorta forgot (and keep my mixer on a tray for a reason).
Pour batter into prepared pan and bake 1 hour to 1 hour 10 minutes, until a toothpick inserted in the center comes out clean. Set aside to cool on a rack for 15 minutes. Remove bread from pan, invert onto rack and cool completely before slicing.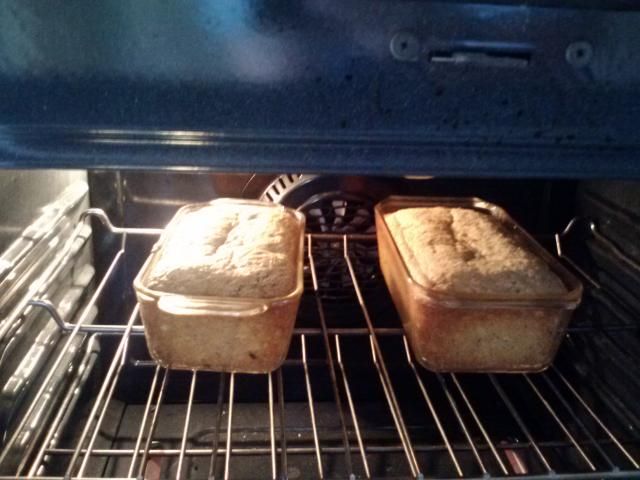 I put a sort of trough in the batter to help the bread rise into a more uniformly square shape during baking.
I like my banana bread with cream cheese and a cup of tea. What about you?