Several years ago I made tomatillo salsa from the abundance of tomatillos my garden had produced. The salsa was delicious: green, tart, tangy, salty, spicy. I was nearing the end of my jar inventory and actually preserved some of it in quart jars.
We went to a party that fall and I took a quart and some chips, figuring I'd make enchiladas with the leftovers.
Leftovers? What leftovers? That small BBQ of perhaps a dozen people hovered up every last bit of my salsa. I swear that
someone licked the jar
.
I haven't had a chance to make tomatillo salsa for several years. Last September we had an infant who was very close to crawling and a German teenager at home. The one before that I was pregnant, when handling a heavy canning kettle was overly masochistic.
But this September, Kaelen has a semi-reliable nap schedule and I have cheap sources of local produce.
Why roast the ingredients?
First, there's the
Maillard reaction
, basically a chemical change that occurs in the food and creates additional flavor.
Second, it's easier. Sure, you're seeding the peppers and cutting open the tomatillos and onions, but that's about it. You're going to let the oven and an immersion blender (or regular blender or food processor) do the heavy lifting for you.
As an aside, wear gloves or don't touch mucous membranes after handling peppers. I washed my hands carefully then scratched my nose. As I write this, my right nostril is burning
Let's do this!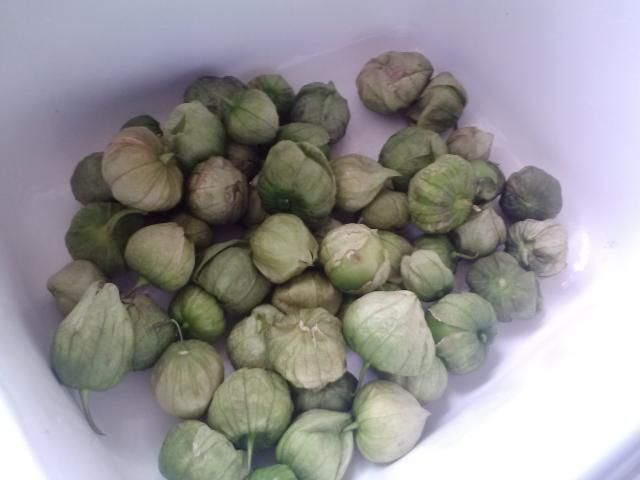 Tomatillos are weirdly sticky after you remove the husk, even after being washed.
Roasted Tomatillo Salsa
adapted from
NCHFP
12 cups (about 4.5 pounds) tomatillos, husks removed, cleaned, and cut in half
7 long green chili peppers, seeded and cut in half the long way
4 jalapenos, seeded and cut in half the long way
8 cups onions, cut in quarters
1 head garlic (I used 3 heads of
turban garlic
)
2 cups lemon or lime juice
2 tablespoons cumin
6 tablespoons oregano
2 tablespoons salt
2 teaspoons black pepper
1 bunch cilantro
Roast the tomatillos, peppers, and onion in the over at 425 for 15 minutes or until some of the things are starting to brown. Place with the rest of the ingredients in a large stock pot. Bring to a boil and simmer for 10 minutes.
Blend the salsa until smooth.
Process per the instructions for your altitude
using this guide
.
My weekend's work:
1 gallon of
slivovitz
13 pints of
strawberry BBQ sauce
9 pints of tomatillo salsa