It started last week with this Facebook post by Tacoma Boys, a fruit stand turned gourmet grocery store across town.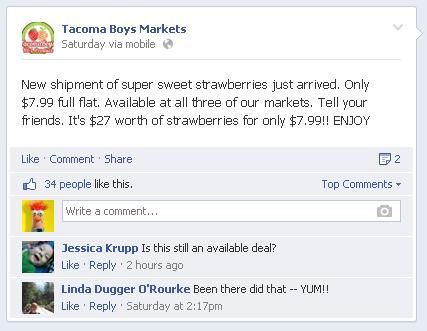 I bought one flat. We had only bought a single flat of Puyallup strawberries this year because at $22 each we couldn't afford more than that.
Once I got home, Gene encouraged me to go back and buy more. Two days later I went back for two more flats. What a deal at $7.99 each! Granted, they weren't local berries but they'd be fine in smoothies and jam.
My car loaded with strawberries (plus blueberries and raspberries from another stand), I headed out to get Kaelen from daycare. On my way I passed a new store called
Harbor Greens
, which is owned by a coworker's friend. I decided to check it out and pick up some meat to grill. As I parked, this is what I saw:
ARE YOU EFFING KIDDING ME?!?!
So I bought another flat.
I lost a half a pound of strawberries and about half a pint of blueberries during the ride home.
Ummmm. Now what.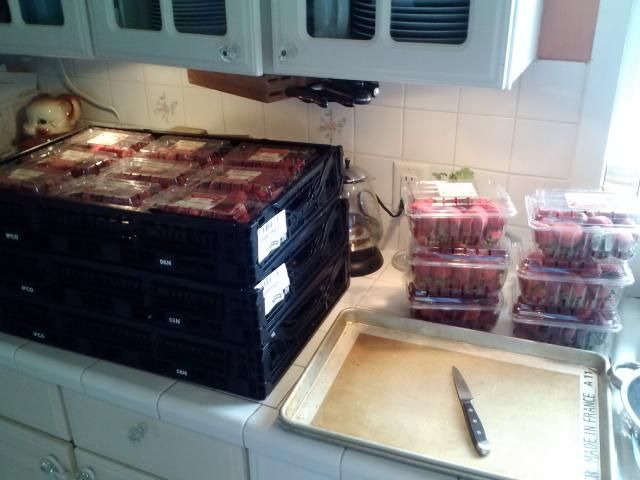 Seriously, there's only so much jam a family of 3 can eat.
"Luckily" (I laugh derisively), our fridge had gone kaput that week. All of its contents were across town in my dad's freezer. A brand new, empty freezer was perfect for freezing strawberries. These trays held about 4 gallon bags' worth.
It's nice to have a stocked freezer again.
But I was still left with nearly 2 flats of berries. Out came the canning items. Hey, these flat holders are very convenient!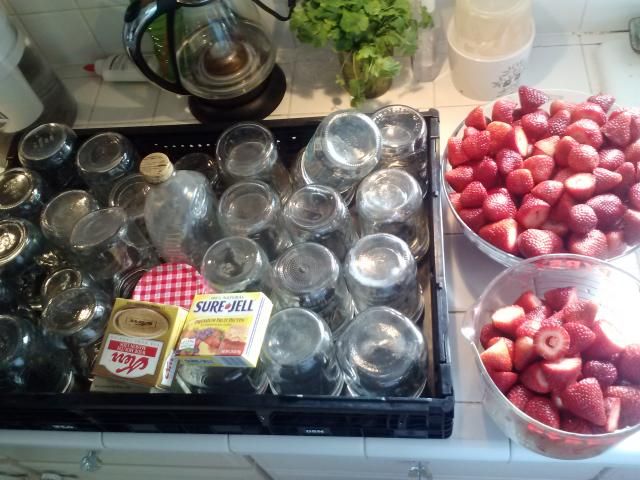 Off I went to google a recipe for strawberries that was not jam. I don't really like pie, so filling was off the list. It's possible to can strawberries but the end result is a mushy mess.
Then I found this recipe:
Roasted Strawberry BBQ Sauce
.
Making a massive mess. This was awful to clean.
I tripled it and processed the sauce for 15 minutes in a boiling water bath. I'll take it to my next barter event.
Roasted Strawberry BBQ Sauce
(recipe adapted slightly from closetcooking.com)
Makes about 5.5 pints.
12 cups strawberries, cut in half
4 tablespoons strawberry jam
6 tablespoons balsamic vinegar
3 chipotle chilis in adobo, chopped
8 cloves of garlic, rough chopped
3 tablespoon ginger, grated
1 tablespoon Worcestershire sauce
1 tablespoon dijon mustard
2 tablespoons cilantro, chopped (optional)



Directions
Place the strawberries in a single layer on a baking pan lined with foil folded up on the sides to capture the juices and roast in a preheated 425F oven until they start to caramelize, about 15-20 minutes.

Bring everything except the cilantro to a boil, reduce the heat, simmer for 15 minutes, remove from heat, mix in the cilantro and puree in a food processor or blender or using an immersion blender.

Process in sterilized jars for 15 minutes.
I'm waiting for the flavors to meld and mellow a bit before I crack open a jar. I cannot wait.
What would you have made with all these strawberries?