The other day I was as sick as a dog. I spent half of the day curled up on the couch in intense pain while Kaelen tore the house apart, and the other half I slept.
Muscles aching from a day of doing nothing, the next day I was on a preserving and canning tear.
I eased into my preserving marathon with
preserved lemons
. As far as preserving goes, that's about as easy as it gets.
Next up were the black beans I'd been meaning to can ever since I bought a hugemongous bag of them on super duper clearance. It's so cheap to buy dried beans and can them for easy use later.
Becky and Joe Baker, Waller Road Farms owners
After that, Kaelen and I ran to my favorite farm stand (
Waller Road Farms
, FYI), and picked up a case of canning tomatoes, along with some figs and a couple of other things I hadn't intended to buy. I'd seen David Lebovitz' recipe for
roasted tomato soup
and felt inspired. I remembered Karen from The Art of Doing Stuff had a recipe for
smoked tomato soup
, so checked that one out for additional ideas.
Later that day I went to a community canning group and helped put up some 36 jars of dilly beans. I took home 6 for us. When I got home I whipped up a batch of raspberry ice cream, as well as the mix for peanut butter chocolate ice cream. My birthday is coming up and we're throwing a party featuring homemade ice cream and toppings.
At my limit, I went to bed, dreams of preserved foods dancing in my head.
Roasted Tomato Soup
Makes 5 quarts
I developed this recipe following the guidelines for
tomato and vegetable juice blend
at the National Center for Home Food Preservation. Lemon juice is required even if you pressure can this soup. The chipotle makes this subtly smoky and adds a hint of spice but isn't enough to make you dive for milk. Omit it if you don't care for chipotle.
22 pounds tomatoes, halved
2 onions, quartered
2 heads of garlic, tops cut off
3 bell peppers
2 chipotle peppers canned in adobo sauce (optional)
6-7 springs of fresh thyme
3 bay leaves
2 tbsp kosher salt, or to your taste
1/2 cup sugar, or to your taste
Put the tomatoes cut-side down on a jelly pan. Cook at 400 degrees until the skin is blistered and turning dark brown. Roast onions and garlic with the tomatoes as space allows. This took 3 batches about 25 minutes each in my convection oven. I was able to do 2 batches at once, turning to ensure even roasting.
While the tomatoes are roasting, blacken and remove the skins of the red peppers. I did mine on the grill, though I suppose you could do them with the tomatoes as well.
Remove the garlic from the skins after roasting.
Blackened bell peppers steaming under glass
Place the tomatoes, garlic, onions, bell peppers, and chipotle in a large stock pot and cook for half an hour. Don't worry about chopping anything up.
Remove from heat and puree the tomato mixture using your method of choice (stick blender, regular blender, or food processor). If you desire a smooth tomato soup, run your puree through a food mill to remove large skin pieces and seeds. You can dehydrate the solids and use them in other things as a flavor enhancer.
Return the puree to the stock pot, add the thyme and bay leaves, and season to your taste with the salt and sugar.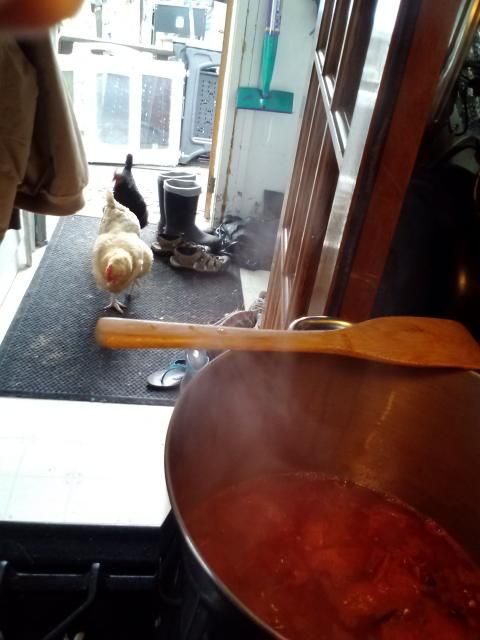 Shoo out the mooching chickens as necessary.
Pureed soup
Follow the
directions at the NCHFP website
to can using your preferred method. You may also freeze the soup
using these directions
.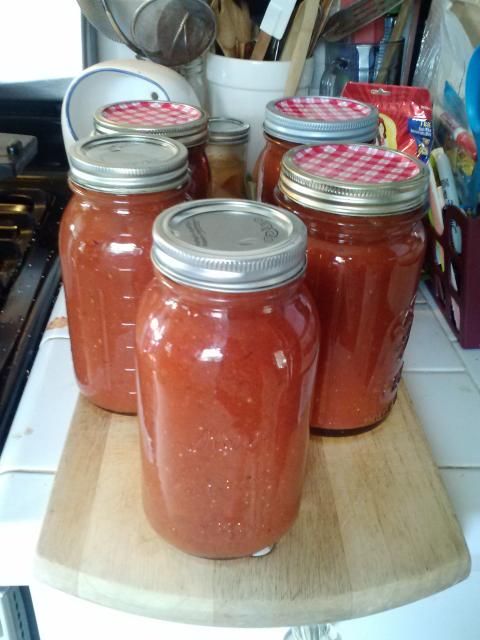 Final product: 5 quarts of perfect tomato soup
To punch up the umami of this soup, serve it with a float of sour cream, half-and-half, or milk.
Kaelen tested the soup...
...but was overtired and didn't appreciate all the work I'd put into his lunch.