Sometimes I buy fruit and vegetables like they're going out of style, forgetting that our family of three can only eat so many cherry tomatoes, strawberries, basil, or melons before we're sick and tired of them.
Enter Costco cherry tomatoes, stage right. A girlfriend was over for coffee the other and noticed my carton of tomatoes on the kitchen table. I said that I wasn't sure what to do with them. She said she'd recently seen a recipe in Bon Appetit that roasted tomatoes and put them in a salad.
Inspired, that's exactly what I did. It was perfect for an impromptu BBQ later that day.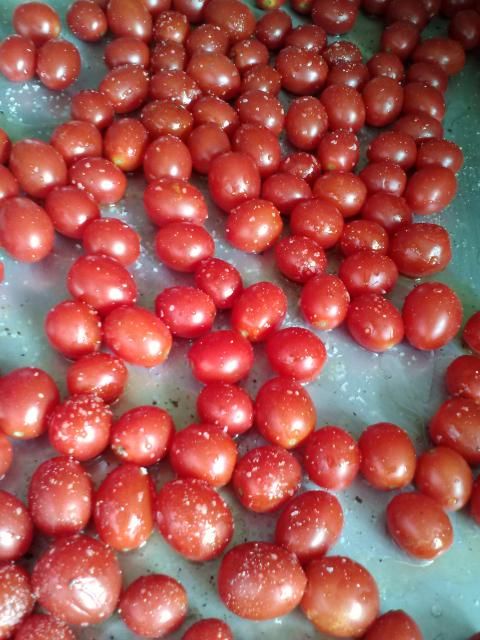 Roasted Cherry Tomato Pasta Salad
(
inspired somewhat by Ina Garten's recipe
)
2 pounds of cherry tomatoes
Salt & pepper
Olive oil
Pesto (I used about 2/3 cup freshly made)
1/2 cup crumbled goat cheese (fresh mozzarella would also be delicious)
1 pound bite-sized pasta of your choice
Put the tomatoes on a rimmed cookie sheet, sprinkle with olive oil, salt, and pepper. Toss to coat. Roast in a 325-degree oven for about 30 minutes, or until the tomatoes have split open.
Cook & drain the pasta according to instructions.
Mix the pasta, tomatoes, and pesto while everything is still warm. Once the mix has cooled to room temperature, toss in the cheese. Adjust seasonings to your taste.
I enjoyed the leftovers the next morning with my Sunday paper and the dog at my feet.