I saw a recipe the other day for a cauliflower pie thing with melted cheese. It had a crust made of grated potatoes & onions instead of flour and butter. Then I forgot where I'd seen it (just remembered it was on
CrumblyCookie.net
).
Turns out that the recipe has been around for years. All that's old is really new again, eh? [shrug]
The problem was that I didn't have cauliflower. I did, however, have a few eggs, some spinach, half an onion, feta cheese, creme fraiche, and some spring onions that needed to get used.
This potato had a bad toupee, which necessitated surgical removal.
Thus was born "Spinach-feta pie with a potato crust". It was pretty darn tasty, too.
Crust:
2 cups grated raw potatoes
1/2 teaspoon salt
1 egg, beaten
1/4 cup grated onion
cooking spray
Preheat oven to 400 degrees.
Salt the potatoes & onions, then put them in a colander or strainer for about 10 minutes to drain. After 10 minutes, squeeze them to work out some stress.
Combine the grated stuff with the beaten egg.
Spray a 9-10" pie pan liberally (there's a political joke in there somewhere). Plop the mix into the pan and smoosh it out and up the sides so that it looks like, well, a crust. Not much to this part.
Bake for about 40-45 minutes or until it's brown and crispy-looking.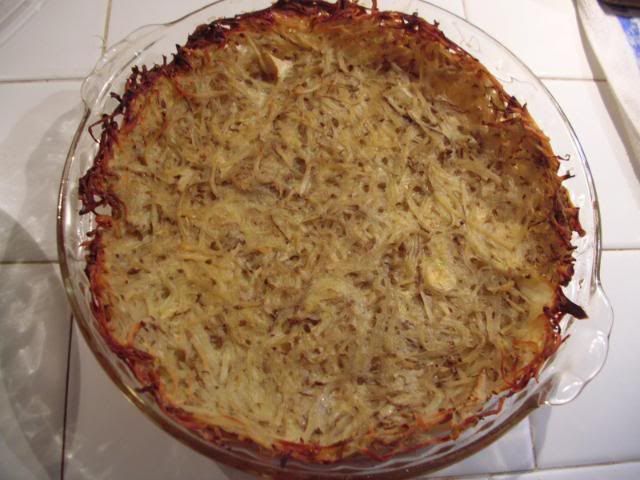 Filling:
6 eggs
1 cup dairy of your choice: milk, yogurt, cream, creme fraiche (I had some because I'd tried making my own... more on that in a future post)
Dash of nutmeg
Red pepper flakes
Salt & pepper
1/2 to 3/4 of a bag of frozen spinach, thawed and squeezed dry
4-5 green onions, finely chopped
1 package of feta cheese crumbles
Whisk together the eggs, dairy, and seasonings. My red pepper flakes have lost their zip, so I added quite a lot (1/2 teaspoon). Be conservative with the nutmeg - it's just enough to add a certain je ne sais quois.
Add in the spinach, green onions, and feta.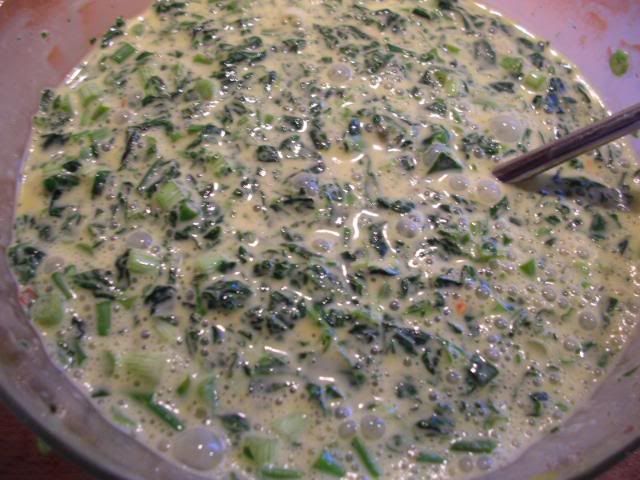 Yum.
Turn down the oven to 375. Pour the filling into the potato crust and bake for another 35-45 minutes or until the filling is puffy and golden on top.
I liked this but my primary complaint is that we didn't eat dinner until almost 7:30. This is not a fast meal.
But it is a yummy one!