A few years ago someone suggested that we stop at a stand in Ballard called Paseo. He gave us cryptic directions about a shack across from Ray's Boathouse. Had he mentioned the fact that the place was Pepto-Bismol-pink it would have made our search much, much easier.
I digress.
"They have the most amazing Cuban sandwiches," our friend gushed. He was right. The sandwiches were filled with spicy chunks of drippy pork, Swiss cheese, a dill pickle, and sliced ham. Served on a crispy, crunchy roll they were simply to die for.
My husband turned to me, after paying something like $8 per sandwich, and said, "you could totally make this better and cheaper."
He was right. I've found a sandwich recipe that is easy and delicious, not to mention way cheaper and not so drippy. And since I'm a glutton for punishment and nothing was on TV, I decided to make my own rolls, too. These juicy, drippy sandwiches would be great to feed a crowd. Once the meat is cooked, they're easy to assemble.
This meal took me 2 days but the hands-on time was pretty brief.
Day 1:
Prepare and marinate meat.
Make sandwich rolls (optional - you could also just buy some crispy baguette-like bread that doesn't have a thick crust).
Day 2:
Morning: dump meat and marinade into slow cooker for the day.
Evening: shred meat, prepare sandwiches, moan.
Roast Pork for Cuban Sandwiches
Pork roast, 2-4 pounds
1 head garlic, about 10 to 15 cloves, peeled
1 teaspoon salt
1 teaspoon black peppercorns
1 cup citrus juice (I used a combo of grapefruit, lime, and lemon because it's what I had)
1 medium onion, rough chopped
2 teaspoons oregano
1/2 cup Spanish olive oil
DAY 1
1. Put garlic, salt, and pepper into the food processor and blend until pureed. Add juice, onion, oregano, and oil and continue to blend until it's the consistency of an onion-y milkshake.
2. Grab a paring knife and go stabbity stabbity all over the pork roast, getting all sides. This allows the marinade to penetrate the meat.
3. Put the meat in a bowl of some kind, dump marinade over it, cover, and refridgerate overnight.
DAY 2
4. Dump the meat and marinade into a slow cooker set on low and leave for work.
5. Come home and enjoy how your house smells.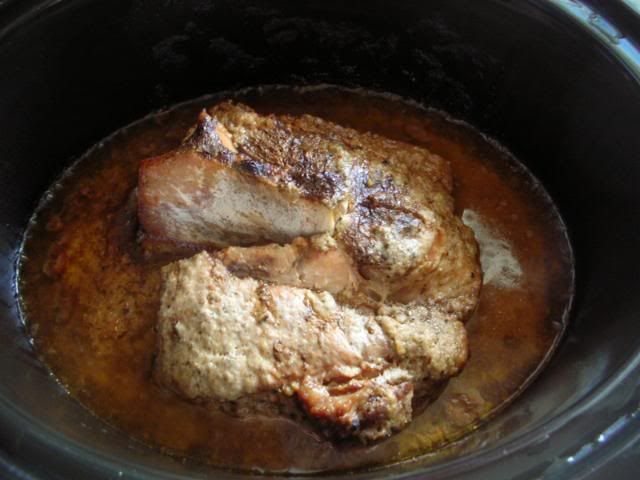 6. Remove meat from slow cooker and put into a bowl. It will fall apart easily. With 2 forks, encourage the shredding process. Add some of the juices from the cooking back into the shredded meat. Set aside until you're ready to assemble the sandwiches.
----------
Pan Cubano
4 cups (17 ounces) Unbleached All-Purpose Flour
4 teaspoons sugar
2 teaspoons salt
2 1/4 teaspoons instant or active dry yeast
4 tablespoons (2 ounces) butter; or 3 tablespoons fresh lard, cut into small pieces
1 1/4 cups (10 ounces) water
Intructions and pictorial here:
http://www.kingarthurflour.com/recipes/a-cuban-sandwich-recipe
Mine looked like this. This was one of the stiffest doughs I've ever worked with. I had a hard time getting it to rise but our kitchen was on the cool side. I'd make these rolls again but make sure next time that I have a better/warmer spot to allow the dough to rise.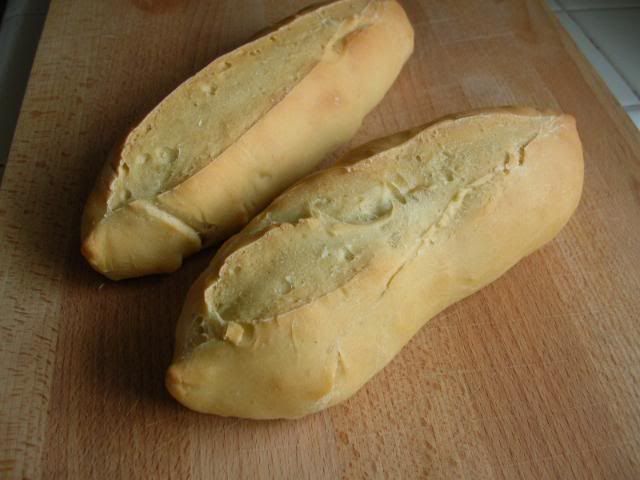 ----------
Cuban Sandwiches
Shredded pork
Rolls
Dijon mustard
Dill pickles
Swiss cheese
Sliced deli ham
Pre-heat griddle or pan. If you have one, put a cast-iron skillet on top. You'll see why in a minute. This was my great-grandmother's skillet.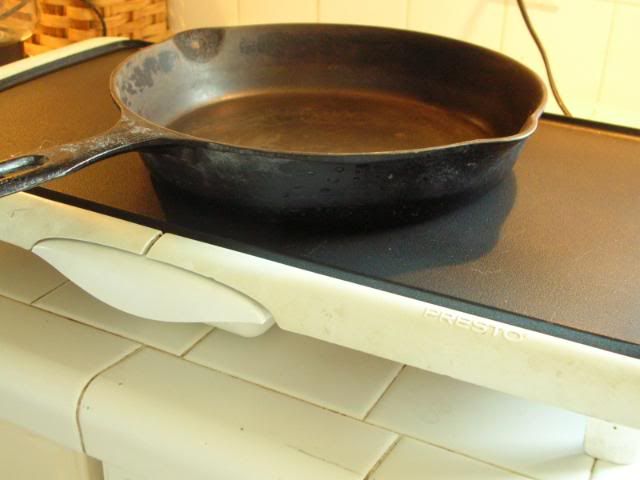 Slice rolls lengthwise, spread with mustard. Top with ham, cheese, pickles, then the shredded pork.
We're finally nearing the end of my pickle-making spree 2 years ago. Finally.
Spray the assembled sandwiches with cooking spray, then put them onto the griddle. Spray the tops of the sandwiches, then put the hot skillet on top. This weighs them down (who needs a panini press?!?) and heats them from the top. Notice that I added additional weight with a measuring cup of water.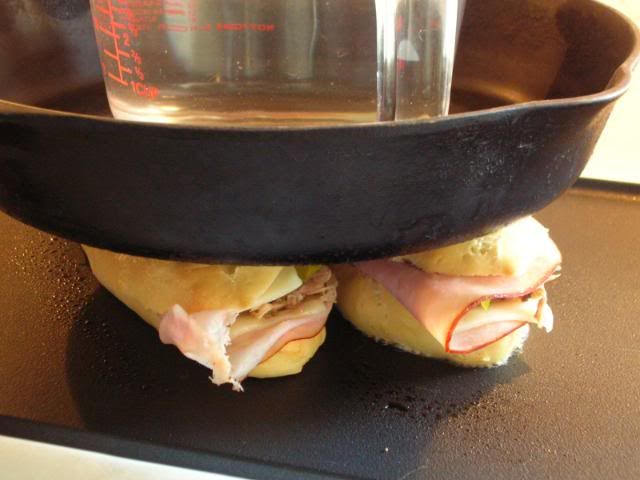 I wound up flipping mine because the skillet wasn't hot enough. You might need to, you might not.
Remove from the griddle and slice on a long diagonal.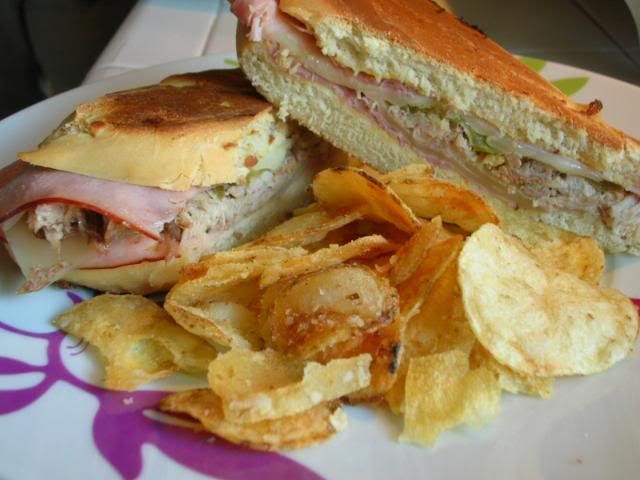 Dig in! I served these with salt & vinegar kettle chips. I love how the puckery vinegar chips go with the dill pickle.