My hubbie went of town for a weekend to work at an
electric motorcycle race in Sonoma
. He asked me a few days before leaving to make him food to take with him for the drive and to eat while he's at the race. I spent the next few days making breakfast bars, granola, sesame noodle salad and other stuff I can't remember.
Then I was trying to get stuff done in the garden while the weather was good.
Busy spring = quiet blog
But I did take a few pics of the breakfast bars for you! These are like a Nutri-grain bar only less sweet and way more satisfying. I got the recipe from the quarterly magazine that
Metropolitan Market
publishes and sells for $0.99. I never used to buy it until someone left a few in the break room at work and I realized what a great resource the magazines are. I've found that you can use any type of frozen fruit, though the recipe is written for blueberries.
Oat Breakfast-on-the-Go Bars
INGREDIENTS
2 c rolled oats
2 c whole wheat flour
1/2 t salt
1 t baking powder
1 t baking soda
1 1/2 c brown sugar
6 T cold butter
3/4 c milk
1 T lemon juice
2 t vanilla
1/2 c sugar
1 T cornstarch
2 c frozen berries or frozen fruit (Chop the frozen fruit into pea-sized pieces if you're using something large like peaches or strawberries. Do not thaw!)
Optional: cinnamon
DIRECTIONS
1. Preheat oven to 350. Oil 9x13 baking pan.
2. Combine oats, flour, salt, baking powder & soda, and brown sugar. Using large holes of a grater, shred in cold butter and work in until the size of grains of rice.
This is a great place to use your bare hands. I gave up on this spoon very quickly.
3. Whisk together milk, lemon juice, and vanilla. Stir it into the oal mixture and mix well. Press a little more than half of the mixture into the oiled pan. It will be very sticky.
4. In a food processor, combine the white sugar, cornstarch, and process to mix well. Add half of the frozen fruit or berries and process to mince the berries. Working quickly, stir the whole fruit into the minced fruit, then spread on top of the oat mixture in the pan.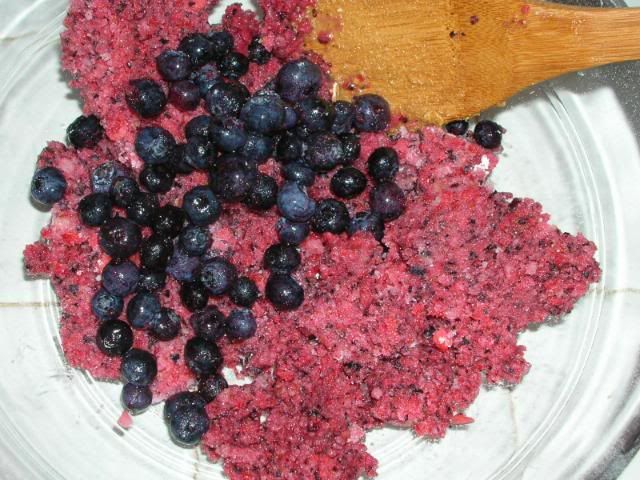 Get creative with the fruit mixture. This mixture is half strawberries and half blueberries. I think I like the all blueberry mix better. Lemon zest and cinnamon would be awesome with blueberries. Imagine ginger with peaches! Ohhh: orange zest with fresh cranberries (you'd have to increase the sugar quite a bit to make them palatable, though). Yeeeeah: lime zest with blackberries.
I digress.
(UPDATED: I got so sidetracked by the possible fruit combinations that I forgot to add the cooking time: 50-55 minutes.)
Dollop the remaining oat mix on top of the fruit. I grabbed pieces and flatted them out as I put them on top.
5. Remove the bars from the oven and allow to cool completely in the pan. When cool, cut into 18 bars. Wrap individually or place in baggies. Store in the fridge or freeze.
These freeze beautifully and reheat in 30 seconds in the microwave or thaw in an hour on the counter. I took a few in a baggie to work and left them in the freezer for quick breakfasts. G-man, who doesn't like blueberries, liked these bars.
I forgot pics of the final product. Take my word for it: these are worth the effort. They're tasty and healthy and satisfying and versatile.
Happy cooking!