Recently hubbie and I were watching "Dances with Wolves". There's a line in the movie where Kevin Costner's skeezy guide looks at a skeleton, which has an arrow in it, and laughs himself silly. "Somebody back east is sayin' 'Now why don't he write?!?'".
That line made me cringe. I bet you've been wondering that same thing about me. I've been thinking about you guiltily, cringing that I haven't blogged. Maybe I should have declared September an off-month, given how busy canning has kept me.
Well, I haven't been idle, that's for damn sure. I'm
in good company
in feeling that I'm about sick and tired of canning for the season. It doesn't seem fair that in the season when I have the most to write about, I also have the most to get done. I've been working my arse off and I'm ready to kick back and read a book. Or 7 books.
Lately I've been feeling like the ant in Aesop's fable. My hubbie has suffered terribly from sleep apnea over the past few months and has been a walking corpse, whereas this is the season when I can barely hold still for the preserving that needs to get done. I'm not mad at him - in fact he recently saw a specialist and is feeling better - I'm just plum tuckered out.
As you can see, I've gotten quite a bit of canning done. I love walking into the storage area, a wall of our laundry room that we devoted to my canning, and feeling a sense of deep accomplishment. The jars are so colorful and pretty, and hold such promise of homemade foods over the winter.
From top, L-R:
1. Various jams, Apricots,
Peaches
, Potato-leek Soup
3. Asparagus, Curried carrots, Green beans, Tomato Sauce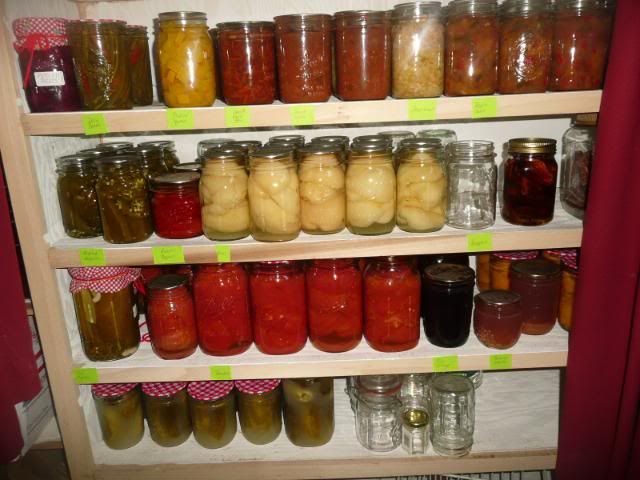 From top, L-R:
4. Beets (gift), Dilly beans, Pickled yellow squash, various salsas,
sauerkraut
5. Jalapenos, Roasted Red Pepper pickles, Pears, Dried tomatoes in olive oil (not canned), plain dried tomatoes
6. Dill pickles (gift), Whole Tomatoes, Boysenberry cobbler filling, Peach nectar, Peaches
See the little green labels? I put those up so that I could send hubbie in for things and he wouldn't get frustrated by not knowing what's where. In case you're wondering about the curtains, that's to protect the jars from sunlight, such as it is here in WA State.
But wait... there's more. To the left of the shelves shown above is a set of narrow shelves. The room is too small to get all of the shelves in one shot.
From top, L-R:
1. Chocolate-raspberry jam, Curds, Orange Marmalade, Low-sugar jams
2. Blueberry-citrus conserves, Fig preserves, Strawberry & Strawberry-rhubarb jams
From top, L-R:
5. Plum sauce, Red onion marmalade
From top, L-R:
6. Raspberry vinegar (never ever again will I need to make any), Tomato Jam
The greenish jar with the chunks is dill pickle chips.
Yet to be canned are:
a fresh batch of sauerkraut
tomatilla salsa (aka salsa verde)
pumpkin cubes.
As I finished up this blog post I got curious, so ventured to the back porch to get an estimate of jars.
There are roughly 300 jars of food shown in these pictures. Wow.