Two years ago I was bitten by the canning bug. That summer I made my first batch of salsa verde and we loved it. For reasons I can't remember - probably due to a September wedding and honeymoon - no new jars were made last year.
When it came time this spring to plant our veggies, I insisted that tomatillos be among the selection. Indeed, I devoted about 1/6 of my total space to them, hoping for a bumper crop.
Summer 2010 had other plans for our heat-loving plantings. Out of some 8 plants, I got just 1 dishpan full of useable fruit. At least the fruit were unblemished, as earwigs and slugs don't seem to like them.
I had also planted 2 jalapenos for the umpteenth time, hoping that *this* was the year I'd get some peppers. I finally did get some but only after I had given up and bought some from sunnier eastern Washington. Now I was stuck with 35 jalapeno peppers and nothing to do with them.
Oh yeah... tomatillos + jalapenos = salsa verde!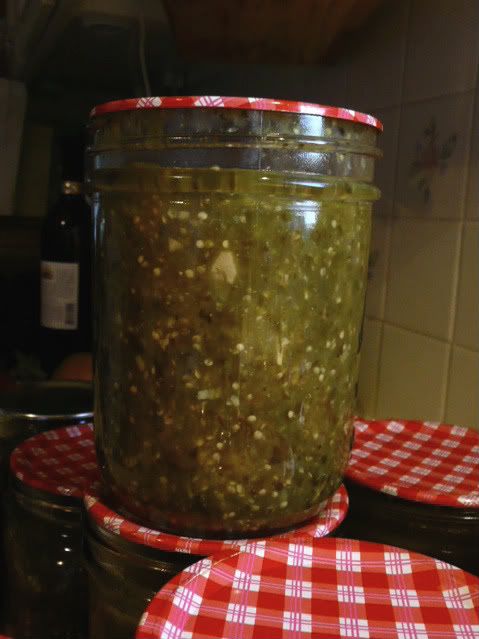 This is a quick and easy recipe. Pop open a bright green jar for Super Bowl, marinate some pork in it, or eat with your favorite enchilada recipe. It's one of my favorite things to make and can.
From the Ball Complete Book of Home Preserving
Tomatillo Salsa
Makes ~4 8-ounce jars
5.5 cups chopped, cored, husked tomatillos (food processer much faster than knife)
1 cup chopped onion
1 cup chopped, seeded jalapenos (remove membrane and seeds to reduce heat)
1/2 cup white vinegar
4 tbsp lime juice
4 cloves garlic
2 tbsp cumin
1/2 tsp salt (be conservative on the salt - tomatillos seem to get salty quickly)
1/2 hot pepper flakes (omit if using whole jalapenos)
1. Prepare canner, jars, and lids.
2. In a large, stainless steel saucepan, combine ingredients and bring to a boil over medium-high heat, stirring constantly. Reduce heat and boil gently 10 minutes.
3. If you prefer a smooth salsa, puree with a food processor or stick blender.
4. Put salsa into jars and leave 1/2 inch headspace.
5. Process 15 minutes once jars have come to a boil in a water bath canner.
There were enough tomatillos and jalapenos from my garden to make 11 pints and 3 half-pints of salsa verde. It's pretty dang spicy... and pretty dang good.