Even though I've
declared the canning season over
, I'm still preserving various foods.
Local bell peppers were dirt cheap a couple of weeks ago. The farmers market had them 3/$1. I bought them like crazy, then getting home with my bounty... and scratching my head about what to do with them.
After hanging onto them for longer than was probably reasonable, I decided to fire-roast them, whir them in the food processor, and freeze in ice cube trays.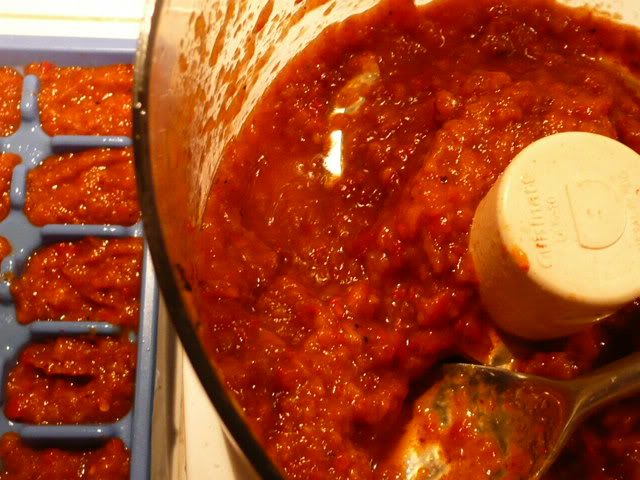 This winter I'll use these cubes of deliciousness in pasta sauce, pizza, breads, and soups. Yum!
I also recently got a dehydrator over the summer. It was $15 on craigslist in a nearby city called Buckley. Unfortunately, there's no easy way to get there from here without going through stripmall hell. I hadn't been there in years, so what the heck did I know? It wound up being a pretty - and pretty long - drive on a late summer evening.
These little black cherry tomatoes were picked as little green orbs and ripened in a box on the floor of the dining room. I didn't get a single ripe tomato straight from the yard. Every single one was ripened in the house.
Same with these tomatoes.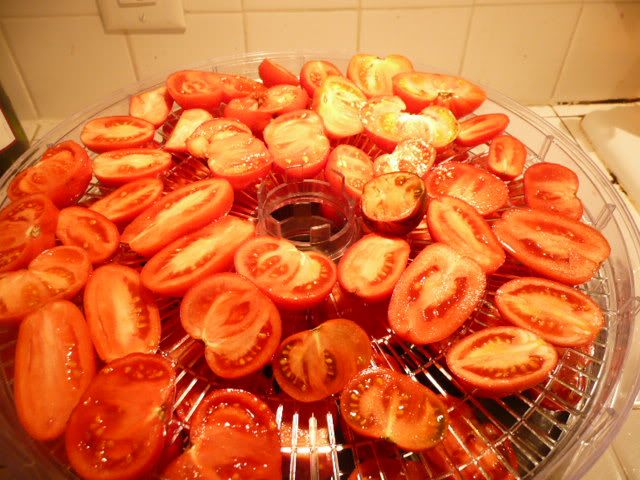 The big box of tomatoes became just 2 pint jars of shriveled burgundy chips. They're slated for many of the same uses as the bell peppers. I dried them to a pretty tough state to avoid problems of spoilage due to moisture. Some went into olive oil and the rest are just in jars. Hubbie picked up a tub of dried tomatoes and wryly said, "this jar is really expensive".
Such a romantic, that man.