The conference I attended last week was held in exactly the type of hotel I like the most: trendy decor, swanky rooms, old building.
The Nines
isn't an "old hotel" like Portland's
The Benson
or
The Governor
. It was built in an old department store and opened 2 years ago. In the heart of downtown Portland, it's close to everything from shopping to the wonderful mass transit. It tried really really hard to be trendy and cool, which was both trendy and cool... and sorta annoying.
I got there a day early and enjoyed having the massive king-sized bed all to myself. No husband, no cats, no chickens to get up at 6:00a and let out of their coop, and no dog to walk or escort outside in the wee hours. I slept sideways and diagonally, trying to take up as much room as possible while I could.
There was a massive TV with - get this - CABLE! There were so many channels I didn't know what to do. After surfing for 20 minutes I turned it off and read a book. It was a good reminder why we got rid of cable last year.
The only problem was that I had to arise at the butt crack of dawn for the conference on Thursday. Oh well. I always tell students who want jobs that will require travel that it's a fine line between "get to travel" and "have to travel".
I only have a run of the mill point-and-shoot camera, but wanted to take some pics to show you how pretty the room was. It had feminine touches in the robin's egg blue accents and crystal lights, but added masculinity in the mocha color that abounds and the big leather headboard. The website (linked above) has lots of gorgeous pics that really capture the essence of the hotel.
The wallpaper was stunning in person. It picks up the flash of my camera but was very subtle.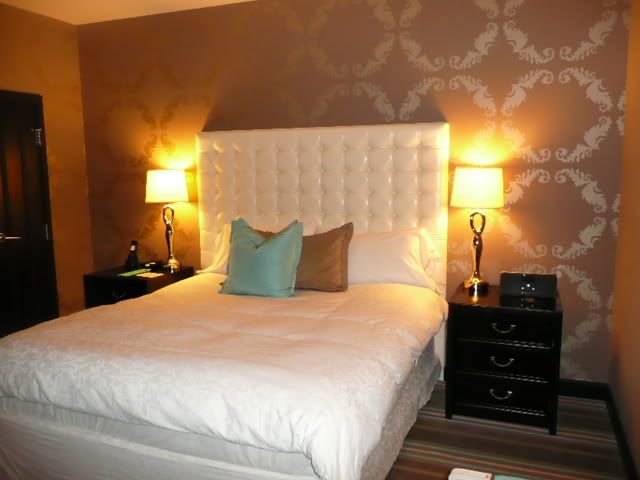 Bathroom to the right, business alcove to the left.
In the bathroom I discovered a new nemesis. No, not a scale: a lighted magnifying mirror. I've been wearing makeup and moisturizer ever since.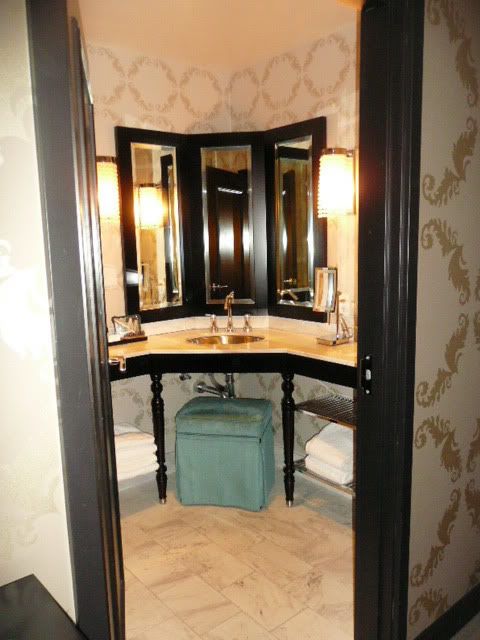 The gleaming shower with its wonderful shower head had an irritating flaw, which I discovered the hard way. If water ran down the glass while you're in the shower, you get out to find a massive puddle on the floor. That said, the steam and cascade of hot water were wonderful. I want one... but only if it comes with a maid who will clean it daily.
I've seen lots of dual flush toilets but never one in the USA.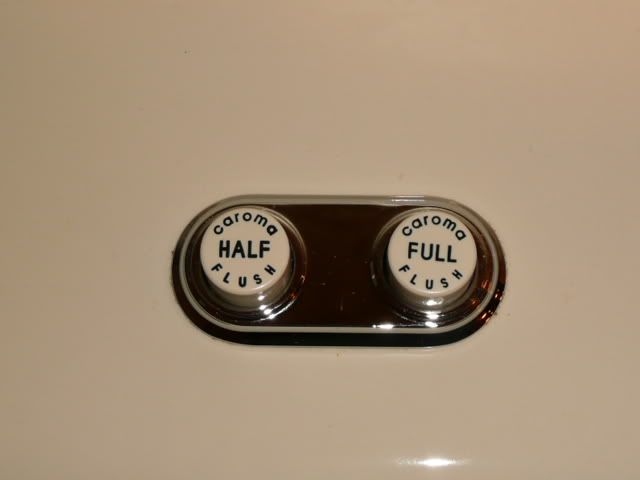 Every night someone filled the ice bucket, turned down the bed, set out a robe and slippers, turned on soft jazz, and placed a hazelnut muffin on the pillow. Impressive!
The minibar had some unorthodox items available.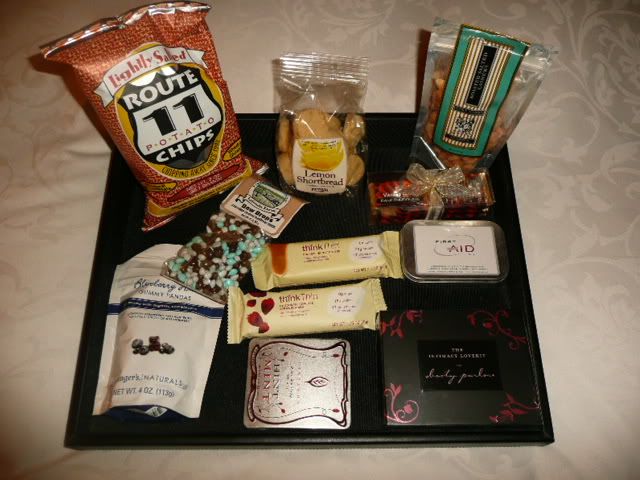 The "Intimacy Lovekit by Booty Parlor" was $20 and included a single-use vibrating ring. I was curious but not $20 curious.
As I said above, I liked this hotel very, very much. The rooms a beautiful and the service is spot-on: all in all, this is a well run hotel that knows how to take care of its guests. They offer a free service to polish your shoes. Mine were returned the next morning as shiny as I've ever seen them, all traces of mud removed. In fact, they're so shiny that I haven't worn them again. If you go, park in a nearby Smart Park, which runs $11/night versus the $32 hotel valet service (gulp).
There were things I didn't like, however. Our room overlooked the atrium, which was loud and brightly lit all night long. Even with ear plugs and the curtains drawn, I still had a hard time sleeping well. The last night we were there we turned down the temp to more closely match our own bedroom's, and that seemed to help our comfort level quite a bit. Street-side rooms would have the street noise so I tried to just suck it up as coming with the (in a downtown) territory. The leaking shower was another annoyance, as was a bed with a long trough on one side of it (apparently every hotel guest sleeps on the side closest to the door).
Staying in a hotel in downtown has both its advantages and disadvantages. On the advantage side come convenience, interesting architecture, old school hotel amenities like 24/7 room service and bed turn-down. Disadvantages are the cost of parking, city noise, and service that requires tips left and right. I don't know if we'll stay at The Nines again. Hubbie is of the opinion that a hotel is a place to sleep between days of exploration. I buy into it as an experience of being pampered and having a place that's luxurious and nothing like home. We've stayed in chain hotels that were cheaper and quieter, albeit considerably father away, as well as slept at a funky
McMenamin's
(you've got to try it sometime!).