Last weekend's trip to Portland was a charmed one. It just seemed like everything went right. We did, however, have to cut the trip short by a day because Hubbie's work had told him he had to go in on Sunday. They later changed their minds but didn't communicate it to him.
Nerds!
We made the most of our abbreviated vacation and I have to say that we did a damn fine job of it. Saturday started with our favorite restaurant in Portland,
Mother's Bar
. Someone told us about this place a few visits ago and now we make a point to go every chance we get.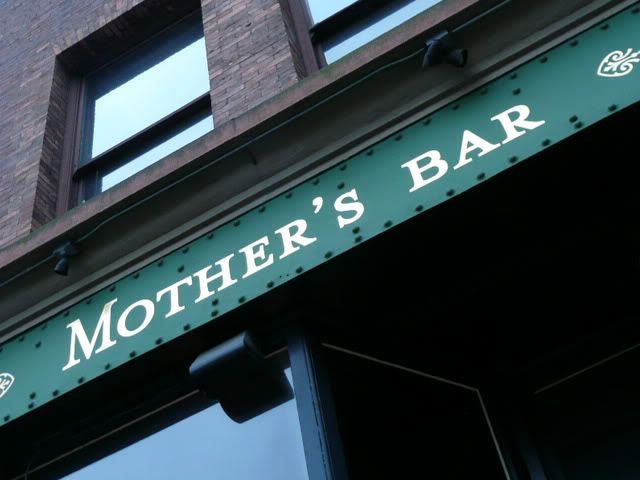 We walked from our hotel and arrived at 8:45, though the restaurant didn't open until 9. There was already a line to get in. They seated us at 8:50. Every single seat behind G-man was filled within 15 minutes. Every other time we've gone we've had a wait of 30+ minutes, so going first thing is obviously the trick.
They had me at "Eggs Benedict". Hubbie ordered pumpkin pancakes with housemade sausage. And we each got a mocha. Our food was delivered so quickly that it beat our coffees to the table. I was astounded.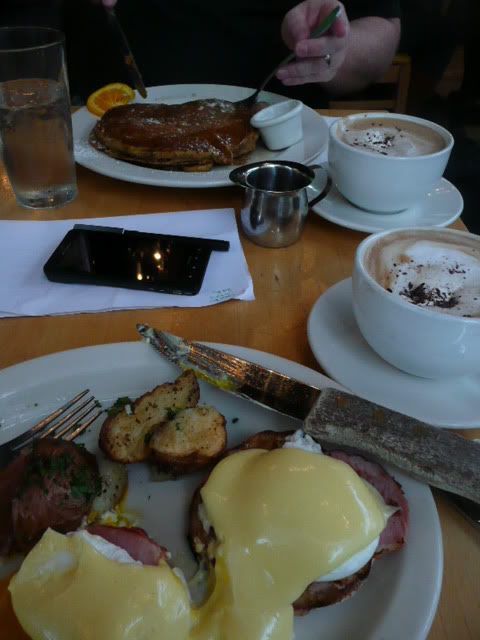 And yes, Hubbie is already digging in.
From Mother's we walked to
Powell's Books
. Powell's is a mecca for any bibliophile. My undergrad was in French, so it's a given that I have to make a beeline for the Red Room. This enormous aisle contains everything a francophile's heart could desire: dictionaries, pronunciation guides, children's books, young adult fiction (yes,
Twilight
was there in French), classic literature, poetry, and contemporary fiction.
I would have liked to spend another hour or so but the man was getting restless. I grabbed 3 books in French, plus a couple more in English as gifts, and we continued our day.
On our way back toward the car, we stumbled across this funky little event space called "The Cleaners". There were a ton of people in there and we decided to check it out. We discovered that it was a handmade art sale. There were gorgeous cards, scarfs, and beautiful various and sundry other items that cost way too much money. It was fun to look.
G-man wanted to go to an electric car symposium. I wanted to go to the Nordstrom Rack. We went our separate ways and agreed to meet later.
I have been searching for a pair of colorful, comfy flats for over a year. Black, brown, and grey are easy to find. Teal and orange are not. Born is a fantastic brand of shoes and about a year ago I saw a pair of orange flats that I liked a lot, but they were $90 + tax (9.2% where we live). I held off.
Well, guess what I found at The Rack. I was giddy with excitement and texted unenthusiastic friends: I found my orange flats I've been wanting and for $50 off! I like them, dammit, and they're comfortable. Since getting them, I've worn them 3 days in a row. One of my coworkers admitted that they are growing on her.
Next I spent too much money on 2 products at Aveda. Whew. That's where Hubbie caught up with me.
From there we got the car and sought out
Stone Barn Brandyworks
upon the recommendation from a friend. We sampled 5-6 different spirits, including pear brandy, apple brandy, grappa, strawberry liqueur, and a coffee liqueur. Yeah. You might be able to go wine tasting to several places, but one distillery and we were done. G-man bought some pear brandy to share with a friend. As we left, Hubbie said to me, "I can only do that once. Whoa." He was right: that was a lot of booze for one stop... hic!
(photo from Stone Barn Brandyworks)
A fellow conference attendee had recommended that I go to a yarn store called Close Knit. It's a nice little shop filled to the gills with gorgeous yarns. I got my mitts on some baby alpaca-silk yarn and can't wait to use it. I'll show you when I start that project. Until then I'm going to fondle the heck out of that gloriously soft fiber.
A staff member at Close Knit recommended the Danner Factory Story to G-man, who was seeking new work boots. We had planned on going to a little shop called "Hank's Work Boot Supply" but the Danner outlet was close to other stores we wanted to visit.
As we're driving along we were talking about
Rejuvenation
, which makes reproduction hardware and light fixtures. I get their catalogs every quarter and redecorate the house with brand new fixtures in my imagination. G-man jokingly said that we should go there... and then there was! This place is a treasure trove of brand new items, furniture, and salvaged hardware. Here are some of their salvaged doors: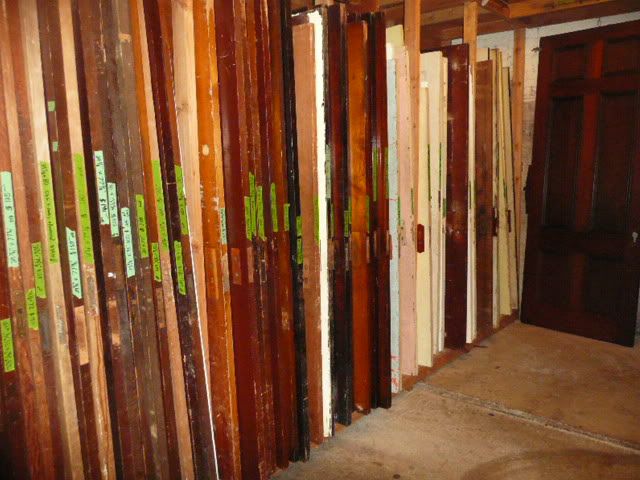 Their clearance section of brand new light fixtures that still cost $200+: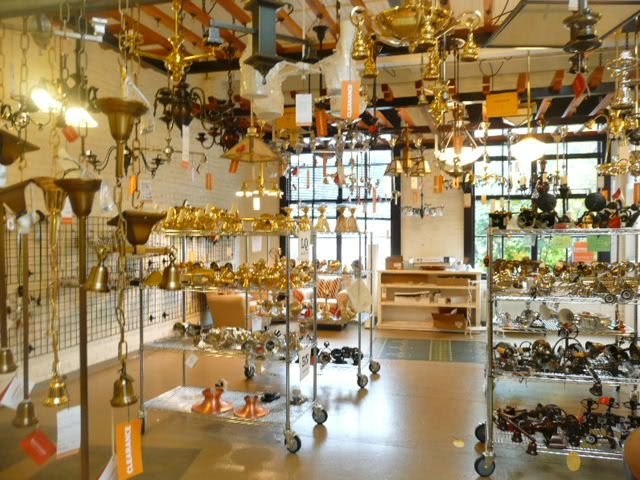 And a hidden gem of a cafe, complete with a fantastic mosaic floor. That little girl's dad bought her a chocolate crinkle cookie, which got sugar all over her face. We shared a reuben sandwhich that was to die for.
After lunch in the lighting store (yeah, weird, I know), we got on our way to the Danner Store. Suddenly, there's that Hank's store! [screeech] We pulled over and went in. This place hasn't been updated in a long time and looked a bit run down. Hubbie looked at the display and didn't see what he wanted. I encouraged him to check out the clearance, just in case. There, we found a pair of boots in his oddball size. He tried them on and later told me that those boots are the most comfortable pair of shoes he's ever tried on.
New boots in hand, we got back into the car and were again headed toward the Danner Store. Once there, Hubbie zeroed in on a pair of shoes only to find out that the store has just 2 more pairs in stock... one of which was his size. The showroom looks onto the factory floor.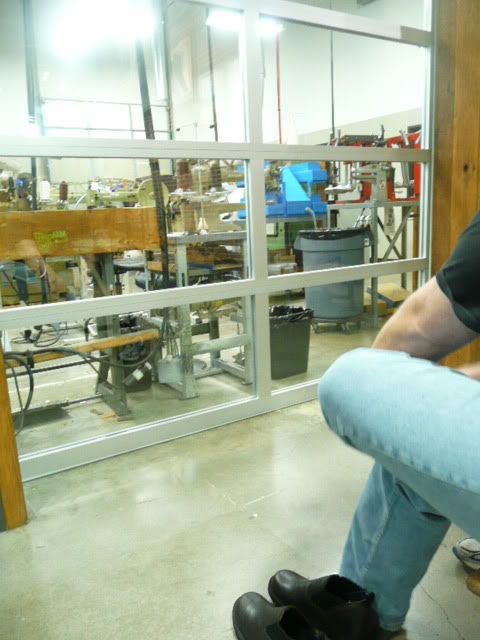 The shoes fit and Hubbie bought those, too. I'm telling you, it was a good day for shoe karma.
From there our trip got less exciting. G-man wanted some toys for his Droid and I just wanted to check out the Ross and a houseware store. I took a
tagine
for a walk around the store and ultimely decided not to purchase it. There will be another time for one. G-man found his phone accessories, I got a large supply of my favorite
orange-ginger hand lotion
, and the weather turned sour.
By this point it was nearly 6:30 p.m. With 140 miles, empty stomachs, and lots of rain standing between us and home, we still had a long way to go. We arrived home around 10:00 Saturday night and were glad to be there.
It was a fantastic trip. Portland is hands-down one of my favorite cities in the US. Don't tell anyone, but I like it better than Seattle.