My brother loves - LOVES - hot cocoa. Every year for Christmas he gets a massive supply of cocoa mixes because a) he's hard to shop for and b) it's a can't-miss gift for him.
As you can imagine, when I saw this book on TV a couple of years ago I knew he had to have it.
When it arrived, I poured over it... and kept it. Sorry, Jason.
I haven't made many of the recipes but I do have a few favorites. This was when I tried my first homemade marshmallow.
When people find out that you've made homemade marshmallows, they usually have one of two reactions. Some people will say, "Ugh, I can't stand marshmallows". This recipe has converted many - though not all - a hater. The rest of people fall into the second category of disbelief and amazement: "omg you can MAKE those at home? You're incredible!"
I love the second group!
So, without further ado, here's a recipe that will bring you in the realm of domestic diva. Start to finish it'll take about 30 minutes. It's quasi-dangerous so I wouldn't allow children in the kitchen during the making of the marshmallow. They'll love to help cut and coat the end product with powdered sugar, though.
MARSHMALLOWS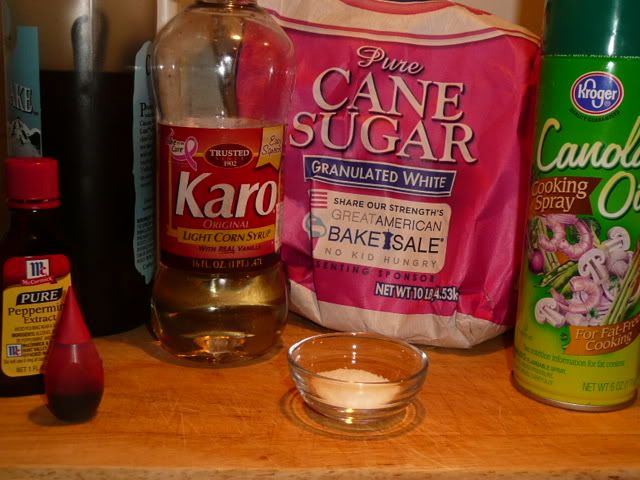 Ingredients
Three 1/4-ounce envelopes of unflavored gelatin
1/2 cup cold water
3/4 light corn syrup
2 1/2 cups sugar
1/2 cup hot water
1/2 tsp salt
2 tsp pure vanilla (see note at bottom)
Powered/confectioner's sugar
Equipment
Cooking spray
8x8 or 9x9 glass pan
Large heatproof mixing bowl
Hand mixer
Heavy saucepan
Candy thermometer
Heat-proof rubber spoon
Plastic cutting board
Pizza cutter
Small bowl
1. Spray 8x8 or 9x9 dish liberally with cooking spray. Don't be shy because the candy is VERY sticky.
2. In a large, heatproof mixing bowl, combine the gelatin and cold water, stirring to mix.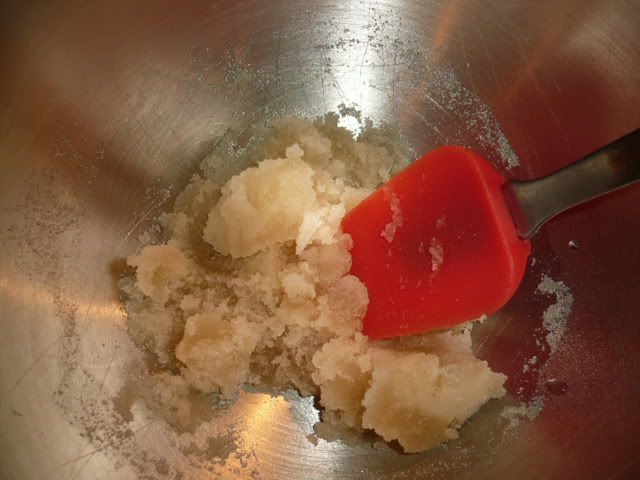 3. Heat the sugar, corn syrup, hot water, and salt in the sausepan over med-high heat, stirring until it comes to a boil. Stop stirring, put in the candy thermometer, and heat to 240 degrees,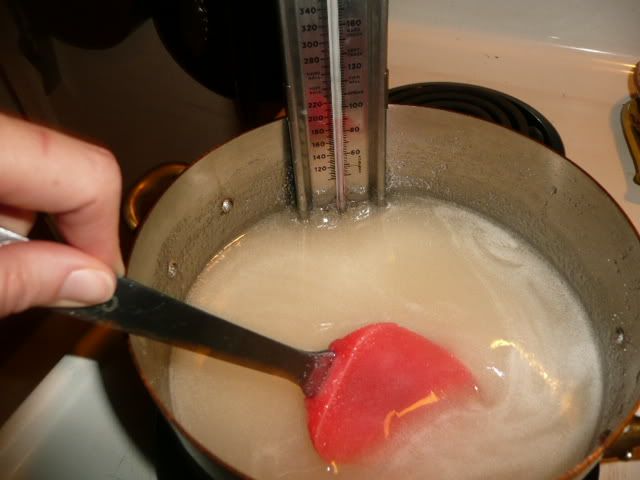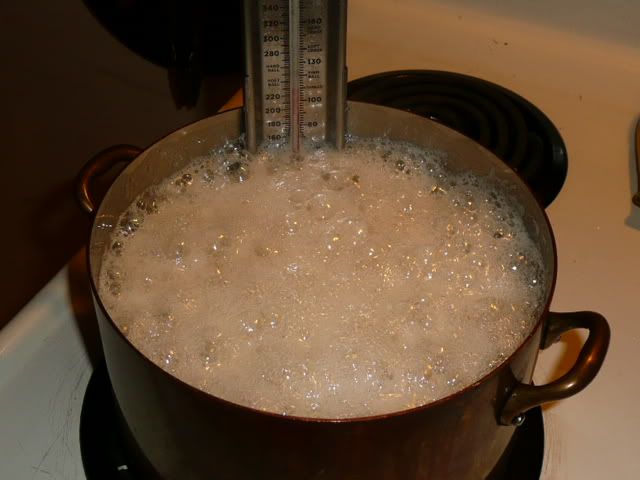 4, Pour mixture into the gelatin. Using mixer, whip until mixture doubles in size. It smells kind of wet-doggy at this phase. Fold in vanilla extract when it's done.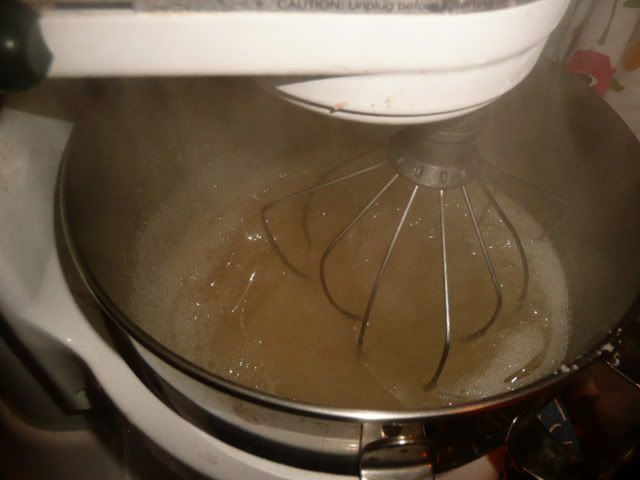 (Side note: I didn't like how my Kitchen Aid mixed this and will go back to a hand-mixer next time.)
5. Pour the mixture into the prepared pan. Allow it to cool and set overnight, uncovered.
I made a double batch and did some pink peppermint marshmallows, too. They turn plain old hot cocoa in holiday in a cup.
6. Powder the cutting board with confectioner's sugar and turn the marshmallow out onto the cutting board. Using the pizza cutter, which you can coat in sugar as well, cut into squares and toss with powdered sugar. store in air-tight container.
NOTE: Use a high quality vanilla because it's the only flavor these will have besides "sweet". If you want to make peppermint marshmallows, which I love, use just 1 drop of the extract at the same time as the vanilla. Believe me on this: any more than a drop of peppermint extract in these will have you running for the faucet. I like to use red food coloring to make them pink so that I can tell them apart without opening the containers.
If you cut with a round biscuit or cookie cutter, the marshmallows will turn out bell-shaped due to the way the "dough" cuts. It's a cool effect and is even prettier with chocolate drizzled over them. I've also thought of rolling them in cocoa but never have.
I've found that these keep for quite a while, though they do get grainy eventually. It doesn't bother me but some people might not like it.