That's it. I finished the afghan for my dad. Of course, the next day I found some ends I'd missed weaving in. I'll fix it soon. In the meantime, I have a new obsession.
But first, my dad's afghan. I started it in mid-September. I bought the light blue yarn over 2 years ago. When I promised my dad this afghan, I thought there would be enough of it. Wrong.
(Remember this... it's a apparently a new theme for me.)
Upon using up the first of my two skeins, I had to go buy more yarn otherwise my dad would have a lap runner instead of a lap blanket.
The second yarn is the same brand, same weight, but clearly not the same. My dad's bedroom is these colors, so at least it'll go. I would have preferred a beige, brown, or grey yarn that was heathered like the blue yarn but it wasn't meant to be. I'm just going to pretend I meant it to have a border.
I knew when I decided to make an afghan with this yarn for my dad that it had to be a lattice weave pattern. I just made it up as I went along and lattice really isn't hard. The hardest part was figuring out the counting so that it came out right. Well, mostly right, anyway.
The middle section is quite a bit larger than it appears. The finished blanket size is fairly large and will easily cover an adult from the waist down with length to spare.
Do you know how many cables there are in this thing? Thousands! Every single right-side (RS) row had 14 cables, except for the rows where the lattice crosses. With each lattice having about 30 RS rows, that's 400+ cable stitches per pattern repeat. I think that there are roughly 62,000 stitches in it. All told it took about 6 weeks of constant work to complete. It wasn't hard but it did get pretty boring.
For those of you who aren't knitters or crafters, please lavish praise upon the person who gives you a hand-made item even if you don't like it. There's so much effort put into something like this that only someone who thinks you're pretty special would go to the trouble.
Suffice it to say that I don't want to cable another dang thing for a long time. I'm d.o.n.e. DONE.
It's Mira-approved. Mira is a good knitting companion. She likes to touch the yarn but generally doesn't play with it, even when it's draped all over her face.
Next up, my new obsession.
G-man bought 3 skeins of this yarn for me in Portland. It's a baby alpaca/silk blend. It's so soft and luxurious.
See how shiny it is? That's the silk in it.
I'm making my first lace with it. Here's how it looked as of Friday night. These aren't blocked but you can start to see the pattern.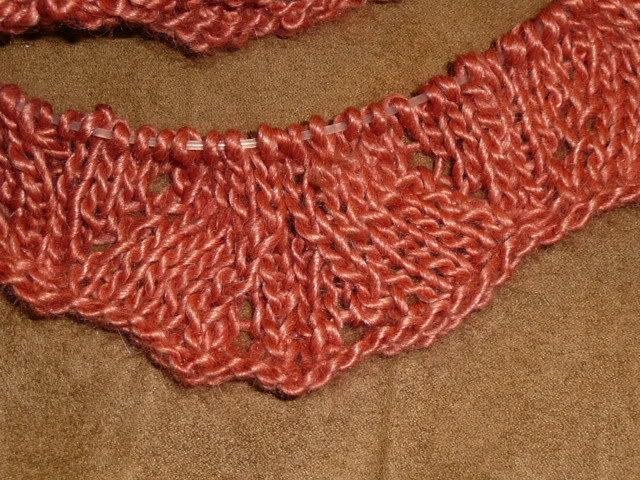 Can't wait to finish it! The pattern, which can be found on
http://www.ravelry.com/
, is called Liliaceae and is by Angelika Luidl.
On Saturday I knitted up a silk storm, only to discover mid-afternoon that I'd screwed up somewhere along the line. This former French major frogged futilely to find the f-up. Eight rows dutifully tinked (tink = knit backwards), I'm back on track. I learned some important lessons about counting, paying attention, how to read a pattern... and patience. If it's worth doing, it's worth doing well. I can't knit up $60 of yarn and have glaring mistakes.
Now I have another problem. I realized that I don't have enough yarn. I called the knitting store in Portland and - hallelujah - they had more skeins of my dyelot.
I know I'm going to hold my breath when I show it to my knitting muse, Margaret, for a quality check. She's an incredibly talented and prolific knitter whose work is gorgeous. I want her to like it!