We just concluded The Week of the Chicken. What did you think of a theme week? Yay? Nay? If you liked it, do you have ideas for other themes. I enjoyed doing these recipes and posts. Mucking out the chicken coop wasn't amazing but hey, it was time with my girls, right? OK, maybe not.
What about honey? I happen to have a just little bit...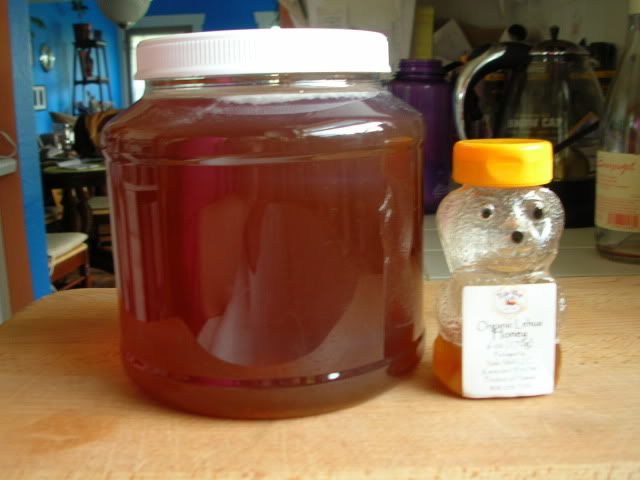 I bought it from a guy on craigslist. We met in a parking lot, he cracked open the trunk of his Mercedes, and I asked, "hey buddy, do yous gots the stuff? I brought da money." $25 for 6 lbs of WA State honey. That's an amazing deal. I programmed him into my phone, albeit carefully: if I were ever in an accident I'd hate for a good Samaritan to call the Honey Guy instead of Hubbie.
Some theme ideas:
Canning primer: sourcing jars & gear, vetting recipes, methods, other blogs, book reviews
Honey: sourcing, health benefits, uses, how to cook with, sugar replacement, mead?
Greens: there are some funky greens in the markets right now - what do you do with them? Are there greens in your yard right now that are edible but you don't know it?
Eggs, eggs, and more eggs
Ice cream: I just bought a new ice cream maker and am dying to make all kinds of new stuff with it.
Herbs
Pickles: how to make and use them
Jams: Beyond toast
What are your ideas?