Hi, Jenn!
I was bitten by the canning bug a couple of years ago after reading
Animal, Vegetable, Miracle
. Last spring, before we got engaged, I spent many a quiet moment skulking about craigslist looking for estate sales and good deals on canning jars.
There are dozens of jars in my attic. These pics represent just 8 of the maybe 12 dozen jars stashed up there.
I've got about 4-5 dozen jars in the garage. Those were jars we used as centerpieces at our wedding.
Then there are jars that are on the canning shelves, which I took down recently to sort and organize.
During this inventory process I decided to pull out the antique jars and use them just for decorative things. Why? Antique jars can be prone to chipping and breaking because they've been through lots of heat/cool cycles. Besides, some of the jars just look pretty damn cool.
Know what? I discovered that most of my jars are vintage. Many are really old. You can see that some are mouth blown: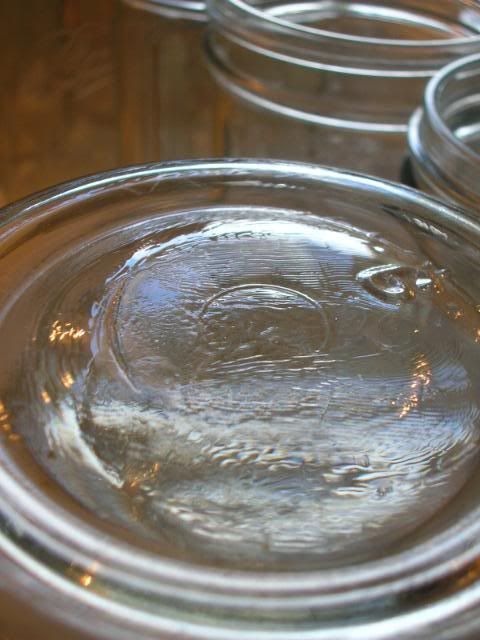 Compared with an industrial/pressed glass jar:
These belonged to my great grandmother. I actually used them last year but then I cracked one so these are now delegrated to non-canning uses, such as yogurt, infusing honey, etc.
This is a specialty jar for asparagus.
Little jars are great for the leftover bits of jam that didn't fit into the jars to be sealed. They're also a nice thing to give away because they didn't cost anything.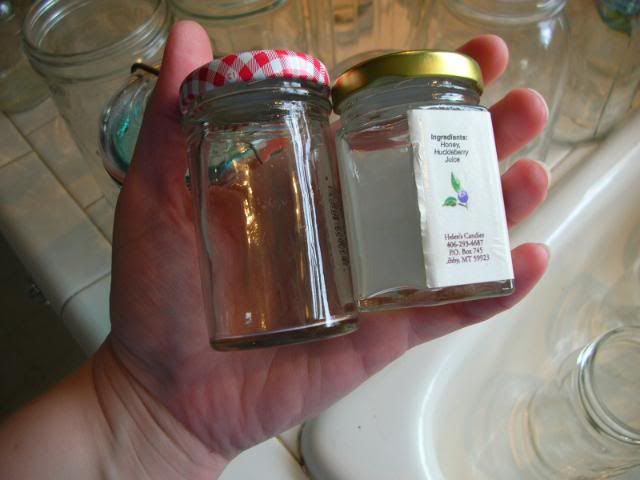 Do you know the etiquette of receiving home-canned goods?
If not, read here
. The rules are simple:
1. Return the jar to the gifter.
2. If you don't return the jar, you won't get more yummies.
3. If you can't return the jar, give it to a thrift shop or another canner.
4. Don't try to recycle the jar: the glass is not the same type used for shelf-stable stuff you buy at the grocery store.
5, Return the jar to the gifter.
Which reminds me...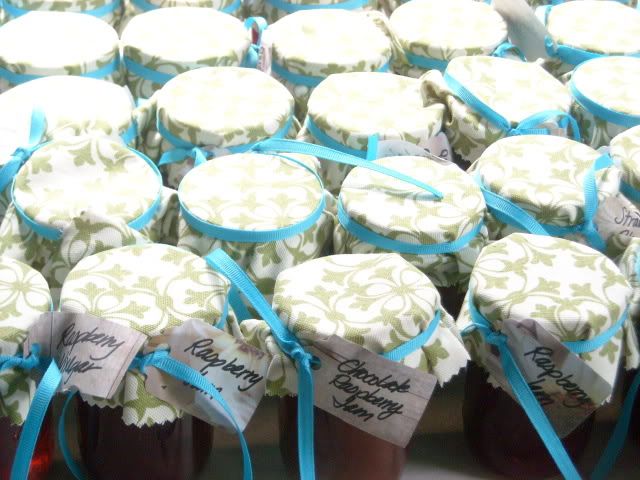 Did you get one of these on Labor Day? What did you do with the jar? Give it back and I might be enticed into making you more jam...
And about all those vintage jars I was going to take out of rotation? With exception of the wire gasket jars, all of them are going to get used again. If I took out all of the old jars I would have none left. And if you want some, let me know and we can work out a deal.
I might even throw in some eggs.