This is the last of the Chicken Week posts. I guess the chicken came first!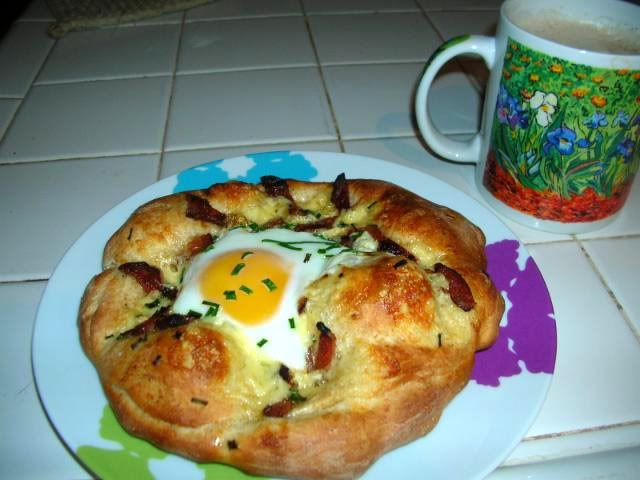 Any recipe that uses eggs is a good one in a house with 2 inhabitants and 9 hens. But when I saw
this recipe for breakfast pizza
on Smitten Kitchen I was dubious. Then my mom sent me a clipping from a newspaper in Illinois, which followed the same trend of eggs on pizza. Could it really be any good?
Hoooo boy, was it ever.
First off I started with my favorite pizza dough recipe, which I adapted from a
recent article in Parade Magazine's Sunday edition
. I always make double batches of the recipe and freeze 3 balls of dough before it rises. If you pull one ball out of the freezer in the morning before work, leave it on the counter, and you will come home to perfect dough that's ready for toppings every time.
PIZZA DOUGH
Yields enough dough for two 14-inch pizzas
3 cups all purpose flour, plus more if needed
1 cup whole wheat flour
1 tsp honey
2 1/4 tsp instant yeast or 1 envelope
1 tsp kosher salt
1 1/2 cups warm water (110º)
2 Tbsp olive oil plus extra for bowl
(see above link for the by-hand method)
1. Fit Bubba, the trusty KitchenAid, with the bread dough hook. Dump all ingredients in and let him have a go at it for about 8 minutes.
2. Pour about a half tsp oil into a zippered baggie and put half of the dough into that. You can also just spray the bag with cooking spray. Freeze for later.
3. Pour a tsp onto the remaining dough, flip it over to coat completely, cover with a clean towel, place in a warm area, and let rise until double in size, about 1 hour.
4. Shape the dough on whichever surface you're going to cook the pizza and let rest for about 10 minutes.
BREAKFAST PIZZA
You can see the Smitten Kitchen website for ingredient ideas for the pizza. I made a personal-sized pizza since I was single for the weekend. I cooked up a slice of bacon and used kitchen shears to cut pieces onto the dough. I had about an ounce of a double-cream gouda a friend had given me, so sliced that for the pizza. I snipped up some chives from the yard, and cracked an egg.
Use the freshest egg you can get, especially if making a small pizza like I did here. If you use old or store-bought eggs that are runny, the egg will drip off the pizza, though I think they'd be OK on a larger pizza.
Cook at 525F for 8 minutes. If it's a full-sized pizza, cook for 10-11 minutes.
My mouth waters just looking at this pic:
My dad made his own version of Egg McMuffins - called it an "Egg McAdrien" - when I was a kid and they were always my favorite breakfast. For most of my childhood I thought that McD's had ripped off my family and was passing off an inferior version of my dad's best breakfast creation.
But know what? I have a new favorite breakfast food. The egg was soft-cooked: spreadable but not runny. This is really, really good. You have to try it. I'm already trying to figure out when I can make it again.