I promised this would be (insert announcer voice): The Week of the Chicken! These posts are what I had in mind when I decided to do a theme week but I pushed them to the end of the week because of the coop redecorate & the neighbors' new chicks.
When I buy a whole fryer I use the entire thing. I roast it for the first ~4 meals, pick the meat off for another 2-3 meals, then make stock with everything that's left. I'm going to show you over the next few days how to get every penny's worth out of a whole chicken. Those organic, free-range, happy chickens are pricey.
Let's get cooking!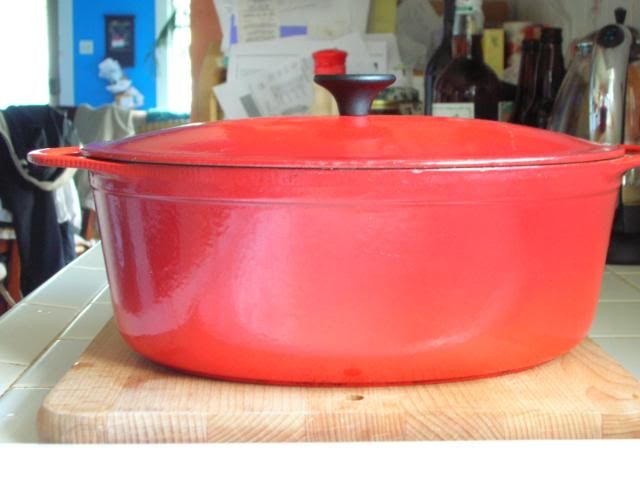 I bought this in France in 1998 and lugged it back in my luggage, which a friend picked up and asked if I was carrying bricks. "Nope: cast iron," I cheerfully replied! It cost me 200 francs ($40). Best. Purchase. Ever.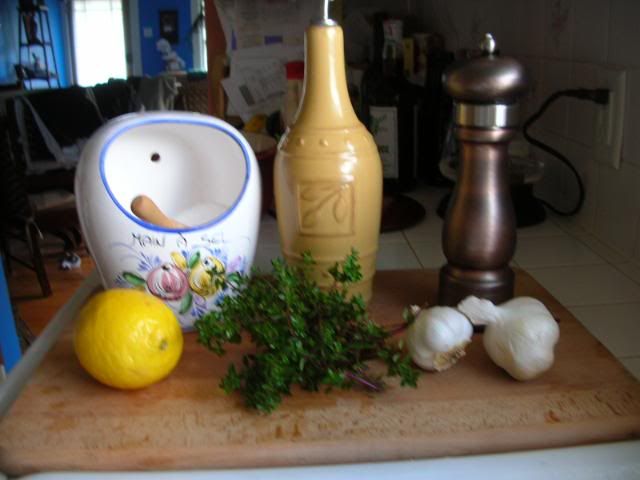 Assemble your gear. I've got 2 heads of garlic, salt, pepper, olive oil, thyme, and a lemon. You'll also want some root vegetables, such as carrots, potatoes, or parsnips. I used 4 potatoes.
Met Mart had a sale on whole fryers. I think this was about $5, which is about half price.
I loosely based my recipe on
Alton Brown's
. I thought that browning the chicken was too fussy. Screw that. Just peel the 2 heads of garlic & throw them into the pan.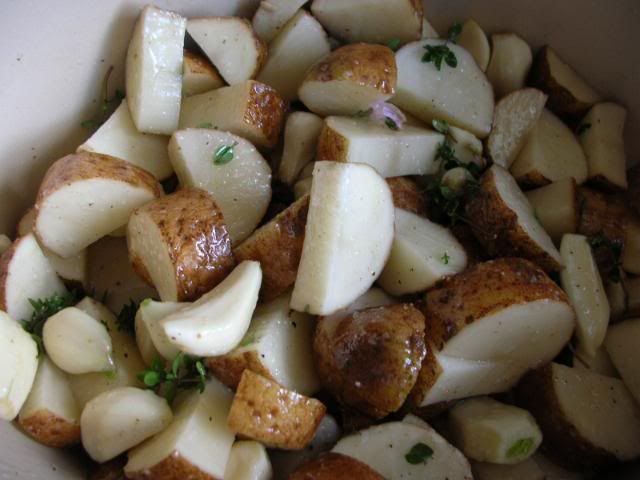 Cut up 4 potatoes and throw those into the pot. Add a few sprigs of thyme, some salt, pepper, and olive oil. Toss it with your hands and you're done!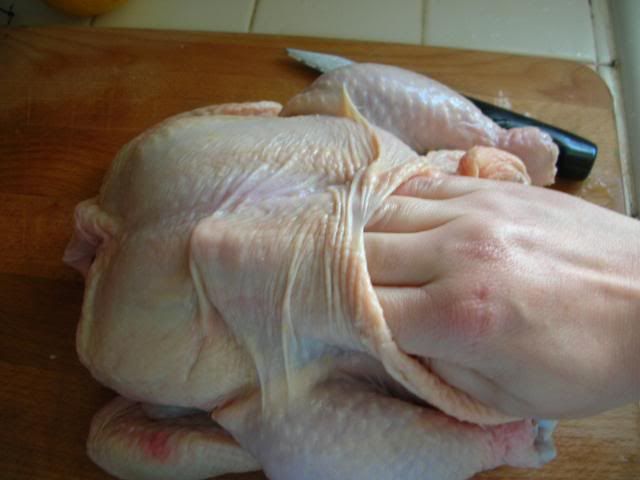 Buy the chicken a drink because you're about to get freaky. Separate the skin from the flesh very carefully. Put some thin lemon slices between the skin and the flesh. Cut up the leftover lemon into wedges and stuff it into the business end of the chicken.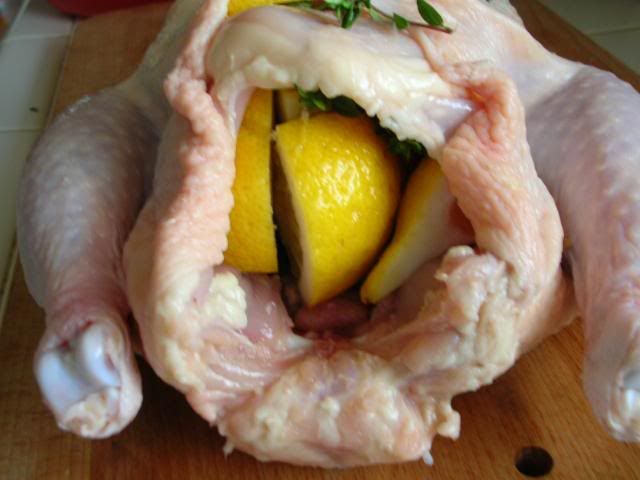 You could also put some onion wedges in there if you were so inclined.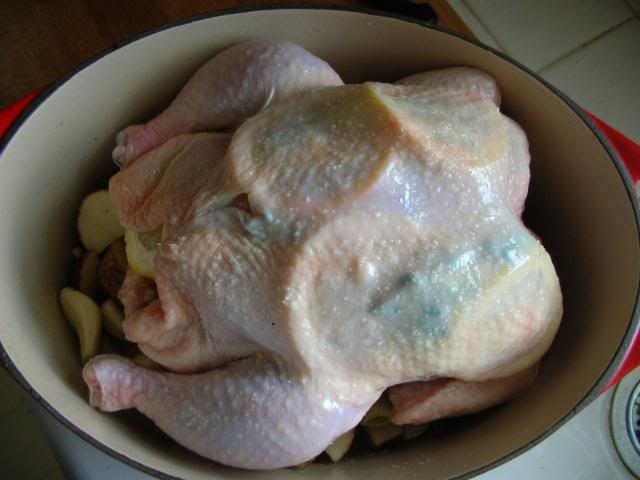 Put the chicken on top of the potato/garlic mixture, tuck the wings under the body, and bake at 375. Check temp after 45 minutes. Remove from the oven when the chicken temp reads 160-165F.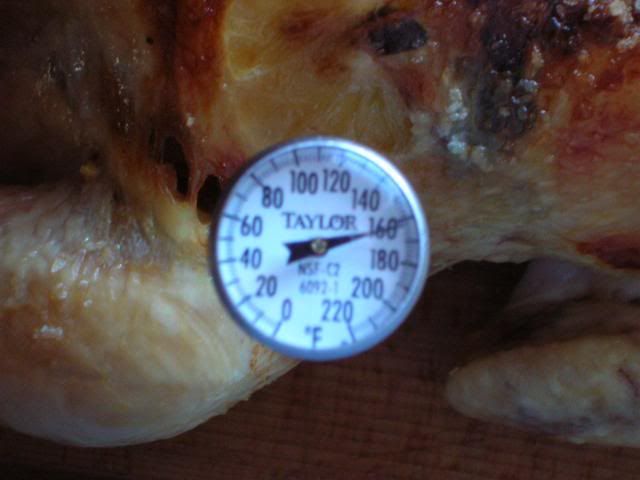 Rose wines are meant to be crisp/dry and served cold. We're not talking about that syrup-y crap out of a box or jug, nor anything whose name rhymes with
shoe-muck Shuck
. By rose I mean a dry, low-sugar wine like this one from Met Mart. I love Met Mart's house wines. I loved last year's "Red" so much that we bought a case!
Don't turn your nose up at rose wines. There are some fabulous ones out there that are perfect for summer dining. I started drinking rose wines in France, where they're the go-to drink for picnics and alfresco meals.
I've heard that white zinfandel is making a comeback as a real, palatable wine. I can't bring myself to even consider it without thinking of the joke about personalities being matched to drink preferences:



Drink: White Zinfandel
Personality: Easy; thinks she is classy and sophisticated, actually, she has NO clue (probably a blonde).
Your Approach: Make her feel smarter than she is...this should be an easy target.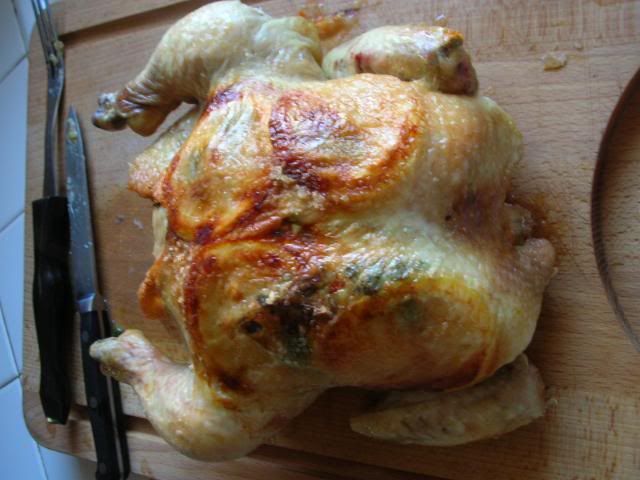 Anyway, enjoy some wine while the chicken rests for about 10 minutes. Make some salad or something.
Serve the chicken with some potatoes, garlic, and a salad. This serves 4-6, depending upon the size of your chicken.
After your meal is done, pick all remaining bits of meat off the carcass and put it into a container in the fridge. Put all leftover bones, skin, and any juice from the cutting tray into a large bag or bowl and hang onto it. I'll show you what to do with the leftovers in my next post.