Please excuse my French today. I'm blaming the artichokes & the head cold. I had my first artichoke in France, so eating one always brings up lots of
Proustian memories
. (I hated reading Proust in college.)
"Vous, au moins, vous ne risquez pas d'être un légume : même un artichaut a du coeur."
"At least you'll never be a vegetable - even artichokes have hearts."
- Amélie Poulain in the film Amélie
Have you ever seen the movie
Amélie
? It's such a fantastic and sweet movie. I saw it in the movie theatre in Paris after having spent the day strolling around Montmartre. I had no idea what the movie was about, other than that my friend, Nathalie, insisted we see it. It was a fantastic bit of kismet to have wandered Montmartre the same day, as that's the neighborhood where the movie takes place. I had even gone through the subway station shown in the movie on the way to the theatre.
The line quoted above is when she's talking about the vegetable vendor, Collignon, who's a heartless jerk. One of my favorite scenes in the movie is when the vendor's assistant is spouting off rhymes about what a jerk Collignon is, just like a little kid would do. It ends with him calling Collignon a vas deferens (which sort of rhymes with Collignon in French).
If you haven't seen Amélie, check it out. It's utterly charming. Unless you don't speak French and hate subtitles. Then forget it.
Bizarre tangent, I'm sorry. This damn decongestant is making me loopy.
After 4 years of trying I finally picked and ate my first artichoke from my own yard.
Here it is before: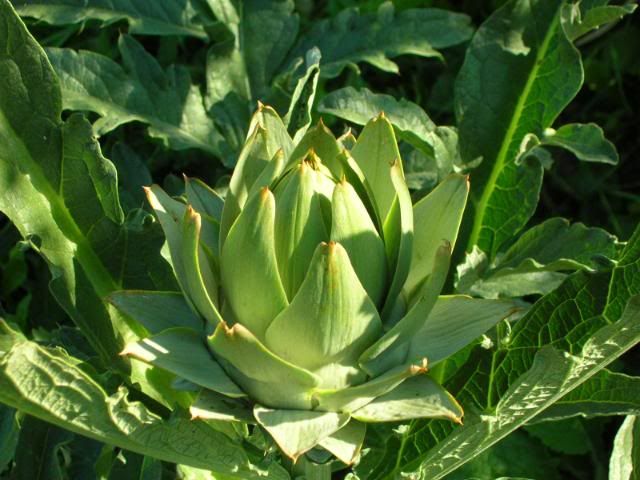 And after:
The French call artichokes "le plat des pauvres" (poor man's dish) because there's more when you're done than when you started.
Les artichauts, c'est un vrai plat de pauvres. C'est le seul plat que quand t'as fini de manger, t'en as plus dans ton assiette que quand tu as commencé ! (COLUCHE, French comedian)
Atichokes, now there's a real poor guy's food. It's the only dish where you've got more on your plate when you're done than when you'd started.
The first artichoke I ever ate was in France with the Blanchet family. I had no idea how to eat it. Once I got to the choke Jean Claude said to me, "you won't like that part, give it to me". Marie-Claude, my surrogate mom, shooed him away from my prize and showed me how to scrape the choke from the heart, the best part.
Délicieux!
That memory comes back to me every time I eat an artichoke. Vous me manquez énormément, mes amis.
Here's a recipe for a traditional French vinaigrette to be used as a dressing for summer salads and a dip for artichoke leaves.
In a small bowl, mix 1 tablespoon Dijon mustard with 1 tablespoon red wine vinegar and salt/pepper to taste. Slowly add 3 tablespoons of vegetable oil (not olive oil), one at a time, stirring well to emulsify. Use immediately.
For variation, mix in any of the following:
fresh chopped or dried herbs, such as tarragon, savory, or basil
minced shallots
roasted garlic paste.
Bon appétit!