Yesterday we made jerk paste. Kick ass, gives-you-sniffles, in-yo-face! jerk paste. Now we're going to cook with it.
I sliced half-inch thick coins of my spoils (booby prize?) from the game of
Squash-n-Dash
, then skewered them along with a Walla Walla sweet onion treated likewise. I transferred a small amount of the jerk paste into a fresh bowl to avoid contaminating the full batch with bacteria from the meat.
Brush the jerk paste all over the meats and veggies. (I made this again the next day at my folks' house and stippled the squash with a fork to allow the jerk paste to penetrate the veggies a little better. My mom declined the jerk paste after trying a bit, so don't give this to people who don't like or can't handle a spicy meal.)
I took everything except the camera out to the grill. While I was outside, I left some jasmine rice in the kitchen to cook.
[imagine bubbling rice & grilling ribs...]
The ribs got cooked for 7 mins each side at a medium-low heat, whereas I cooked the veggies for 7 mins each side on medium-high.
Twenty minutes later, dinner was ready.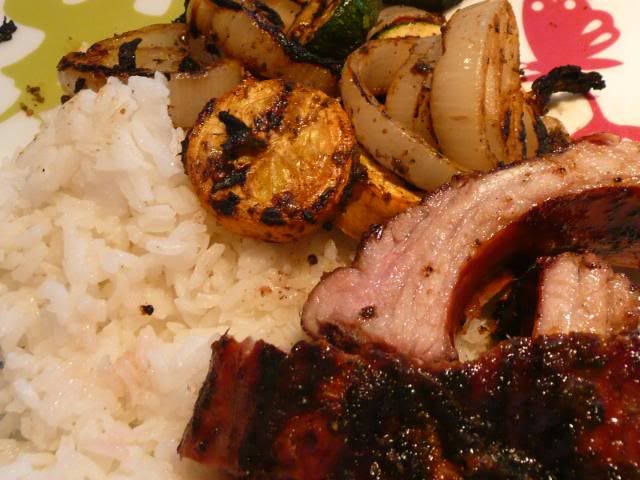 Gnawing bones and licking fingers is the best part of this meal.
But if you're in mixed company, maybe you should just lick your own fingers.