I almost entitled this post "It burns!". Proceed at your own risk.
I mean it. This stuff is H-O-T.
Here's another recipe from the "Dressed to Grill" cookbook. I remember eyeing it years ago when I first got the book but never made it because I was afraid.
Afraid of these little inch-long orange things:
I am afraid of
Scotch Bonnet
peppers. [shudder] They are among the hottest peppers known. What if I went to all the work of this recipe only to find it wasn't palatable?
But don't ya just love a good Jamaican jerk paste? It's sweet, it's spicy, and it's lick-your-fingers succulent.
I had to make it. Fear be damned.
I was surprised how many of the ingredients came from my garden: cilantro, thyme, onions, and green onions. I used these little seed onions because I had accidentally pulled them up while weeding.
To make this jerk paste, gather:
2-4 Scotch Bonnet peppers, quartered (remove seeds or use jalapenos to reduce the heat and for god's sake, use gloves!)
1 small yellow onion, quartered
3 whole green onions, cut into 1" pieces
4 quarter-sized slices of fresh ginger
3 cloves garlic
1/2 cup packed coarsely chopped cilantro
2 T kosher salt
1 T each: ground allspice, dried thyme (I used fresh), ground pepper
1/4 cup packed brown sugar
1/4 orange or lime juice
1/4 cup soy sauce
2 T vegetable oil
Throw into a food processor 2 peppers, the onions, ginger, garlic, and cilantro. Process into a paste.
Use gloves and extreme caution when you cut the peppers! I prepped everything else first, then cut the peppers so that I wouldn't risk transferring any of the capcaicin from the knife or cutting board to my face or eyes. Trust me on this. As someone who once got jalapeno juice in her eye and another time used eucalyptus tissues on her girly bits, I can attest to the fact that
you do NOT want to touch any mucous membranes with capcaicin on your hands.

Remember that I nearly called this post "It Burns!" for a very good reason. I think that's warning number 3.
Now that you have a paste, taste about 3 molecules for heat - hot enough? I used 3 peppers and was glad not to have thrown in the 4th. This stuff makes me run for milk and clears my sinuses as it is.
Next add the salt, herbs, and sugar. Process well.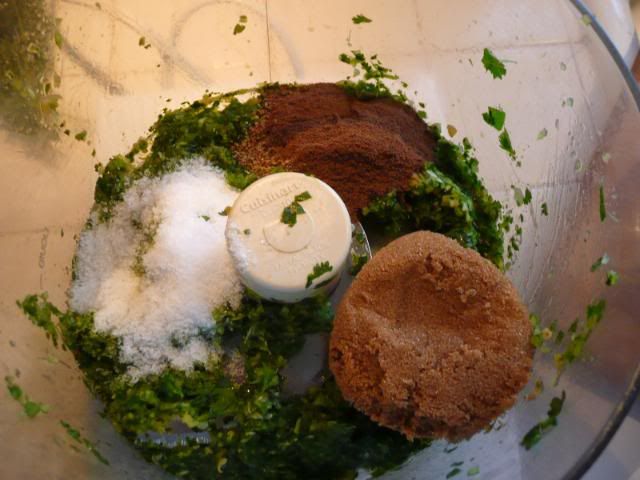 Finally throw in all the liquid ingredients.
Brush it on meat and/or
veggies
and hit the grill. In 20 minutes you'll have a mouth-watering reason to lick your fingers and suck back the palate-cooling adult beverage of your choice.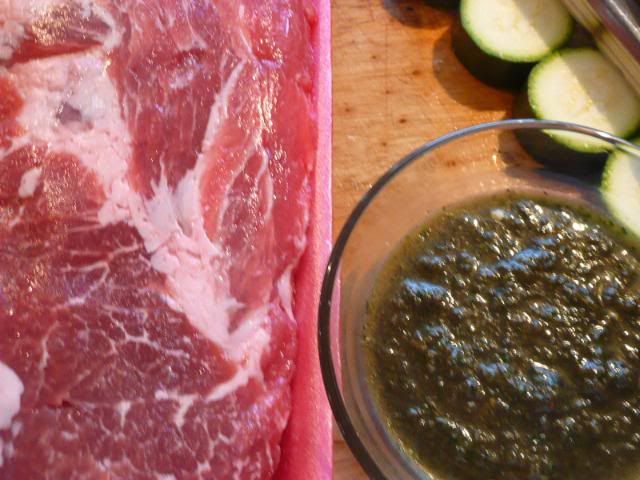 Store leftover sauce in the fridge for up to a month. I bet it would freeze well, too.