Time got away from me and I didn't get a chance last week to show you the yumminess that we enjoyed on the 4th of July! It was, except for condiments and minor ingredients, an entirely grown-in-Washington meal.
We had brats from
Cheryl the Pig Lady
. (
note: I've since found a closer supplier of pork and befriended her. I'll post a blog about her soon!
)
The sauerkraut is from my garden last summer. In fact, I had an accident with the food processor shredder blade while making this particular batch and suffered a very deep cut in my right thumb. It was pretty bad... and then it got worse with an infection. Even now, a year later, I still don't have full feeling in the pad of my right thumb.
Lesson: use both hands to remove the blade from the food processor. Respect the sharpness. I'll make more sauerkraut this fall when my cabbage is ready. And I'll be super careful with that food processor.
Those are local grape tomatoes, and lettuce from our garden, topped with a homemade raspberry vinaigrette. I made the raspberry vinegar last summer and the honey was, of course, local, too.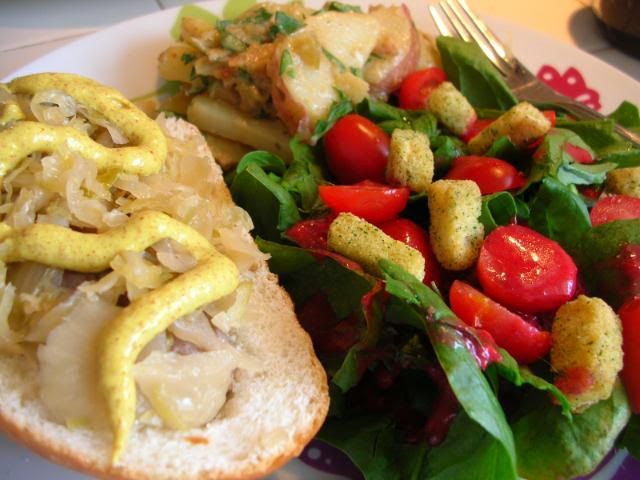 Look at this warm German potato salad! The pickles were from my last jar of dill pickles that I made 2 years ago, the parsley was from my yard. Does the mustard I used count as local if my friends who brought it from Germany last year bought it in Germany and presented it to us as a gift?
Yes, the irony of German food on the American Independence Day isn't lost on me.
We also had local corn, a distinctly American feast.
About 3 hours later we were ready for dessert, which was a royal treat. I made my
favorite lava cakes from TastyKitchen.com
. They're so bad but so good.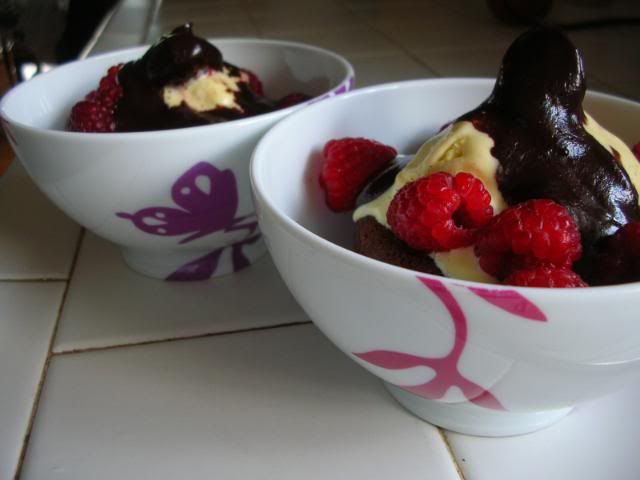 Notice how yellow the ice cream is? That's due to the deep orange color of our girls' egg yolks right now, caused by diets rich in bugs and greens. G-man thought I'd made lemon ice cream!
Let's get back to the potato salad for a minute. Last summer 2 friends visited from Munich and taught me how to make a true German potato salad. They bickered back & forth in German like an old married couple as they made it, cracking us up. If you don't like dill pickles, leave them out: this was a serious point of contention between the 2 Munichers, who couldn't agree whether pickles were authentic.
Warm German Potato Salad
(recipe vaguely adapted from one found at
allrecipes.com
)
Ingredients
4-6 large-ish red and yellow potatoes (waxy type)
1/2 stick unsalted butter
1 small onion, diced
1/4 cup red wine vinegar
1 tablespoon honey
2 tablespoons spicey mustard
1/2 teaspoon salt
1/8 teaspoon ground black pepper
1 tablespoon chopped fresh parsley
1/2 medium-sized dill pickle, diced
Directions
1. Place the potatoes into a pot, and fill with enough water to cover. Bring to a boil, and cook for about 20-25 minutes, or until easily pierced with a fork. Drain, and set aside to cool. Once cooled, cut into thin slices and put into a large bowl.
2. Place the butter and onion in a large saucepan over medium-high heat. Cook until the onions and butter are brown. Remove from the pan and set aside.
3. In a small bowl whisk the butter-onion mixture with vinegar, water, mustard, honey, salt and pepper. Adjust ingredients to get the desired level of tangy sweetness, then pour over the potatoes. Add pickles if desired, then top with parsley. Serve warm.
Because of a lack of highly perishable ingredients this recipe will keep well for a BBQ. It can be chilled then brought to room temp quickly in a microwave. Leftovers are great if heated slightly.