Someone gave G-man some venison
backstrap
a while ago and it has languished in our freezer ever since. To be honest, I was kind of afraid of it. It even smelled different, almost like beef that was a day from going bad but wasn't.
Venison? What the heck do you do with venison? I'm a city girl: I grew up eating pork, beef, and chicken. Turkey on Thanksgiving. We didn't do game meats. Heck, I don't know a single hunter to this day. It wasn't until I lived in France when I had meats that most Americans would consider freaky or bizarre: pigeon, rabbit, goose, duck, ox tail, horse (in my defense this last one was in
chorizo
and I didn't know).
What if I screwed up the venison? What if we didn't like it? (Ok, you know the answer to that one: chickens.) What if I turned it into leather? What if... what if... what if?!?
(their pic, not mine)
Except, as I started to make the recipe, I realized that it was w-a-y too fussy for a mid-week meal.
Here's my version, inspired by but having not much to do with the
Foodnetwork
recipe.
Ingredients for filling
1 pound cubed venison back strap
1 medium onion, diced
About 4 cloves chopped garlic
Salt and pepper
.5 tsp cayenne
1 tsp cumin
1 bunch cilantro, leaves chopped
2 cups shredded pepper-jack cheese, 1/2 cup reserved for top
8 wheat tortillas
1. Brown meat in some oil.
2. Add onions and garlic, and saute until translucent.
3. Add salt/pepper through cilantro and mix well.
4. Remove from heat and stir in the cheese.
5. Spray a 9x13 pan and assemble enchiladas.
I used this meal as a chance to use up a variety of tortilla packages that were sitting around.
Ingredients for topping
This is the biggest area I departed from the
foodnetwork
version. Flame-broiled peppers? 2 cups oil? Screw that
shiz
nit. I scanned my pantry and came up with these ingredients:
1 pint homemade tomato sauce (OK to use a canned Mexican-style tomato sauce)
Cumin, cayenne pepper, salt and pepper to taste
4 tbsp Hershey's special dark cocoa
Mix together all ingredients, dump it on the enchiladas, top with cheese, and bake at 350 for 45 minutes.
Verdict?
Soooo
good. The cheese off-set the potential dryness of the meat, which was tender and flavorful. The cocoa made the sauce reminiscent of a spicy mole. I rarely make enchiladas because, well, they're kind of a pain in the butt. These, however, couldn't have been easier. If I make it again, I'd throw some spinach and shredded carrots into the filling to give the enchiladas some substance that didn't come exclusively from cheese and meat. And I'd remember the cilantro.
I served these with a big green salad and we were both in hog....
erm
, "d
eer
"... heaven.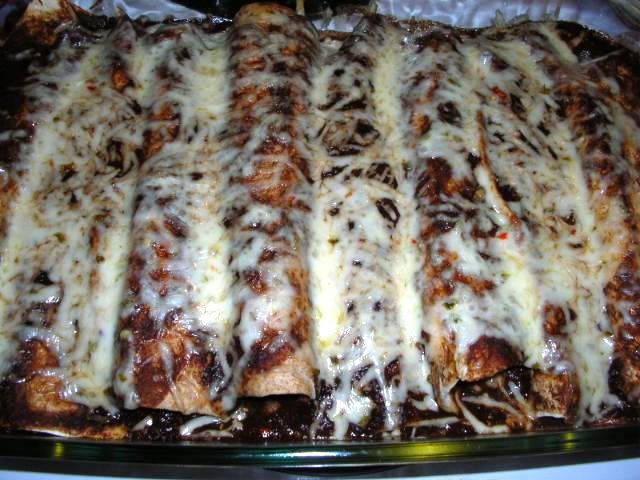 Now I'm left wondering how to get my hands on some venison again!